We are supported by readers. When you purchase through links on our site, we may earn an affiliate commission.
These days, every family member has more than one device at home; some are gamers, some are streamers, and some are heavy downloaders. If you have the same condition at home, you need to make sure that your router can lift up a load of multiple devices at the same time.
The router should be powerful enough for various devices' pressure or slow down the internet speed. Multiple devices can also heat up the router and affect your bandwidth. Those who are already facing these problems can move towards our recommendation for the best WiFi router for multiple devices.
Which are the best routers for multiple devices?
As you heard, update yourself before technology gets updated. It is necessary to have a smart router when you have a variety of streamers, gamers and regular downloaders on your network.
The best router for multiple devices and gaming is dual or tri-band with features that can connect to a variety of devices and WiFi signals without sacrificing connection, coverage or speed at the same time. The exact number of devices that can successfully connect to a router depends on the features like CPU and RAM capabilities. 
11 Best Routers for Multiple Devices in 2023
Technology

: OFDMA

Processor:

Quad-core processor

Wireless Speed:

11000 Mbit/s

Ports:

5 Network Port, 1 Broadband Port
In this new era of WiFi six routers, Asus ROG Rapture comes first on the list. This multi-device router is one of the best in terms of performance. Dynamic Asus' ROG logo lit in LEDs makes it a router to show off, not hide if we talk about its design.
The soft bottom of the router is not going to scratch up your furniture. The slim and sleek design makes it easier to place in any corner without taking too much space.
This router is Powered by Broadcom's BCM43684 WiFi chip, which makes it powerful enough to create a tri-band WiFi 6 known as 802.11ax network. WiFi 6 can tap into the most advanced wireless methods, and it comes with Orthogonal Frequency-Division Multiple Access, also known as (OFDMA).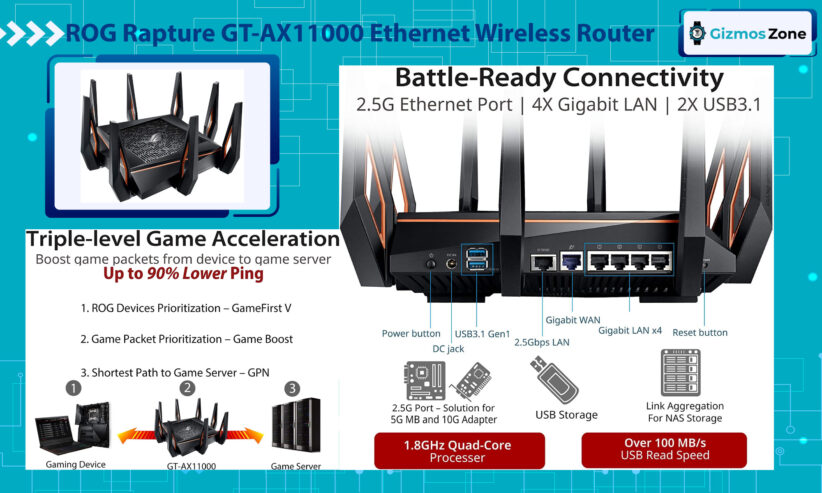 It is one of the fast routers with the ability to push 4.8Gbps on each of its two 5GHz frequency bands and 1.2Gbps on its 2.4GHz channel. Inside Broadcom's BCM43684, the chip has a quad-core 1.8GHz processor that comes with 256MB of space for firmware and settings and 1GB of RAM.
This router has a maximum of 10.8Gbps to wireless devices with 802.11ax (WiFi 6) hardware. On the contrary, only a handful of WiFi 6 devices are available, simultaneously taking a load of heavy usage of multiple devices.
As per the price, it is an excellent option for those who want a quality product. The device's price is slightly higher than others but worth buying in terms of features in this routers segment. Also, the configuration of the Asus ROG Rapture GT-AX11000 is easy to set up. With the big eight antennas, this router is something you want to show off.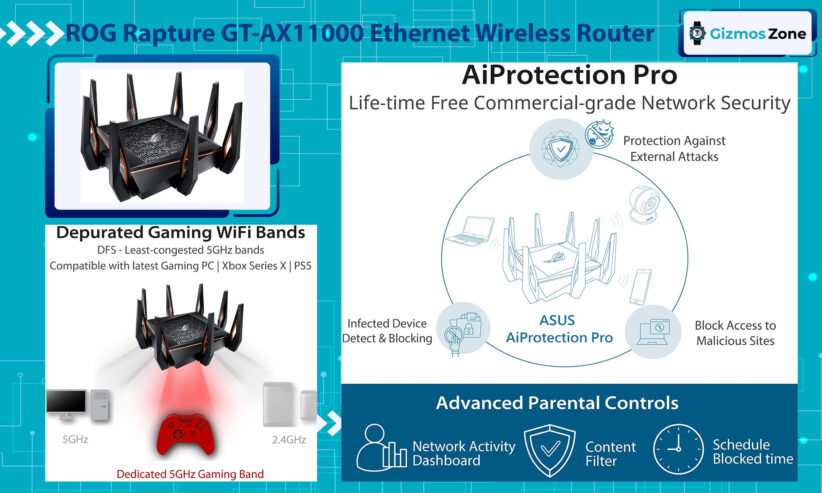 One of the first WiFi 6 routers for future proof networking

Distance doesn't bother the performance

Slim and sleek design with RGB lighting

Comes with a Bunch of security software

Strong Quad-core CPU
Gaming tools are limited

5 LAN ports only
Technology

: OFDMA, MU-MIMO

Processor:

1.8GHz quad-core processor

Wireless Speed:

Up to 6 Gbps

Ports: 

6 Ethernet Ports
Netgear Nighthawk AX8 will remind you of Marvel's Nighthawk Superhero, and we bet it is as powerful as him; this delivers top WiFi speed to all your devices while protecting them from malware attacks. This router is one of the best options for WiFi 6 routers.
Its design looks more like a Star Wars fighter jet than a networking gadget as we talk about it. The wings on the router look fantastic, and inside each wing, you'll see a pair of antennas which is four in total.
The Netgear Nighthawk AX8 (RAX80) is more expensive than some other high-performance WiFi 6 routers in the market. Its 1.8GHz quad-core processor makes it a high-performance router for the home. When the winged antennas are folded, the measurements of this device are 10.8 x 8.0 x 2.8 inches. 
After unfolding the antennas, the device gets large quickly at 12.0 x 8.0 x 6.3 inches. The rubber base of the router makes it scratchless for your furniture. The best feature of its design is the pair of inserts underneath for mounting it on a wall or under a table.
The router is powered by Broadcom's BCM43684 WiFi chipset, which comes with a 1.8GHz quad-core processor, 512MB of flash storage, and 1GB of RAM.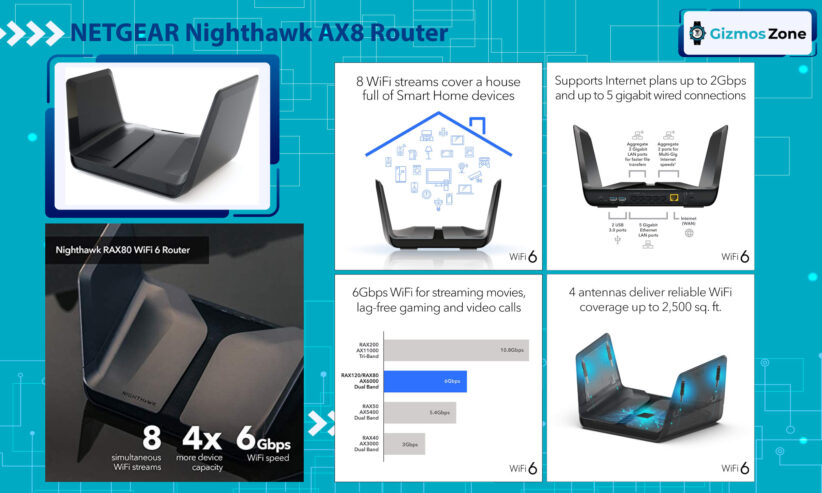 The router's dual-band creates both 2.4GHz- 5GHz networks. Also, it comes with the latest beamforming technology, which allows it to use ultra-wide 160MHz channels. 
The top speed of this router is 1.2Gbps in 2.4GHz mode and 4.8Gbps in 5GHz mode. This router can move 1.389Gbps of data at 15-feet; this capability outperforms other WiFi 6 devices by a wide margin.
If your house is old, then you'll love the Nighthawk AX8's capacity to knock a strong WiFi signal within walls and floors. This router can send 1.077Gbps through a wall 20-feet. 
Setting up this device is less flexible than others, but you can download the Nighthawk app, which comes in iOS and Android; from the app, you can easily set up the device step by step.
Easily mountable on the wall 

Strong 5GHz network and file-transfer performance

WiFi 6 support

Easy installation through the app
Dual-band only 

Expensive in price
Technology

: MU-MIMO

Processor:

1.4 GHz dual-core processor

Wireless Speed:

3167 Mbps

Ports:

8 Ethernet Ports
Asus AC3100 comes with Ultra-fast 802.11ac dual-band WiFi. The dual-band WiFi provides a high speed of up to 3167 Mbps for online gaming by reducing latency. It also offers smooth 4K video playback in Ultra HD quality. The speedy file-sharing feature of this router makes it worth buying.
The RT-AC88U delivers a whopping eight Gigabit LAN ports and offers 4×4 MU-MIMO technology and a ton of valuable features, making it future-proof. It has 8 gigabit LAN ports for wide connectivity. 
It is an excellent looking router. It has many ports around the back, including a big eight Gigabit Ethernet port, besides a USB 2.0 port, a WAN port, a Power port and four removable external antennas (two at the rear and one on each side). You will find a reset button, a power switch and a WPS switch on the front. Behind a trim panel, a 3.0 USB port is also placed on router's front.
Installation of this powerful router is easy; with the help of Asus's intuitive Setup Wizard, you can set up the device easily. The Web console automatically open up, and you'll get the choice to use the wizard or manual configure mode in the router; when you connect the Asus AC3100 to the Internet and power it up. 
After checking your Internet, the wizard will set your router as a Dynamic IP, DHCP, PPPoE, or Static IP router, depending on which connection type you pick. After that, it asks you to name SSID (one for each band) individually and creates a network encryption key. Tap on Finish, and you are all set to go. 
The wizard setup is best for those who aren't tech nerds; it will quickly step up the router settings, but if you want to set up something other than this, you need to opt for the manual configuration. In the manual configuration, you'll find all the required settings to set up your router.
Asus RT-AC88U is a Dual-Band Router; you get fast performance simultaneously to all your devices. It also offers many management features in a user-friendly interface, including parental controls, gamer-friendly QoS settings, mobile cloud services, and advanced file sharing. The price is a bit high but worth it.
Dual-WAN 8 with LAN ports

Comes with Merlin firmware support

Tons of helpful features, including the capacity to guard the network against online threats

Asus's AiMesh gives excellent support

Fast WiFi performance with superior coverage
Slow network storage speed when linked with an external hard drive

Awkwardly located USB 3.0 ports
Technology

: MU-MIMO

Processor:

Quad-Core Arm Cortex A7

Wireless Speed:

1.3 Gbps

Ports:

1 WAN Port, 3 Gigabit LAN ports w/Ethernet Backhaul
The Gryphon Secure Mesh System combines outstanding security and speed, parental controls to protect your family's digital assets with a different look that would be a shame to hide. Its tri-band-designed router automatically optimises its data flow; it has a dedicated backhaul channel. Still, Gryphon is among the most expensive options to fill your home with WiFi, and it does this without the convenience of a USB port.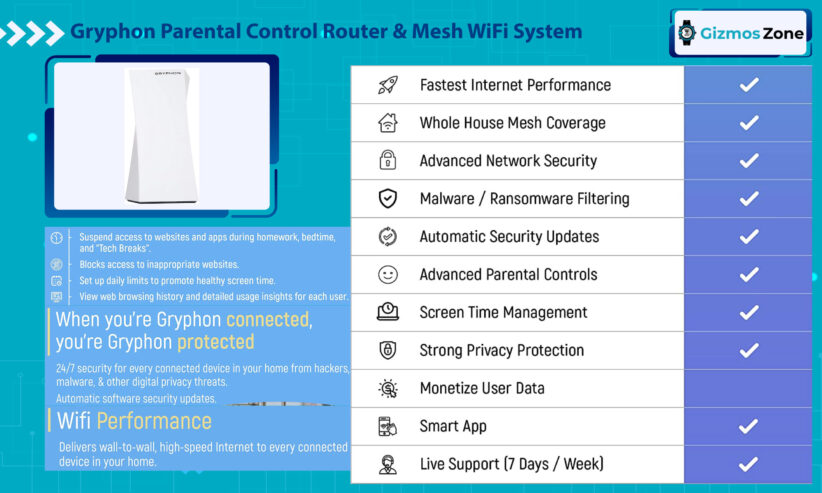 This device is so unique that it can be shown off in a living room, kitchen or den. On the downside, you can't wall mount this device.
Each router tower has LEDs underneath the unit that blinks white when it's active to be configured and solid white when everything is done. Sadly, they remain white as if nothing is wrong even during an Internet interruption, but the app shows the disruption if there is any.
This device is based on Qualcomm's IQP4019 WiFi chipset, with 4GB of flash chips and 512MB of RAM. The Gryphon Smart WiFi Mesh System is a solid feature with built-in anti-malware protection and allows extensive parental controls and an intuitive mobile app.
Good throughput performance.

Easy to configure.

MU-MIMO Technology.

Premium parental controls.

Anti-malware protection.

User-friendly app.
Expensive

Needs USB port

Large in size
Technology

: MU-MIMO

Processor: 

1.8GHz quad-core processor

Wireless Speed:

4.0 Gbps

Ports:

1 WAN, 4 LAN gigabit ports
The TP-Link Archer A20 is a tri-band router that combines reliable performance with robust parental controls. This router is easy to manage and install using a mobile device or a web console. 
It is an excellent choice to download and transfer large blocks of data. Archer A20 comes with a solid feature set, but it doesn't offer you anything new in terms of design. Nine tiny LED indicators are on the front edge for Internet, Ethernet, power, WPS activity, three radio bands,
and two USB ports.
This device is powered by Broadcom's 1.8GHz quad-core processor, which comes with 512MB of RAM. It can reach a maximum signal of 750Mbps on the 2.4GHz band and 1625 Mbps on the two 5GHz bands.
Archer A20 gives you lots of features at a sensible price; its HomeCare network security plus parental controls will guard your network from malware and other harmful content and lets you manage when and what kind of social media platforms and websites your children can access. 
The router can be managed and installed from a web console using a PC or TP-Link Tether's mobile device app on Android or iOS. The PC's web console opens a network map that shows the total number of connected wired/wireless clients, router's IP address and the Speedtest results.
Overall, this router is an excellent choice for your home; it will easily take the load of all your home devices gaming, downloading or surfing pressure simultaneously. A combination of processing power and dedicated traffic-handling features like Smart Connect, RangeBoost, and beamforming makes this router an excellent choice for easy excess and giving solid throughput to all your devices.
Constant speeds

Easy to set up by web console or mobile app

Tri-band performance

Comes with antivirus

Great at traffic handling
Looks bulky with extended antennas

Nothing new in design
Technology

: MU MIMO

Processor:

1.8GHz dual-core processor

Wireless Speed:

4000 Mbps

Ports:

4 Ethernet ports
This intelligent and bold Netgear Nighthawk X6S can fill any home with reliable high-speed WiFi. As per the design, it is one of the largest routers on the market right now; the dimensions of this device are 11.0 x 9.0 x 2.1-inch, and you can easily set this up on any shelf, windowsill, or tabletop. 
The Nighthawk X6S is old school, with 11 LEDs upfront that shines like a Christmas tree. There are lights for the four downstream LAN ports and all three wireless channels indicators for power and Internet. Thankfully, it also has a switch in the back for shutting off all the LEDs.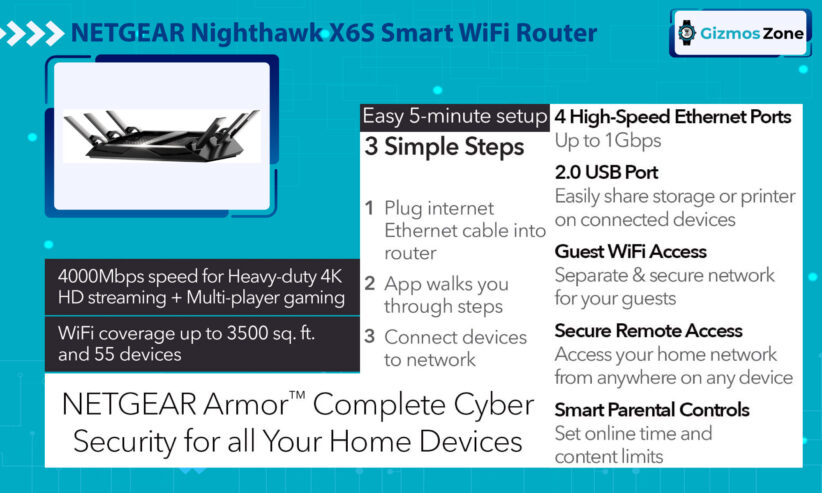 X6S lets you connect two wired connections to an individual PC that has a set of RJ45 LAN ports; through this, you can play top-speed gaming or transfer files at 2 Gbps of speed; only a few routers can do this.
It is powered by Broadcom's BCM4365E WiFi chipset, comes with a dual-core 1.8GHz CPU and 512MB of solid-state storage to keep the system's firmware and settings 128MB of RAM. the Mu-Mimo technology lets you connect with several devices at once. This device sets up an 802.11ac tri-band network that has an AC4000 rating.
Another impressive feature of this router is that it uses Netgear's Beamforming protocol to customise your device's signal. The AX6 tri-band wireless design can deliver 750 Mbps with the 2.4GHz band and up to 1.625 Gbps for each of the router's two 5GHz bands. This router is an excellent choice for an older home that has lots of deep walls.
Setting up this device is not so hard; first, you need to connect to the router with WiFi or a LAN cable, then you need to open the browser on your PC and type 192.168.1.1 or routerlogin.net into a browser's address window. After opening the web console, it will ask for the router's password; you can easily find it printed on the small setup booklet which comes with the device.
Potential to aggregate wired LAN

Tri-band design

Customisation options

Gives good performance at an average distance
90-day support only

Requires third-party account for parental controls

Expensive in price
Technology

: MU-MIMO

Processor:

1.8 GHz dual-core processor

Wireless Speed:

3.2 Gbps

Ports:

4 Ethernet ports
The Linksys WRT3200ACM is the new addition to the Linksys routers family; This router offers you customised settings and excellent monitoring capabilities.
It comes with the latest technology MU-MIMO (Multi-User Multiple Input Multiple Output), which allows you to stream download or heavy gaming at the same time on all of your devices without any network issue or compromising the speed. 
WRT3200ACM offers you Tri-Stream 160 technology, which ultimately doubles the 80MHz channel width on the 5GHz band to deliver faster throughput speed. Also, with the help of it, you can transfer files quickly and easily.
The router comes with a Black and Blue coloured design; it has four adjustable, removable surface antennas and a set of LED status indicators on the exterior for the Internet, WPS, the 2.4GHz and 5GHz radio bands, the LAN ports, the USB, power and eSATA ports. 
In the back of the device, you'll get a WAN port, four Gigabit LAN ports, a USB 2.0/eSATA combo port, a USB 3.0 port and WPS, Reset, and Power buttons.
This excellent router is powered by a dual-core processor of 1.8GHz and works on the latest 802.11ac systems with the support for MU-MIMO technology. 
As per the speed, this router can reach (theoretical) throughput speeds of up to 2600Mbps to the 5GHz band and 600Mbps to the 2.4GHz band.
The device comes with a Web-based Smart WiFi management console; you can also control it using the Smart WiFi mobile app. The Web console contains various setting options; through the network map tool, you can track all the connected devices on your network and the whole usage of Internet bandwidth. 
If you don't want to share your regular SSIDs with the guests, then WRT3200ACM also comes with the Guest Access tool that allows you to create individual SSIDs and passwords; you can easily find it on the web console. The Parental Controls tool will help you to block several websites.
The router settings also include Wireless, Troubleshooting, OpenVPN Server settings, Connectivity and Security. The connectivity tab on the web console contains Internet and Local Network settings (LAN), NAT and Advanced Routing configuration.
This Linksys WRT3200ACM is easy to install, just like the other Linksys routers. You need to open your browser on the PC and enter http://linksyssmartwifi.com on the address bar to launch the web console/setup wizard, which will take you to all the initial Internet and wireless settings. 
After opening the URL, you'll get the option to bypass the wizard to set the router step by step easily or to configure the router manually.
Linksys WRT3200ACM is an excellent option fir those who want to use DD-WRT or OpenWrt firmware distros for customising their routers. It comes with all the latest features of 802.11ac WiFi, including MU-MIMO technology which allows you to do the heavy internet usage to all your devices simultaneously without compromising speed.
Classic design 

DFS channels support

Excellent file transfer speeds

High-speed storage throughput

Supports Tri-Stream 160MHz and MU-MIMO technologies

Premium wired connectivity

High-speed 5GHz throughput
No clients available for 160MHz 

Expensive 

Average 2,4GHz throughput scores

DD-WRT needs few technical chops
Technology

: MU MIMO

Processor:

 dual-core processor

Wireless Speed:

2.2 Gbps

Ports:

5 Ethernet ports
Compact and easy to hide, the Linksys EA8300 can give you high-speed Internet and transfer the data quickly. As per the design, this router comes in a grey and black colour scheme; you can easily set up the EA8300 on any windowsill, shelf or out in the open area. Its rubber base has inserts for wall-mounting, so you can easily hang it up anywhere you want. 
As we talk about the LEDs, a small panel on top with a Linksys logo blinks during setup and glows white when everything is OK. It shows either the globe sign when the Internet is connected or a LAN cable when it isn't connected.
EA8300 comes with four antennas which you can easily aim the WiFi signal. This router is powered by Qualcomm's ubiquitous tri-band IPQ4019 chipset, which creates 2X2 WiFi traffic; this processor runs at 717MHz, has storage space for firmware & settings, and has 256MB of RAM.
You can find a single WAN connection beside four downstream LAN ports, a power connection, and a USB 3.0 port for adding storage to the network at the router's back.
Linksys EA8300 is easy to set up; you need to use Linksys smart WiFi app on an iOS or Android mobile or tablet to configure the router. If you are looking to set up the router on a PC, you need to open the browser and type 192.168.1.1 or linksyssmartwifi.com into the address bar, and it will open the setup wizard of the router; you can also manually configure the router.
Linksys products are more reliable than others just because they have good support. You can find everything on their support site, including FAQs and video tutorials. 
You'll even notice sections if you're having difficulty in logging on to the router or adding devices to the network, or you want to explore some of the Linksys EA8300's advanced options on the web console.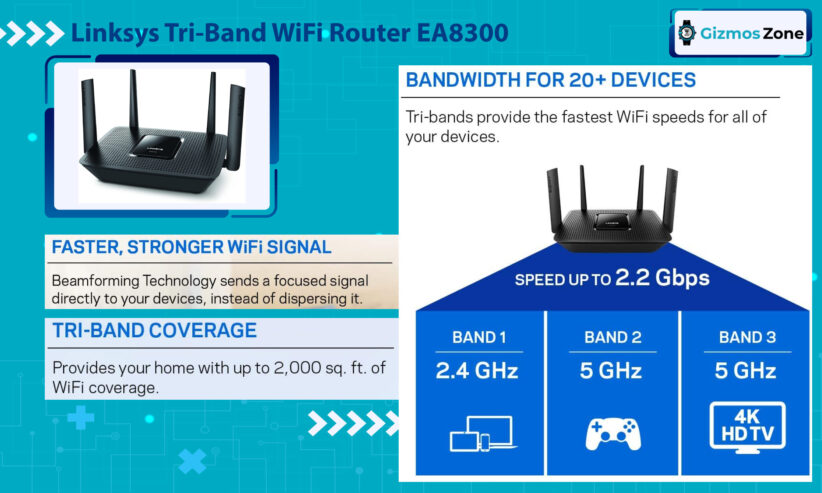 If you're not a big fan of large-sized routers with lots of blinking lights, the small black EA8300 Max-Stream router can move lots of data, though it falls short of the best when it comes to range. For those in small apartments, this router is the best choice at an affordable price.
Tri-band designed router

Excellent performance in heavy usage

High-grade software and options

Compact in size

budget-friendly
Technology

: MU-MIMO

Processor:

Single-Core CPU

Wireless Speed:

5 GHz 1300 Mbps, 2.4 GHz 600 Mbps

Ports:

5 Ethernet ports
TP-Link Archer A8 is one of the most advanced routers released by TP-Link recently. It supports up to Wireless AC1900, which gives up to 600Mbps on the 2.4Ghz bands and 1300Mbps on the 5Ghz bands. This router is super affordable and cheap, but the router will perform excellently at your home/ office.
The router comes with a glossy plastic design and with three external non-removable antennas. On the back of the router, you can see a single Gigabit Ethernet WAN port that supports up to 1000Mbps and 4 Gigabit Ethernet LAN ports. You will find the reset for the router over here as well.
On the back of the product, the default WiFi name and password of the router is mentioned. You will need this to configure the router initially or after you perform a factory reset. Two screw holes allow the router to be wall-mounted or ceiling mounted. 
The good thing to note is, the Archer A8 added MU-MIMO technology. MU-MIMO technology will let this router have better performance when more devices connect to the WiFi network. It enables the router to achieve Multiple Output & Multiple Input simultaneous connection, Multi-User, resulting in better speed.
TP-Link also added help in Wireless AC beamforming technology which should help to improve the WiFi coverage area of this router when using it beside a Wireless AC device.
The firmware is simple to use; there are some beneficial features like WiFi smart connect, Usage time control, Basic QoS feature, URL filter (for HTTP website only), Guest WiFi network, Free TP-Link DDNS and Parental control.
The best thing about the Archer A8 firmware is the capability to link it to the TP-Link cloud so you can control or manage it anywhere using the TP-Link Tether app on your phone. The TP-Link Tether app is readily available for iOS and Android devices, and it is super easy to use. 
The app will let you monitor how many devices are connected to the router and check if the router is working well. It will also show the list of devices connected to your WiFi network on the TP-Link Tether app. The app can also update the firmware of the router.
This router is a complete package of affordable prices with high-end performance.
Nice performance

Budget-friendly price

Easy to configure
It doesn't have a repeater mode

It doesn't have a USB port
Technology

: MU-MIMO

Processor:

1.8GHz dual-core processor

Wireless Speed:

750+2167 Mbps

Ports:

3 Ethernet ports
Asus always has a different fanbase of the ROG series as this series always brings the best in class devices. If you're planning to buy a good router for your gaming needs, then the ASUS ROG Rapture GT-AC2900 router is the device you need.
If you look closer at the ROG design, the entire centre of the router lights up with RGB beside the logo on the left. To the right, you can see several active LEDs.
GT-AC2900 comes with several features like Triple-level Game Accelerator, which optimises your online gaming packets from your PC to the game server. Also, it comes with AiMesh Support, works with ASUS AiMesh compatible routers to build a flexible, powerful, seamless WiFi system for your home.
This router comes with front-line Network Security, which protects all connected devices from internet threats, and gives you Lifetime free AiProtection Pro.
Best 802.11ac performance

Dual ports for WAN

Many gaming-specific features

AURA RGB lighting

DFS Support 

Gaming ports

Remote router management
5G WiFi performance falls off fast beyond 10m

Most features need a reboot when powered on

Four Gigabit Ethernet ports
Tri-band wireless router

Features 1 x 2.5 GHz WAN/LAN port, 1 x 1 Gbps WAN/LAN port and 3 x Gigabit LAN ports

Powered by a 1.5GHz quad-core processor
If you are looking for a router that can support multiple devices at a time, you are better off going for a gaming router. It is because these routers have been designed to handle a lot of network load, given that gamers often need power-packed internet access and stability as well. This is TP-Link's Archer GX90 router, which is not only one of their best-looking routers, but also one of their best-performing ones.
Equipped with eight antennas, this one looks rather 'futuristic'. The antennas help this router ensure that it can cover a very large area and provides fast and stable internet access. The router supports WiFi 6 connectivity, which is another reason as to why you should get it – it supports the latest connectivity standards. On the back, you'll find a 2.5 Gbps WAN/LAN port, a 1 Gbps WAN/LAN port, as well as 3 Gigabit LAN ports. There are 2 USB ports as well, which allow you to plug pen drives or hard drives and share or stream data over the network.
This is a tri-band router, which is something that anyone who uses a lot of devices will prefer, because you can allocate different types of devices to different bands, based on your usage as well as where they are kept. The three bands here are 4804 Mbps (5GHz, HE160) + 1201 Mbps (5GHz) + 574 Mbps (2.4GHz). TP-Link Archer GX90 is actually one of the best routers when it comes to users who live in large homes.
The router makes use of technologies such as beamforming and high-power FEM which ensure that the connection remains stable even when you are adding a large number of devices to it. The modem runs on a 1.5 GHz quad-core CPU, which is powerful enough to handle multiple devices. All in all, this is totally one of the best options out there if you are looking for the best routers for multiple devices. The TP-Link Archer GX90 also supports mesh networks, which is an added benefit. 
Tri-band routers ensure better network allotment 

Lots of ports on the back 

Detachable antennas 

Very powerful CPU 

Supports mesh networks 
Can heat up upon using for prolonged hours
Frequently Asked Questions
1. Can multiple devices reduce the WiFi speed?
The router's speed is shared between the users. If an individual PC performs intense tasks, the router's speed per device will decrease the WiFi speed while affecting all others.
2. How many devices can go on a router?
Most of the wireless routers and access points state they can support about 250 devices connected at once. This WiFi connection number includes cameras, computers, tablets, smartphones, smart appliances, and a wide range of other devices that now come with the Internet.
3. Why Do You Need a Good Wireless Router?
There are many reasons behind getting a good wireless router, but it intensely depends on your use capacity. But we all want to get the highest speed and range from our internet provider, which is only possible with the best WiFi router for multiple devices for your home. Reliability, speed, capacity, ability to work on various devices simultaneously, security, connecting all devices into an individual network, downloading larger files, uploading, and much more lie behind the purpose of getting the best WiFi router for multiple devices.
4. Why are gaming routers considered some of the best routers for multiple devices?
Gaming routers are generally considered to be the best routers when it comes to connecting multiple devices because they can provide you with the kind of power as well as stability that is needed for handling multiple devices. Since gaming is an activity that needs a very stable and lag-free connection, getting a gaming router is a good decision if you plan on setting up a large number of devices in your WiFi network. Besides that, gaming routers also tend to have a better processor and can typically have a wired connection with more devices, making them a better option. 
5. What should the ideal range of my router be?
There is no fixed answer to what should be the actual number. The definition of 'ideal' actually varies from person to person. For someone living in a 500 sq. ft. home, 1000 sq. ft. would be more than enough. For someone living in a multi-story building, you also need to look at the fact that the connection has to go across multiple floors, and thereby the range would need to be stronger. Make sure you know the exact area that you want to cover before you decide on the router you want to buy. 
6. How to make sure my router lasts for a long time?
When you are connecting a large number of devices to your router, you need to make sure it remains safe and lasts you for a long time too. There are some basic things that you need to take care of – firstly, don't let it running all the time. When not in use, or when you are going out, you might want to shut it so that the temperature cools down. Besides that, make sure you are keeping it away from heat and humidity, as well as from dust and water. These are what generally cause damage to modems and tend to them to either slow down or stop working altogether.
7. How much do routers for multiple devices generally cost?
If you are looking for cheap devices, this is probably not it for you. Routers that run a large number of devices simultaneously need to be power-packed devices, and are usually on the costlier side of things. You will need to shell anywhere between $200 to $500 to get some of the best ones out there, especially if you are looking for something that is big on gaming/streaming. However, if you aren't a gamer and want a device for your home that can connect all your smart devices for a moderate use, you can get some of them between $100 to $200 as well. The most basic devices of the lot are available in the $60 to $100 range which are good enough probably for someone living alone with about 10-15 basic devices to connect.
8. Where can I buy the best routers for multiple devices?
When you're looking for routers that work with multiple devices, you are essentially looking for high-power routers. These are generally at the upper-end of the pricing spectrum, as seen in the FAQ above. You can easily buy them from most stores across the US which sell computer-related accessories – all you've got to do is to ask for some of their best and most powerful modems. However, most stores generally keep a limited stock of these high-priced devices as the demand is usually low for them. Hence, we recommend checking out Amazon as that offers you a very large collection, plus deals and discounts running on it all year long.
9. How to make sure my router for multiple devices is not heating up?

A router that is connected to a large number of devices at a time, and particularly operational devices, will tend to heat up quite a bit. Hence, to make sure that it cools down quicker and doesn't get so hot that it ends up damaging itself, you've firstly got to make sure there's no dirt or dust on and around it. Dirt causes the heat vents to clog which makes it harder and slower for the heat to escape the modem. This will cause your modem to heat up even more so keep it clean. Next, make sure that you are keeping your modem in a place where there is space around it for the heat to escape. If you are keeping it in a place with a lot of clutter around it, the heat will keep adding on. 
10. Are routers for multiple devices good for gaming?
Yes, routers that are used for multiple devices are generally good for gaming because these are high-power devices. However, it is best if you look for routers that are specifically built for gaming. There are several gaming routers out there that can connect with multiple devices across your home and function with ease. These routers are often tri-band devices that come with a dedicated 'gaming band' that allows you to connect your console and other gaming devices on one band and all the other devices on the other two bands. These are generally considered the best routers for gaming purposes. 
11. Which brands make some of the best routers for multiple devices?
Netgear is obviously one of the biggest names in this category as well, as it dominates other routers and modems too. The company makes a large number of routers that can connect with multiple devices. Then there's TP-Link, which is another global giant, as well as Linksys, which is equally reputed. If you want something that is more specific to a task, such as a gaming router, you might have to look for ASUS-made routers, as they are generally some of the best gaming routers in the markets, often coming with a dedicated gaming band. Other than these too, there are a number of brands which make good routers that can connect with multiple devices – so keep an eye out for them as well.
Final Words!
Suppose You have a big family at home or run a big office in both of these situations. In that case, you should understand that using all the n number of devices from a single internet-providing router can be difficult if your router isn't powerful enough to handle the load of all your devices that work with the Internet. Always check the brand's warranty terms, users recommendations, and online reviews while making a final purchase to get an excellent deal for your router. 
It is hard to find the best wireless router for multiple devices these days as there are too many options in the market now. But with our complete review guide and product suggestions, you will be able to pick the right one for yourself.