We are supported by readers. When you purchase through links on our site, we may earn an affiliate commission.
Frequent crashing, not up to the mark performance, speed issues, and several security threats are the common problems we all face with routers these days. No matter how expensive a router you buy, it is often susceptible to these performance issues & cyber hacks unless they are OpenWRT compatible. Those who are aware of this technical term can directly head towards our Best OpenWrt Routers recommendations to buy in 2023. For those who are a newbie to this term, here are a few things you need to learn about these routers before moving to our top suggestions.
What is OpenWrt Technology, and how it is beneficial?
All regular routers come with the pre-equipped firmware that decides their speed, performance, and coverage. But OpenWrt compatible routers come with the ability to create custom-made firmware to enhance the bandwidth and performance as per your custom needs. 
As OpenWrt is an open-source Linux based project, it let you choose and improve any particular function of your router, like:
Download Quota

Bandwidth

Ad Blockers

High Security & Privacy Encryption

High & Smooth Internet Connectivity on Multiple Devices
A few things that you must keep in mind to buy the right one are its throughput, speed, internal processing, physical connectivity, range, multiple device compatibility and so on. Based on all these requirements and users' recommendations, we have curated the top 10 budget OpenWRT Routers list for you. Check which one suits your needs best.
11 Best Router for OpenWRT in 2023
Technology:

MU-MIMO

Processor:

1.7 GHz dual-core processor

Wireless Speed:

2600 Mbit/s

Ports:

4 LAN, 1 WAN 
If you are on a tight budget and looking for an affordable & stylish OpenWRT compatible router, then Zyxel NBG6817 is our first & most popular recommendation. Apart from its cool-looking and sleek design, the router is known for its advanced features and high-web connectivity due to its powerful 1.7Ghz dual-core processor.
This stylish wireless router comes with the most reliable WiFi connectivity and OpenWRT compatibility. Its Streamboost technology enhances the dual-band 802.11ac WiFi performance to ensure you can enjoy Online streaming and gaming at high quality. It offers a wide coverage range of up to 2500 sq. ft.
Another great thing about this router is the 4×4 MU-MIMO technology that makes it compatible to connect with multiple devices smoothly without compromising the speed or performance. So you can connect four devices to accelerate the WiFi connectivity and enjoy the same high speed on all devices.
The device uses Beamforming technology to provide high performance on a particular device you want. All you need to do is pinpoint the beamforming antennas to the specific devices you want to operate at high speed.
The router is equipped with Quad-Stream WiFi with a maximum wireless speed of 2600 Mbit per second to ensure that your files get transferred quickly at a high transfer speed without any latency.
As the device is 100% compatible with OpenWRT technology, you can do tons of customizations in it, including Complex Routing, Tunneling, NAT, WAN backup, Filtration, etc., to get better performance and security.
The build quality of this device is truly exceptional. Its thermally enhanced design ensures the circular of cool air through its chassis, so the device doesn't get hot upon heavy and prolonged usage. 
Some users believe that the app associated with it needs some improvement, but overall it is an excellent router for your home and office under budget.
Speedy Dual Core CPU

Excellent 2.4 GHz Performance

Beamforming Antennas

MU-MIMO and OpenWRT compatibility

Efficient Cooling System

Sleek & Stylish Design

Affordable

Easy to Set Up
Average MU-MIMO streaming quality

Average USB performance

Parental Controls are not up to the mark
Technology

: Wireless OpenWRT

Processor:

1.6 GHz Dual-core ARM CPU 

Wireless Speed:

1700 Mbit/s

Ports:

5 LAN, 1 WAN, 1 Ethernet, 2 External
Those looking for a secure and reliable router with excellent OpenWRT compatibility and WiFi speed must consider Turris Omnia 2020. The brand is not as famous as other brands available in the market, but it gives tough competition regarding performance and security features.
Although the device lacks MU-MIMO technology, it is based on open-source OpenWRT technology that let you customize its firmware according to your network needs and personal preferences. This makes this router used as a "two in one" open source and home server for all your needs.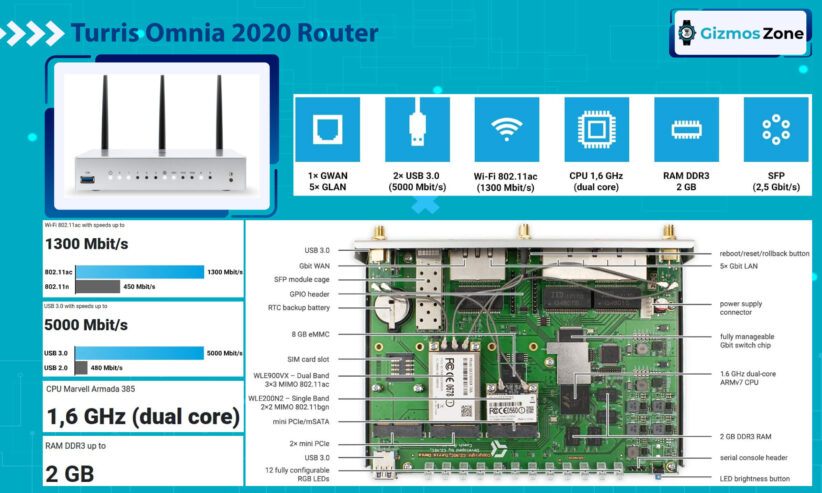 The router comes with a high-performance dual-core 1.6GHz ARM processor, 2GB RAM and 8GB flash memory so you can expand its functions smoothly.
Another great thing about this router is that its system automatically updates, thanks to the Torres Project. It has the ability to handle multiple tasks using Gigabit at high speed and performance. 
The router has Dual-band WiFi connectivity, i.e. 3 x 3 MIMO 802.11ac, 5GHz and 2 x 2 MIMO 802.11b / g / n (2.4GHz), to offer high wireless speed on all devices.
Its powerful Omnia processor lets you handle all your crucial work connected with the hard drive at full speed. It has excellent set ports for both LAN and WAN connectivity. 
The router also offers 2 USB ports to connect your SSD via mSATA transfer to enjoy high-speed storage. Its virtual servers let you work directly, similar to the devices connected to the LAN.
Other impressive features of this router are Dimmable RGB LED, reversible safety lights, unique distributed firewall, and instant availability of a large amount of additional integrated software.
Supports Open Source firmware

Easy Setup and Installation

High-Speed Storage

Excellent Coverage

Strong dual-core ARM CPU

Automatic updates

Secure default configuration
Lacks MU-MIMO technology

Requires IT knowledge to operate its software
Technology

: MU-MIMO

Processor:

1.8 GHz Dual-Core CPU

Wireless Speed:

3200 Mbit/s

Ports:

1 Gigabit WAN, 4 Gigabit Ethernet LAN, 1 USB 3.0, 1 USB 2.0/eSATA
For gaming enthusiasts, Linksys WRT AC3200 is an excellent choice for OpenWRT firmware and outstanding Killer Prioritization Engine (KPE). The powerful KPE allows automatic detection of devices with Killer networking cards and prioritises gaming network traffic to enhance your gaming performance and speed.
Along with compelling KPE, the other impressive features you will find in this powerful gaming router are its dual-core 1.8GHz CPU, 512MB RAM and 256MB flash memory for the smooth handling of heavy network traffic.
The router supports unique Tri-Stream 160 technology that offers three spatial streams on 160Mz wide channels at a 5GHz band. It is also responsible for eliminating latency and providing rapid speed at home networks.
The device is also compatible with beamforming technology to enhance the connectivity and speed of a particular device by pinpointing the antenna. Also, the MU-MIMO technology provides a single stream to your multiple devices on 5GHz bands for smooth and reliable speed & connection.
As the router is dual-band, it offers 2600 Mbps speed at 5.0GHz band and 600Mbps at 2.4Ghz. This dual-band connectivity and Killer Prioritization Engine reduce latency issues during intense gaming & streaming sessions to offer your games the highest priority.
To handle multitasking on various devices by offering relevant speed to each device according to its bandwidth and tasks requirements, KPE activates the regular router UI prioritization. This allows you to divide your standard devices into the categories of Higher (Priority 2), Normal (Priority 4) and Lower (Priority 6). This way, only the dedicated traffic goes to each device to accomplish the particular task.
You can easily set up and manage its WRT firmware through its app. Also, you can readily install packages from famous open source distributions to customize your firmware as per your network requirements. 
The device also comes with some powerful parental control options to ensure your child safety. Whether you want to create a guest network or update the WiFi passwords, all you need to do is download and log in to the app on your device.
Robust Killer Prioritization Engine

Dual-Band WiFi Connectivity

OpenWRT and Beamforming compatibility

Uses Tri-Stream 160 technology

Wide Coverage

Easy to set up and manage through the app
Slightly expensive

Lacks Dual-WAN compatibility
Technology

: MU-MIMO Gigabit

Processor:

2.4GHz- 5.0 GHz Dual Core CPU

Wireless Speed:

1900 Mbit/s

Ports:

4 Gigabit Ethernet LAN, 1 Gigabit Ethernet WAN
Those who don't wish to spend much on an OpenWRT router to avail of all its advanced features can consider TP-Link AC1900 Archer 8 router. 
Like its predecessors in terms of build quality and design, this router comes with some advanced features & technology that accounts for its high-speed performance.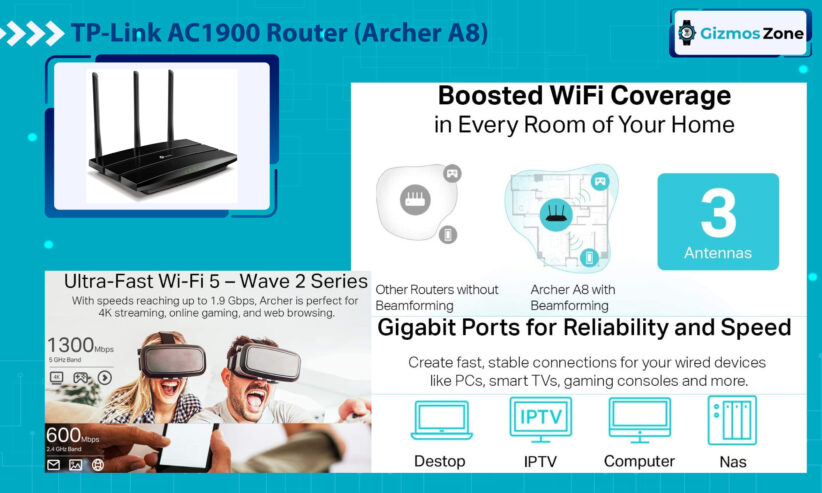 The device comes with the latest gigabit ethernet LAN and WAN ports that support up to 1000Mbps to support high-speed connectivity to all devices. However, you won't find any USB port in it for data transfer/sharing.
In terms of the price range, it is one of the most affordable OpenWRT compatible routers available on the market. The device is equipped with both the latest MU-MIMO and beamforming technology for equal and uninterrupted web connectivity in multiple devices.
There is an innovative connect feature in this router (which only a few routers offer these days) to connect the device with the best WiFi band available automatically. Another exciting feature is its Airtime Fairness that ensures the unused device doesn't hamper your internet connectivity.
As it is a dual-band router, it runs on both 2.4Ghz and 5.0Ghz bandwidth. While on 5.0GHz, it offers a high transmission speed of 1300 Mbps, you can expect around 600 Mbps speed on 2.4GHz.
Some other impressive functions you can access and customize in this router using OpenWRT technology are Parental Control, Usage time control, URL filter, Usage time control, Smart WiFi connect, QoS for user priority, and Free TP-Link DDNS.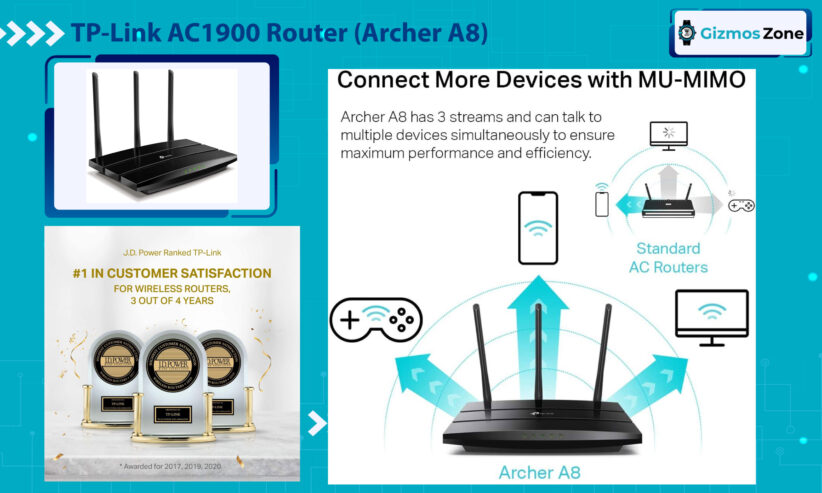 Supports WiFi 4 and 5

Has Gigabit Ethernet LAN and WAN ports

Supports Smart WiFi connect

Compatible with Beamforming, MU-MIMO and OpenWRT technology

Affordable
Lacks USB port and external memory slot

Doesn't support WiFi 6 (802. 11AX)

Doesn't have removable antennas
Technology

: MU-MIMO

Processor:

1.7 GHz Dual-Core CPU

Wireless Speed:

1733 Mbit/s

Ports: 

4 Gigabit Ethernet, 2 USB 3.0, and 1 eSATA ports
When it comes to providing top-notch connectivity devices, Netgear is one of the famous and reliable brands you may find online. Its Nighthawk X4S smart WiFi router is one of the top-rated OpenWRT supported routers available in the market.
The router is known for its high-quality, secure internet connectivity on multiple devices, thanks to its powerful 1.7GHz dual-core CPU and four beamforming antennas. Also, the device supports MU-MIMO and Quad Stream technology to offer strong WiFI signals to all the devices simultaneously.
Not only its robust and high-speed WiFI connectivity but also its security features will impress you. The device supports a powerful WPA2 wireless security system. Also, the convenient parental control lets you restrict web access, manage web filtering and providing WiFi access to specific devices.
Due to its powerful CPU and beamforming antennas, the router offers a high WiFi speed of up to 1700 Mbit/s with a coverage range of 2500 square feet. The data transfer speed is also pretty impressive, i.e., 2600Mbps.
This router has multiple USB 3.0 ports that allow users to create personal cloud storage for remote usage. Also, the Gigabit Ethernet ports ensure that all your home devices like PC, laptops, TV, etc., get uninterrupted high-speed connectivity for online gaming and streaming sessions.
For hassle-free setup and management, the device comes with the Nighthawk app. You can install OpenWRT firmware to customize your router for a smooth internet experience as per your network preferences.
Great coverage range of up to 2500 sq. ft.

Supports MU-MIMO and beamforming technology

Powerful 1.7GHz dual-core CPU

Easy Setup and management through the app

Excellent security features

Large number of Ports
Slightly expensive

Average Customer Support
Technology

: MU-MIMO Gigabit

Processor:

1.6 GHz Dual-Core CPU

Wireless Speed:

1900 Mbit/s

Ports:

4 Gigabit Ethernet Ports, 2 USB Ports
Comes in a traditional blue-black blocky design, this router comes with excellent features, gigabit ethernet ports and OpenWRT compatibility to offer high-speed WiFi connectivity for all devices at your home or office space.
This device is known for its exceptional hardware like 1.6GHz dual-core processor and 512MB RAM that smoothly handle the heavy usage and traffic on multiple devices simultaneously. As this router is dual-band, you can operate it in the 1.4GHz and 5.0GHz range, but it offers the best performance at the latter range.
The router has both beamforming and MU-MIMO capabilities to offer high-speed connection on multiple devices without obstruction. As it is OpenWRT compatible, you can install readily available software online to customise its OpenWRT firmware as per your network preferences and requirements.
To strengthen the WiFI signals, there are four high-performing antennas in this device that can be adjusted to ensure maximum coverage and signal strength. At 5.0GHz bandwidth, you will get a total speed of up to 1300 Mbps with excellent signal strength. 
With four gigabit ethernet ports and two USB 3.0 ports, the device offers the ultimate level of connectivity. With eSATA and USB ports, you can transfer a high amount of data seamlessly to your various devices, and the 512MB RAM allows quick transfer of heavy files like movies, games, etc.
Using its Smart WiFi app, you can remotely monitor and manage your home networks. The parental control settings allow you to restrict particular sensitive content on specific devices for your kid's safety. 
So this device offers you all enhanced security features against cyber-attack with high-speed internet connectivity on multiple devices with a good coverage range.
Durable and Sturdy Design

Compatible with MU-MIMO and Beamforming technology

Excellent coverage range

Powerful CPU & RAM

Offers up to 1.9Gbps data speeds

Easy to Setup and manage remotely

Supports Wireless AC technology
Average 1.4 GHz performance

Lack Apple Time Machine Backup
Technology

: MU-MIMO Gigabit

Processor:

Single Core CPU

Wireless Speed:

1900 Mbit/s

Ports

: 4 Gigabit Ethernet LAN ports, 1 Gigabit Ethernet WAN port
To offer better and advanced performance than its predecessors, TP-Link Archer 9 comes with a better configuration and elegant design for those who want high internet connectivity on multiple home devices.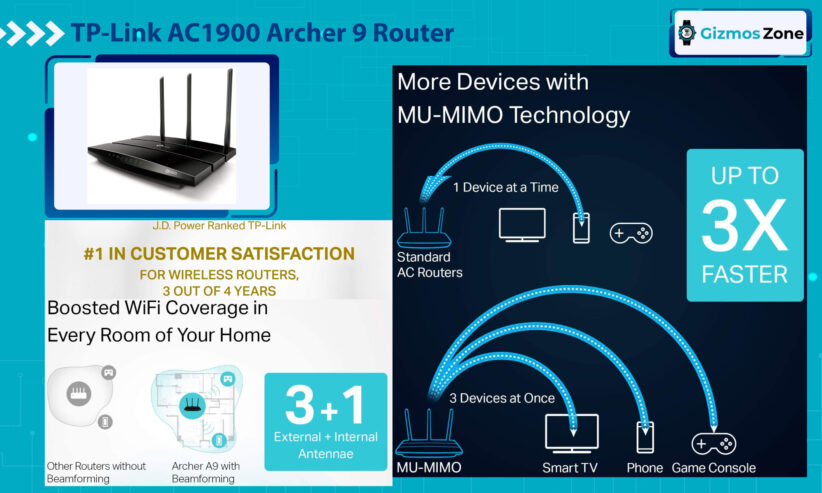 It is a dual-band router that offers a maximum speed of up to 1300 MBPS on the 5.0 GHz channel and 600 Mbps on 2.4 GHz. Using its companion app, you can set up both networks in less than 5 minutes and manage remotely for multiple devices.
The device comes with three external adjustable antennas and one internal antenna to support beamforming technology to offer high-speed, smooth connectivity on particular devices you want to operate. It also supports Smart WiFi connect and Airtime Fairness to manage the network traffic automatically.
To connect your wired devices and external hard drive, the device offers four Gigabit Ethernet ports and a USB 2.0 port. Unfortunately, there is no USB 3.0 port, but the device supports an FTP server and media server.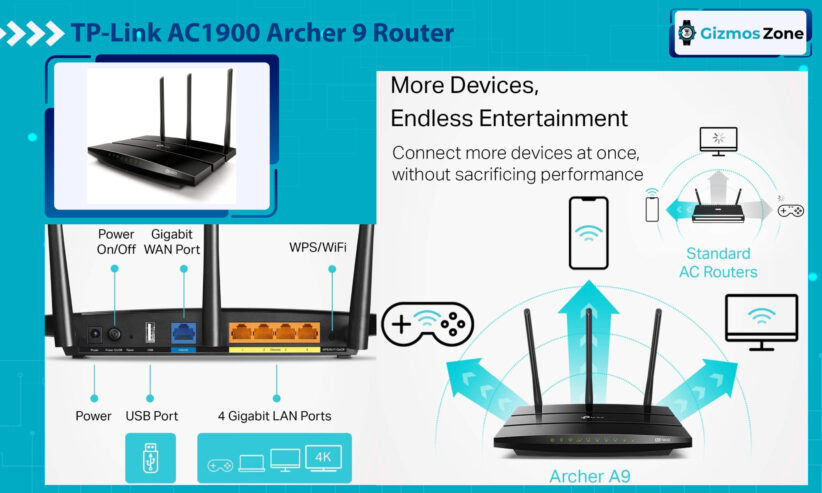 The coverage range is pretty impressive covering at least 2,000 sq. ft area. Installation of OpenWRT software is pretty simple and lets you customize everything you want to enhance the performance and speed on multiple devices. 
Upon connecting multiple devices like TV, mobile, PC, etc., for moderate usage, you will get excellent wireless speed without any lag. But when you connect various gaming consoles for intense gaming sessions, speed decreases a bit.
Compatible with Amazon Alexa

Provide high-speed connectivity for multiple devices

Supports Beamforming and MU-MIMO technology

Efficient Companion app

Up-to-date security features

Smart WiFi connect and OpenWRT compatibility
Lacks USB 3.0 port

Slow reboot process

Slightly low speed on high usage
Technology

: Wireless OpenWRT

Processor:

QCA9563, @775MHz SoC

Wireless Speed:

750 Mbit/s

Ports:

3 ethernet ports, 1 USB port and 1 microSD port
If you are a frequent traveller and looking for a portable and compact OpenWRT router, this GL.iNet GL-AR750S router is exclusively made for you. Despite being compact, it is a dual-band router with all the advanced features one could possibly need for a high-speed connection.
The router comes with 2 x 2 dBi non-detachable yet adjustable antennas to get maximum signal strength. The router supports two bandwidths – 2.4GHz and 5.0GHz. 
However, you won't get similar high speeds offered by advanced home OpenWRT routers with these dual bands. The maximum speed it provides is 300Mbps on 2.4Ghz and 433 Mbps on 5.0Ghz, sufficient according to a travel router.
The impressive thing about this router is its 3 Gigabit ports (1 WAN and 2 LAN). But if you wish, you can convert all three into LAN ports to connect wired devices for seamless high-speed internet connectivity. It is the only travel router that offers Gigabit ports right now.
Also, there is a USB 2.0 Port to attach your USB stick or USB 4.0 MiFi device for high-speed transfer of media and other important files. At last, there is a micro-USB port (5V/2A) for power. Unlike other routers, it also has a MicroSD slot to support a 128GB memory card. After inserting the SD card, you have to reboot the device.
Another great feature you will find in this router is the WISP mode. It lets you connect your device with any available network. By clicking on remember your WISP network, the device will automatically connect to the best available high-speed network every time.
The advantage of using a WISP repeater in a Dual-band router is that it doesn't reduce the connection speed, unlike the single-band router, to ensure you never face any buffering issues.
In terms of installation and user-friendliness, it is effortless to operate & manage. The good thing is that this router comes with Pre-Installed OpenWRT software, so you don't have to invest your time finding free packages and downloading them. You can customize the firmware as per your network requirements.
The router also offers you VPN compatibilities, so your connection remains secure in all scenarios. So, in short, this mini router is perfect for personal and travel use and comes at an incredibly affordable price in the market.
Travel-Friendly, Portable & Compact

Affordable

Comes with multiple connectivity ports

Dual-band router provides better speed

User-Friendly Installation

Pre-installed OpenWRT software

Has Micro-SD slot
Technology

: MU-MIMO

Processor:

1.8GHz Quad-Core processor

Wireless Speed:

5334 Mbit/s

Ports:

8 Gigabit Ethernet Ports. 2 USB Ports
Asus ROG Rapture GT-AC5300 is undoubtedly the most powerful OpenWRT gaming router you may find online. Till now, all the routers we have suggested you are dual-band, but this beast is exceptional.
It is a tri-band router with one 2.4Ghz and two 5.0GHz channels that offers unbeatable connectivity and speed on multiple devices through its eight antennas. Unfortunately, the eight antennas make this router slightly big in size and thus hard to install for compact places.
The major benefit of having a tri-band router is that you can dedicate one of the 5.0Ghz exclusively for gaming purposes. At the same time, the other two channels can be used for other devices to carry out productive work and streaming movies at 4K.
The combined maximum potential speed offered by these three channels are 5300 Mbps, which is quite unbeatable. It means you can expect around a 1000Mbps rate on the 2.4GHz channel, while on the other two 5.0Ghz channels, the speed will be around 2175Mbps. You can stream any media file or heavy games at HD quality without buffering or lagging with this blazing speed.
Unlike other standard OpenWRT routers with around 4 Gigabit Ethernet ports, this device offers eight ports to connect multiple devices for a secure and reliable connection. Also, there are two additional USB ports for fast data transfer.
Its ASUS web GUI is quite simple and easy to navigate and personalize as per your needs. The 4×4 MIMO technology offers high bandwidth for a maximum of 4 devices at a time so that you can enjoy multiplayer games and streaming sessions. The router comes with multiple gaming-specific features to enhance the experience for gamers.
In terms of security features, the most impressive one is the AiProtection system provided by TrendMicro. It offers built-in protection to the router against cyber threats. Also, it provides parental control, Website filtering and other several network & security configurations to ensure kids safety.
You can install the Asus Mobile app for complete setup and management. The app is more visually appealing and user-friendly than its web interface. Although the router comes at a slightly high price, it is worth investing in its specifications and features.
Tri-Band WiFi with blazing speed

8 Gigabit Ethernet ports

Gamer-specific features

Excellent Security Features

Supports 4K streaming

Highly versatile
Technology

: MU-MIMO Gigabit

Processor:

1.8 GHz Quad-Core CPU 

Wireless Speed:

1147 Mbit/s

Ports:

5 Gigabit Ethernet Ports (1 WAN, 4 LAN), 2 USB 3.0 ports
Those who want to avail the benefits of WiFi 6 with an easy-to-setup and budget Router with OpenWRT compatibility, this Linksys AX6000 smart router is made for you. Quite sleek in design, the device can be used both as a standalone wireless router and an integrated one to link with the existing Linksys mesh network system.
Its powerful 1.6GHz quad-core processor and 512MB RAM are more than enough to handle all the heavy data usage on multiple devices by covering the range of up to 280 sq. metres. It offers up to 6 Gbps speed for multiple devices using its MU-MIMO and OFDMA technology.
OFDMA or Orthogonal Frequency-Division Multiple Access technology allows high-speed data transmission on multiple devices simultaneously to improve and enhance data speed on prioritized networks.
The router works exceptionally well when you integrate it with the existing Linksys Mesh network system to enhance its capabilities and performance. Upon integration, you can utilise its 4×4 MU-MIMO Wifi-6 technology to handle over 40 devices simultaneously. 
Not only does the speed and performance enhance upon integration, but you get better coverage in low network areas, less latency and reduced power consumption upon heavy usage.
Talking about its design and ports selection, the router has two non-detachable antennas on both sides that can be adjusted according to signal strength. There are five GB ethernet ports (1 WAN and 4 LAN) to connect multiple devices for a secure and reliable connection on the backside. Also, you can utilise two USB 3.0 ports to attach a hard drive to the wireless network.
Installation and setup are pretty simple with its Linksys app. You can download the app and follow the instructions to create a new Linksys account. If you already have one, choose this router as a new child node or a replacement master node.
You can also enable the device prioritization feature to get uninterrupted high-speed connectivity on particular devices. Also, there are essential security features like website blockers, VPN capabilities, Parental controls, etc., to offer you and your kids secure web access.
So, overall it is an affordable and smart WiFi 6 router to integrate with your existing network system to enhance its performance and capabilities or used alone for multiple home devices.
Multiple Ports and connections

Support higher bandwidths

MU-MIMO and OSDMA technology compatible

Affordable

Easy to set up and manage
Complex Interface

Spotty Coverage
Fully functioning VPN Router 

3 ethernet ports on the back 

Comes with OpenWRT/LEDE frameworks preinstalled 
GL.iNet is known for making some of the best OpenWRT routers out there. When it comes to creating routers that you can customize, GL.iNet has got you covered. This is the GL-MV1000 from the company, and we must admit up-front, this is perhaps the most unique color that we've ever seen on a router! It has a very unique appeal to it in terms of the form factor, color and design. 
The router is powered by the Marvell Armada 88F3720 processor, which runs at 1.0 GHz and is generally considered as one of the better processors when it comes to IoT-based projects. This router comes with a pre-installed OpenWRT/LEDE framework and supports Ubuntu systems as well. All of this put together makes it an absolute favorite of those who want to gain better control of their network. 
The MV-1000 also supports OpenVPN and WireGuard – both of which are pre-installed. It can support VPN connections up to 280 Mbps, and provides the users with a rather fast and secure connectivity. Coming to some more specific details, this router features three 1 Gigabit ethernet ports, one USB port, and most interestingly, one USB Type-C port as well. It features a 1 GB RAM, along with a 16 MB flash storage. There's also support for MicroSD storage, using which you can expand it up to 128GB. 
GL.iNet's MV-1000 supports over 30 VPN service providers, and operates at a working temperature ranging between 20 to 40 degrees Celsius. Sometimes this might end up getting a little too hot, so a word of caution is to use it in colder rooms or to make sure you are providing it with sufficient cooling. All in all, it is a pretty chill device for anyone looking for an OpenWRT router.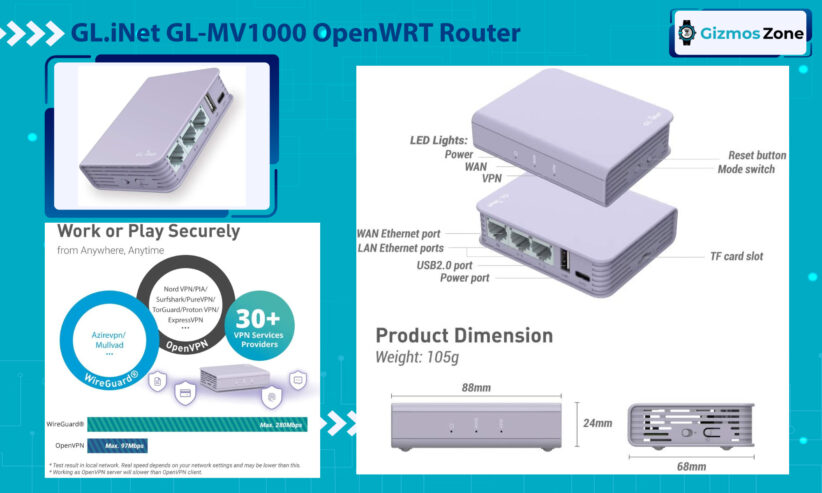 Highly customizable 

Supports over 30 VPN service providers 

3 Ethernet ports on the back  

Portable and can be easily carried around 

Supports expandable storage 
Frequently Asked Questions
1. What are the benefits of using an OpenWRT router for multiple home devices?
As compared to the regular router we use for multiple devices at our home or office, an OpenWRT router has the following benefits:
Offers high-speed and enhanced performance

Offers Mesh Networking Support

Multiple devices can be connected to the router without affecting its speed

Widens WiFi connection range

Offers better security features against cyber threats

Offers real-time network monitoring

Supports wireless distribution system

Offers firmware customization up to a great extent
2. Is the OpenWRT router safe to use for multiple devices?
Yes. An OpenWRT is entirely safe to use for both beginners and security experts. In fact, it offers better security features like Firewall, Parental Controls, Stateful NAT, Port forwarding via Netfilter and Global IP Tables configuration. You can easily configure all the security features as per your needs using its user-friendly web interface.
3. Does OpenWRT technology makes the router fast?
Yes, indeed, the OpenWRT technology makes your router fast by reducing lagging or latency issues and offering high-speed, reliable connectivity & network throughput on multiple devices. The technology uses buffer bloat control algorithms to provide stable connections and high speed even upon high usage for various devices, so there is no more buffering or lag.
4. Is an OpenWRT router recommended for regular home-based users?
We won't really suggest regular home-based users to try out OpenWRT routers because they don't really need them. These routers are specifically meant for people who want to gain better control of their router and to make modifications to the network. This is something that is generally done in either a very professional environment, or something that is used by tech experts to ensure an even better safety of their network than what a regular router would offer them. General home-based users or even most office users would typically have no such need to buy an OpenWRT router for their day-to-day usage.
5. How much do OpenWRT routers usually cost?
OpenWRT routers cost anywhere between $50 to $250. However, this is the general figure and there are of course a few exceptions. Some high-end modems might cost you north of $400 while there are other, cheaper routers that might go as low as $35 to $40. No matter how low or how high your budget is, there will always be an OpenWRT router for you. In this article we have tried to include routers priced in at different price points so that there's something for everyone! 
6. Where can I buy the best OpenWRT routers?
The best place to buy OpenWRT routers would be the Amazon web store. While there are a number of physical electronics and network-goods stores that you can visit, none of them is going to give you a collection as big as Amazon has. Even when it comes to delivery and customer support, the Amazon experience is rather superior and a lot of people would prefer to buy it from here given that the returns and refunds are easier than doing it via conventional methods. Lastly, Amazon also generally tends to provide better deals and discounts compared to traditional and offline stores.
7. How long do OpenWRT routers generally last?
A good OpenWRT router can last you pretty much the same length of time as any other router. It can easily give you a good 5-6 years if you are using it well. Make sure you keep it away from water, heat and dust – and you might even get a little longer than what we have pointed out. OpenWRT routers are known more for their software capability – but if you get these routers manufactured by a good brand, they can last for quite a long time and give you a very high-quality performance all the years. Just make sure you're keeping it protected from the three elements specified above, as well as from any bumps or falls. 
8. Which brands make some of the best OpenWRT routers?
OpenWRT routers are special products which cater to a very specific software-related need of people, and hence there are a very limited number of these products available. While every major brand makes them, there are some specific and niche brands that also tend to make these routers. Linksys, ASUS, TP-Link and Netgear are among the top four names that make these OpenWRT routers. On the other hand, there are some brands such as Zyxel, GL.iNet, and some others, which have multiple options in this category and offer rather specialized routers for all your software and security-specific needs.
9. How to make sure my OpenWRT router is not heating up?
OpenWRT routers tend to process more intense tasks compared to regular routers and hence you need to make sure they don't heat up easily. First of all, the most important thing that you've to keep in mind is the way you are placing your router. If it is kept in an open space, it will heat up lesser compared to being kept in a boxy space or with clutter around it. This is because open spaces and places with better airflow allow the heat to move out faster. In closed places, it just lingers around the modem. Lastly, make sure that you are cleaning it regularly as dust and dirt can cause the modem to choke up and that can cause heat to remain locked in it.
10. Is it possible to hack OpenWRT routers?
Hackers can break into systems and as technology evolves to safeguard itself better, hackers continue to level up and bypass that. While nothing is hacker-proof, these OpenWRT routers certainly make it tougher for them to break into your network than a regular modem. This also depends upon what kind of a firmware are you going to install and what security framework you intend on using in your router. In most cases, people who use OpenWRT routers tend to use it to run custom firmwares and they are hence considered safer than regular routers. However, it is still possible for them to get hacked, but the odds are a lot lower.
11. Can I use OpenWRT routers with cable modems?
Yes, you can make use of OpenWRT routers along with cable modems. There is no restriction to what kind of a modem you plan on using with this router. There are some connections that provide you direct access to internet without even needing the modem, while there are other forms of internet connection such as DSL/ADSL-based lines or cable-based Internet services that require a modem. In those cases, if you are not using a wireless modem, you will need a router to get WiFi access – and you can indeed make use of OpenWRT routers for that. 
Final Words!
OpenWRT technology is the answer to all your router-related issues, and thus, you must opt for the best router for OpenWRT using our detailed buying guide. We hope that you will be able to pick the right one for your home or office under your budget after reading our detailed review article. 
If you have any queries related to OpenWRT routers, you can connect with us in DM. Don't forget to check the brand's reviews, ratings and warranty terms before making the final purchase. Keep reading our latest recommendations to shop smartly!