We are supported by readers. When you purchase through links on our site, we may earn an affiliate commission.
Streaming videos have become a craze with the increasing power of graphic processors and the improvement of computer displays. With the number of subscription-based channels increasing every day, search for the right video-streaming laptop is becoming a tedious job; given the amount of research involved and varieties available in the market.
The OTT information service industry is expanding rapidly. Some of the finest and top utilized OTT networks are Diecast, IBM Cloud Video, JW Player Live, Netflix, Amazon Prime Videos, and many more. What makes this industry bloom so hard? Its streaming content. Neither does everyone prefer going to a movie hall nor is all the contents available there. With diversity in the media content, consumer needs are increasing proportionately.
This article curates some of the best-picked laptops in the tech industry for those who are on a lookout for devices that can aide them in streaming content like videos, movies, or any related and diverse content. You no longer have to ponder about which laptops to cherry-pick as per your needs.
EDITOR'S CHOICE
Razer Blade 15
CPU: 5.1 GHz Intel Core i7-10875H
RAM: 16GB
Storage: 512GB SSD, Up to 1TB PCIe NVMe
Display: 15-Inch OLED (3840 x 2160)
Battery: Up to 9 hours
Weight: 9.04 pounds
BEST OVERALL
HP Spectre x360
CPU: 2.5 GHz, Intel Core i7-8565U
RAM: 16GB
Storage: 512 GB SSD
Display: 15.6 Inches 4K (3840 x 2160)
Battery: Up to 10 Hours
Weight: 2.76 pounds
BEST BUDGET
Acer Aspire 5 Slim
CPU: Intel Core i5-10210U
RAM: 8GB
Storage: 256GB SSD
Display: 15 6″ Full HD (1920 x 1080)
Battery: Up to 5 hours
Weight: 3.97 pounds
14 Best Laptops for Streaming Videos in 2023
CPU: 5.1 GHz Intel Core i7-10875H
RAM: 16GB
Storage: 512GB SSD, Up to 1TB PCIe NVMe
Display: 15-Inch OLED (3840 x 2160)
Battery: Up to 9 hours
Weight: 9.04 pounds
The Razer Blade 15 has an NVidea RTX 2080- considered as the second strongest GPU available in the market. It is powered by the 10th Gen Intel Core i7 processor that is capable of reaching high frequencies of 5.1GHz under maximum load. The processor will make your bine-watching time smooth.
It comes with a 16GB RAM, and a 512GB SSD installed in the system. You get to experience a flawless environment to stream video content of your choice. The laptop runs on Windows 10 OS. So, do not worry about missing out on updates in the technology in-built.
With this device, you get to experience a 15.6 edge-to-edge monitor screen that provides limited lens interference. You get access to an incredibly stylish monitor that comes with an OLED 4 K-3840 x 2160 Touch Screen choice that with a broad color spectrum; it covers 100% of the DC1-P3 area, enabling developers to work on their projects with real visual clarity. The display is perfect for viewing larger than life films and series such as Game of Thrones or Endgame and war films like 1917
The Base Models of the Razer Blade 15 feature backlit keyboard. It comes with an Advanced Model of Razer ChromaTM RGB-powered per-key illumination. Unique Color may be applied to each key independently, with full flexibility and effective choices. Further, along with the Accurate Glass Touchpad, a large, clickable glass touchpad powered by Microsoft Precision Touchpad facilitates quick and precise operation, with a set of gestures for improved navigation.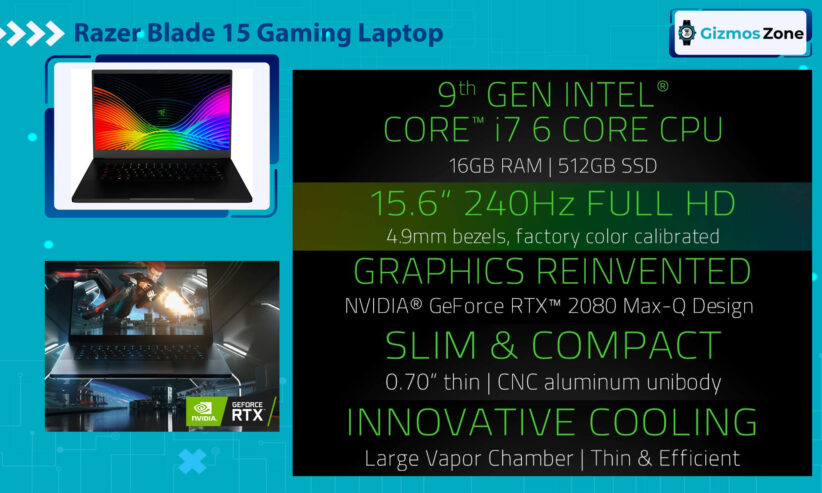 The Razer Blade 15 comes with integrated networking. It features WiFi 6 (802.11ax), a Bluetooth  5.1, ThunderboltTM 3, and a range of compatible monitor and auxiliary connections.  For inputs, you get 3 USB Type-A ports, a USB Type-C Thunderbolt3 port, a display port, and an HDMI port.
With a battery life of 9 hours long, you can stream music videos and movies for parties with your friends and families.
Large storage
Faster refresh rate
Long battery hours
Multiple ports
Supports Razer Core
Pricy
No Fingerprint scanner
CPU: 4.5 GHz Intel Core i7-9750H
RAM: 16 GB
Storage: 256GB SSD
Display: 15.6-inches UHD (3840 x 2160)
Battery: Up to 9 hours
Weight: 5.51 pounds
The XPS series has been in the market for a while and they are known to be one on the best-in-class professional laptop. The XPS 7590 is powered by a 9th Gen Intel i7 processor. This i7 processor can reach a clock speed of 4.5GHz. If you are wondering, they do come with integrated graphics.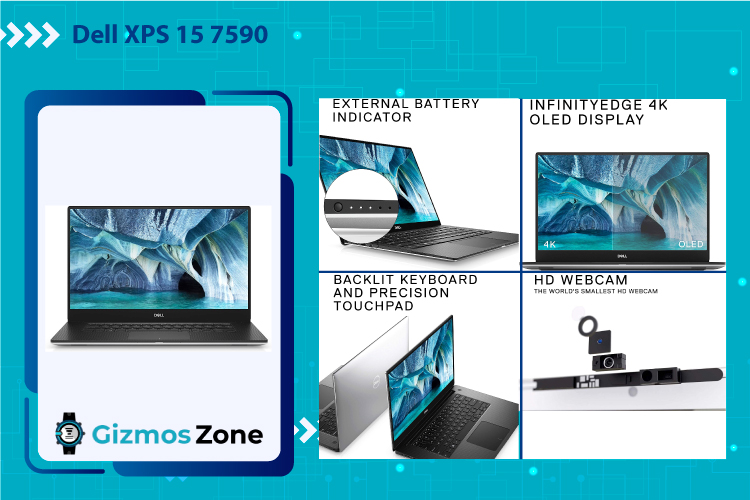 It comes with a memory space of 16GB; Multitasking on this laptop would be like cutting butter with a hot knife. It is also equipped with 256GB of NVMe SSD storage.
The 4K Ultra-HD display with a resolution of 3840×2160 makes streaming movies and videos a pleasure for your eyes. Measuring at 15.6-inch, the screen comes with an OLED panel- Dell's Deep contrast technology for better colours and divergence. The stunning display makes the video streaming on OTT, an unforgettable experience.
This laptop comes with a customized keypad that provides you with better touch experience and a well-developed trackpad system.
It has a sleek resemblance, and a durable body made of aluminium. It weighs around 5.51 pounds. For inputs, you get 2 USB3.0 port, an SD card reader, an HDMI port, an USB Type-C port for charging, and a 3.5mm headphone jack.
Dell has used signature Waves MaxxAudio Pro for better sound quality in the device. So, if you are one of those who does not use wired headsets or Bluetooth audio devices, the speakers are great for your experience in watching movies or videos.
The battery has a durability of running for 9 hours a day. Overall, a really good package considering Dell's experience in producing notebook laptops.
Large internal storage
High display resolution
Durability
Long battery hours
Presence of bloatware
Occasional heating of the device
CPU: 2.6GHz Intel Core i7
RAM: 16GB
Storage: 512GB SSD
Display: 16-inch Retina Display (3072 x 1920)
Battery: Up to 11 hours
Weight: 3.02 pounds
MacBook Pro is powered by an Intel i7 processor, running at a base clock speed of 2.6GHz and max clock speeds of 4.1GHz when turbo-boosted. It comes with in-built graphics powered by AMD-the Radeon Pro 5300M.
It comes with a memory space of 16GB and internal storage of 512GB SSD. Comes with an installed version of Apple's MAC OS having a High Sierra version.
The MacBook Pro comes with a larger, more spectacular display, making it one of the best Apple products to date. It offers you a massive 16″ Retina Display with a resolution of 3072 x 1920 and 226 pixels per inch- get a theatre-like experience while streaming videos and music.
The Magic Keyboard on this MacBook Pro includes a revised scissor system that provides 1 mm of crucial movement time. Combined with the Touch Bar and Touch ID, the Magic Keyboard offers a comfortable, accurate typing experience.
It uses a giant propeller with expanded blades and more full vents, resulting in a 28 per cent improvement in airflow. In contrast, the 35 per cent more significant heat sink enables more effective heat dissipation. The weight of this device is 3.02 pounds. MacBook Pro is fitted with two USB-C ports- USB 3.1 Gen 2 and Thunderbolt 3 support for Thunderbolt storage speeds of up to 40 Gb/s and USB upload speeds of up to 10Gb/s.
This device offers a massive battery life of 13 hours, with 10 hours of the wireless web along with 10 hours of playing video via the Apple TV app. You can just lie on the couch for half a day and not worry about charging your device, because MacBook Pro is a complete package out there/
In case you do not find Mac Book Pro to be affordable, do not worry! MacBook Air is at your rescue. It comes with a 13-inch screen of the display, an 8GB memory space, and 256GB SSD storage. Even without the touch bar, this product gives you a pleasurable, uninterrupted experience of streaming content at an affordable price.
High-resolution "Retina" display.
Sleek appearance.
Long battery life.
Touch bar.
Better keyboard
Non-Upgradable RAM
Expensive
CPU: 4.60GHz Intel Core i7-8565U
RAM: 8GB
Storage: 512GB SSD
Display: 14 inches FHD (1920 x 1080)
Battery: Up to 7 hours
Weight: 4.3 pounds
This device comes with an in-built Intel Core i7-8565U processor, with a memory speed of 4.60GHz. Its memory speed provides you with good online streaming performance and faster completion of singular tasks. It is powered by Intel UHD Graphics 620 processor. The faster processing system allows you to stream videos with negligible interruption.
It comes with a memory space of 8GB RAM, good to go for performing tasks smoothly and storing data. If preferring for gaming or video editing purposes, then purchasing the upper version i.e. 16GB or above would do. There is an internal storage limit of 512GB SSD. This device runs on Windows 10 OS.
Its screen measures at 14-inch with a high-resolution of 1920 x 1080 pixels. You can binge-watch videos and stream high-quality videos with a flawless reflection on the screen. It is coated with IPS anti-glare to prevent the reflection of harmful rays from the device's screen.
The device comes with a full-size keyboard for performing conventional computing work, and a touchscreen model with a fingerprint sensor to allow seamless authentic experience for you.
It is a flexible device. The weight of this laptop is around 4.3 pounds. There is a charging port, a full-size HDMI port, a USB-C 3.1 port, a 3.5mm audio jack for headsets, a USB-A 3.0 ports, and an SD card reader slot.
The battery can run for 7 hours long in a day without draining out quickly. So, if you are looking for a device with fast processing to provide you with flawless experience of streaming videos, then Lenovo Ideapad S540 is one of your kind.
Elegant looks
Durable hardware
Fingerprint sensor
Privacy Shutter for webcam
CPU: 2.5 GHz, Intel Core i7-8565U
RAM: 16GB
Storage: 512 GB SSD
Display: 15.6 Inches 4K (3840 x 2160)
Battery: Up to 10 Hours
Weight: 2.76 pounds
The Spectre series is one of the flagship series launched by HP. This laptop is powered by a 7th Gen Core i5 processor. The processor runs at a speed of 4.6GHz. The highly developed processor lets you do efficient prefetching algorithms with low latency and higher memory bandwidth as compared to previous generations. It has an NVidia GeForce MX150, a mobile GPU that gives you high-performance ones. It will run most of your streaming apps swiftly and with a stable internet connection, you ready for a binge-marathon of your favourite shows.
The laptop comes with 8GB memory space and internal storage of 512GB SSD. It runs on Windows 10 OS that lets you do multitask on multiple apps, and store a good amount of data with negligible glitches.
Measuring at 15.6 inches, this device comes with a 4K display having a resolution of 3840×2160. Such a great quality provides better user experience in streaming videos or any other related content. The LED display is energy efficient. The display supports touch input and pen input as well.
The keyboard comes with a backlit feature for enabling its usage in darker surrounding too. It also includes brightness control and lowering inactive sound features. The touchpad works equally great with the right size and smoothness.
The laptop has a thin appearance with a compact form factor. It weighs around 4.4 pounds. For inputs, you get a USB Type-C port, a USB 3.1 port, an HDMI port, and a Thunderbolt 3 port.
On average, you get about 10 hours of battery life on a full charge. With that battery life, it is a great choice to view online content while travelling. Overall, if you are looking for a   touch support laptop with a good display and GPU to view streaming videos and related content, this laptop might be for you.
Compact appearance
Good resolution
Fast processor
Excellent battery life
Lacks a fingerprint reader
Minor heating issues
Expensive
CPU: Intel Core i5-10210U
RAM: 8GB
Storage: 256GB SSD
Display: 15 6″ Full HD (1920 x 1080)
Battery: Up to 5 hours
Weight: 3.97 pounds
Acer is known to produce good laptops for budget users, and this laptop has an i5 processor of the 10th Gen Intel series. It has a base clock speed of 1.6GHz and turbo boosted to 4.2GHz. This is paired with Intel's integrated GPU- UHD Graphics 620.
It comes with an 8GB RAM along with an additional 256GB of SSD internal storage. The memory space is an ideal one to start with, especially when considering the need to stream videos and related contents. It will you allow you to perform tasks on multiple apps too, without hindering your work process.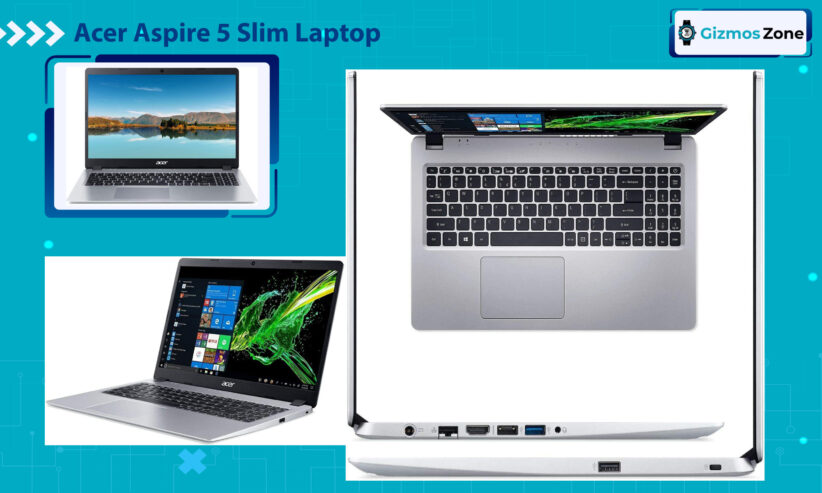 The laptop features a 15.6-inch full HD screen with a resolution of 1920×1080. The panel is an IPS LED-backlit one with Acer colour intelligence. So, no strain on your eyes or brain due to radiation of harmful rays!  The display is perfect for viewing online streaming content, it is also easy on the eyes. The AcerBluelight shield will aide you in experiencing maximized visuals with negligible buffering or any other kind of interruption.
The keyboard and touchpad are customized into the device. This device also has a built-in fingerprint scanner with Windows Hello integration. So, you get both 'security' and 'Quality' with this scanner.
The laptop is a thin, light device with an aluminum top cover. It weighs around 4 pounds. There is a USB Type-C port, 2 USB3.0 Type-A ports, a USB2.0 port, an HDMI port, and a 3.5mm headphone jack.
You can stream high-quality music with Acer TrueHarmony. It comes with Wi-Fi 6 – based on the 802.11ax standard- is a giant leap forward in wireless connectivity. This newly developed WiFi will surely improve your wireless experience.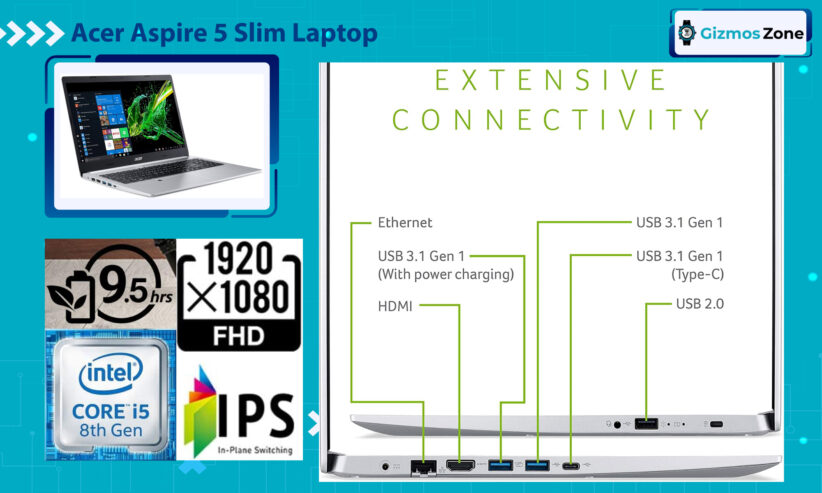 It has a battery life for 5 hours. Overall, this laptop is good for anyone who wants to stream videos with a good resolution screen.
Great display resolution
Multiple ports
Fast processor
Touchpad
Comparatively low battery life
No SD card reader
CPU: 3.6 GHz, Intel Core i5-1035G1
RAM: 8GB
Storage: 265GB SSD
Display: 15.6-inch Full HD (1920 x 1080)
Battery: Up to 10 hours
Weight: 3.75 pounds
The HP 15t is a budget laptop for those people who are looking for a good display and decent performance. It comes with an in-built 10th Gen core i5 processor that turbo boosts to 3.6GHz if given high load. It also features an integrated graphics from Intel.
The laptop has 8GB RAM and 256GB of internal storage. Comes with Windows 10 OS pre-installed. You can multitask with the Microsoft office while getting the benefit to store files in the cloud. This OS comes with anti-virus protection to enable smooth functioning on your laptop. So, if you are worried about getting your laptop hijacked while streaming video contents, then fear not!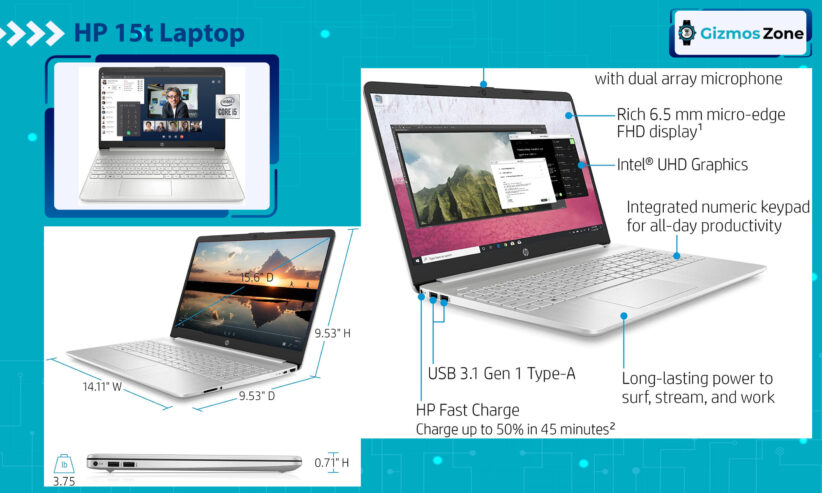 The display screen measures at 15.6 inches diagonally, coupled with a WLED panel that gives a resolution of 1920×1080. There is an anti-glare to protect your delicate tissues in the eye from harmful radiations from the skin. You get a comfortable display to stream videos of your choices with high picture quality.
It comes with a regular but well-spaced keyboard, and a trackpad that is positioned carefully to provide a better user experience.
The laptop has a sleek design. It weighs about 3.75 pounds. You get a USB3.0 port, two USB2.0 port, an SD card reader, an HDMI port, and a 3.5mm headphone jack. The niche part about the laptop is that it comes with an optical drive to be able to read CD drives.
This device comes with a BIOS recovery and protection feature that automatically checks the health of your PC, protects it against unauthorized access, secures local storage, and recovers itself from boot-up issues.
Its battery can run for 11 hours – a good amount of time for you to stream contents of your desire, or party with your near and dear ones with Up to 10 hours and 15 minutes (mixed usage), up to 6 hours and 30 minutes for video streaming, up to 8 hours and 30 minutes for wireless streaming of contents; gets up to 50% charged in 45 minutes with HP Fast Charge. Overall, this laptop is impressive in terms of design, build quality, and the performance it offers.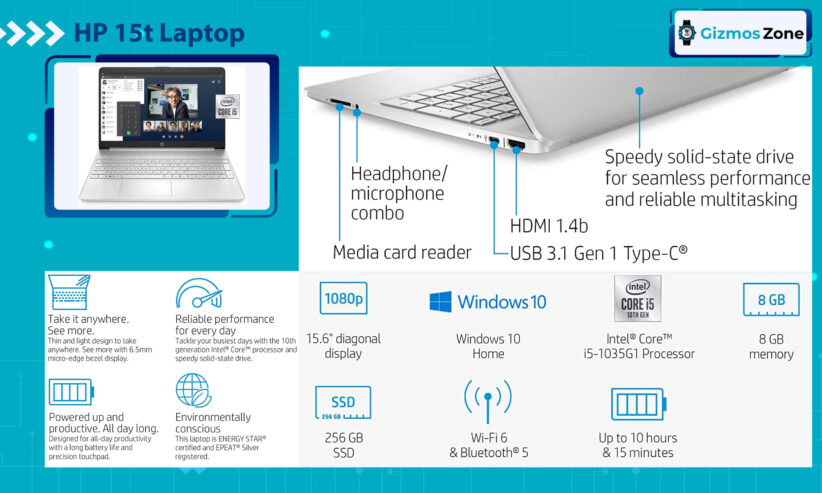 Value for money.
Good battery backup
Good display resolution
Poor build quality (plastic0
Slightly heavier
8.

No products found.
No products found.
CPU: 3.7GHz Intel Quad-Core i5 1035G4
RAM: 4 GB
Storage: 128 GB SSD
Display: 14.0-inch HD (1366 x 768)
Battery: Up to 20 hours
Weight: 3.7 pounds
Dell Inspiron comes with a Core i5-10210U processor, and MX250 GeForce graphics. The processor runs at a speed of 3.7GHz, which would make the process of streaming videos faster and smoother. 3.7GHz is a good speed to go for, especially when streaming content platforms like Netflix.
Comes with a RAM of 8 GB and internal storage of 128GB. It runs on Windows 10 OS- a reliable and modern technology for your needs. Its adequate high bandwidth feature lets you run multiple apps; If you wish to switch between apps and stream some interesting videos like music, movies, etc. for entertainment, then you can do it without any rough interface with viewing contents. Its 256GB Solid State Drive lets you save files faster and stock more data. With massive amounts of storage and advanced communication power, SSDs are great for major gaming applications, multiple servers, daily backups, and more.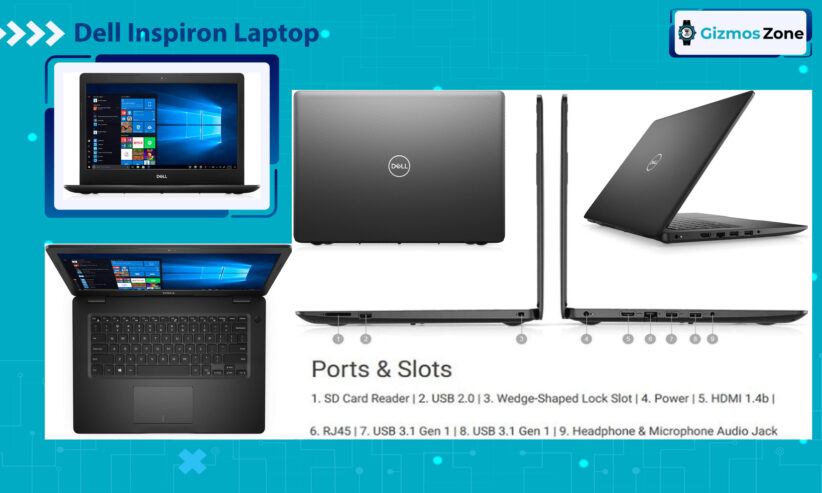 It comes with a 14-inch HD display, measuring 1366 x 768 pixels. The resolution provides a good user experience with clarity of the contents on the screen. The non-touch feature lets you enjoy good quality videos on platforms like Netflix, Amazon Prime, etc. with a good display resolution having fine touch to it.
Different from the conventional, the keyboard comes with silver keys that would almost shine in a low/darkroom. The touchpad is very compactly customized into the unconventional keyboard and provides a comfortable user-touch response.
The frame is built of magnesium-alloy which is thinner than aluminium but more durable; without making it bulky, it acts durable. It comes with a webcam placed on top of the screen. The audio of this device is impressive, which makes streaming videos and hearing sounds easier for you. It weighs around 3.7 pounds- very portable. It comes with a pair of USB 3.1 Type-A ports and a head/microphone jacket can be found on the right side of the device.
20 hours of battery life is what one can wish for! Enjoy, watch videos, throw events at home, and play loud music- your laptop is still going to function for most of the day. Overall, this laptop is great for those people who look for authentic performance of a laptop.
Long battery life
Lightweight
High SSD storage
Fast processor
Comparatively low screen resolution
Low brightness
CPU: AMD Ryzen 5 4500U
RAM: 16GB
Storage: 256 GB SSD
Display: 14-inch FHD (1920 x 1080)
Battery: Up to 16 hours
Weight: 3.64 pounds
Powered by AMD Ryzen 54500U processor, this laptop allows you to multitask on its device while letting you switch between apps in a flash! You can also perform heavy tasks and run multiple demanding apps. It comes with a built-in AMD Integrated Graphics Coprocessor.
The computer memory space comes with a 16GB capacity- great for storing more data on the device. If 16GB is not enough for you, then the device has more stored at your disposal. An additional 256GB internal storage is good to go for heavy data storage. It runs on Windows 10 OS; ensures stability and reduced loading time for you. It comes with excellent virus protection too. The smooth functioning of the OS lets you enjoy the benefits of its storage too.
It comes with a 14-inch Full HD measuring at 1920 x 1080 pixels. It is a 2-in-1 laptop that comes with a touchscreen mode too. The high definition IPS panel comes with a 2x2W Speakers with Dolby Touch. You can binge-watch and enjoy high-quality streaming videos without any undue interruption.
This laptop comes with a dual facility of a customized keyboard and a touchpad too. There is an Active Pen included for you to enjoy the flawless touchscreen work and highly developed user interface that comes along.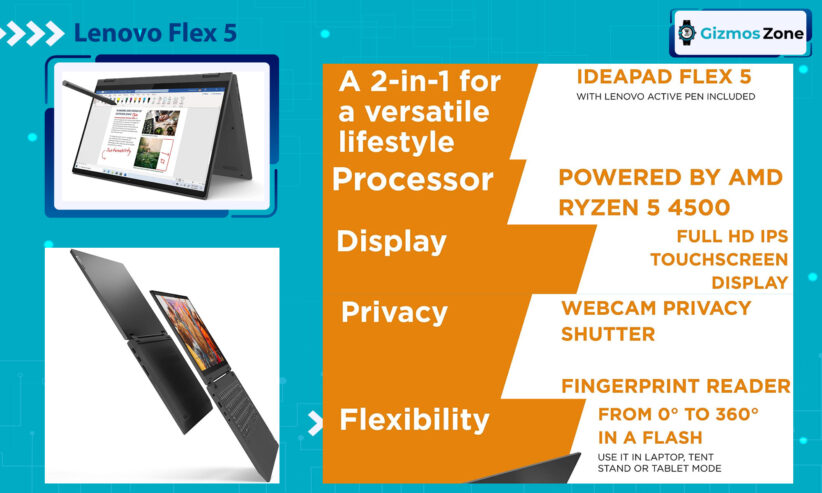 The Lenovo Flex 5 has been designed in a compatible mode to fit our everyday work-life balance. You can carry this laptop and work on the 'laptop mode' for everyday computing, 'Tent mode' or sharing files and related work, 'Stand mode' for streaming videos and binge-watching shows, and 'Tablet mode' for engaging in intuitive interaction. It weighs around 3.6 pounds- hence, making it easily portable. There are 2 USB-A, 1 USB-C, and an HDMI port in this device. Its flexibility is what makes it's much more comfortable in usage.
The battery life of 10 hours would let you go on with your important work, without having to look for a socket to keep your device plugged in. Thus, a device that can flexibly rotate and provides you with great display resolution with long battery life, is great to set you in the mood for streaming quality videos.
16GB RAM
Display with touch support works great
Ryzen CPU is value for money
Battery backup is good
low storage capacity
Poor quality of the speaker.
CPU: 2.1GHz Intel Core i3-8145U
RAM: 8 GB
Storage: 128 GB SSD
Display: 15.6″ Full HD 1920×1080
Battery: Up to 8.5 hours
Weight: 3.96 pounds
The Ideapad series is people with budgets, looking for flagship features in a low-cost device. This device is operated by an 8th Gen Intel Core i3 chip that can reach a max clock speed of 3.9GHz.  It comes with UHD Graphics. The fast processor lets you handle any kind of data you are dealing, which ultimately makes it easy for you to binge Netflix, Amazon Prime, etc. without missing out on any new content.
It comes with a memory space of 8GB and internal storage 128GB capacity. Comes with Windows 10 OS pre-installed. If you are an online video streaming person, this device would be just right.
The screen this laptop equips is an unexpectedly good one. It is a full HD Anti-Glare display that is capable of giving great colours and dynamic range throughout the screen. It is a 15.6-inch screen and has a resolution of 1920×1080.
Comes with a customized keyboard with well-spaced keys for your comfort and adjustability.
It is designed in an attractive way to fit into the tastes of the newer generation. It weighs around 4 pounds. You get access to a 2 USB3.1 Type-A port and Type-C port, an HDMI port, and SD card reader and a 3.5mm headphone jack.
An 8-hour battery life is good to go for streaming video content without much interruption for the need to plug it into a charger. The laptop is a good package with some of the best features out there in the market.
Privacy shutter for webcam
Slim appearance
large memory space
Lesser price
limited performance
Low colour clarity
Slightly heavier
CPU: M1 chip
RAM: 8GB
Storage: 512 GB
Display: 13.3-inch Retina display
Battery: 20 hours 
Weight: 3.0 pounds
When discussing a highly compatible laptop for video streaming, the 2020 Apple MacBook Pro is hands down one of the best choices that you can consider buying. From the sleek design to the ultimate user experience, this device takes care of it all.
The ultimate flex of the device is that it's backed with the popular Apple M1 chip for the ultimate and uninterrupted user experience and performance. The 8-core CPU and GPU offer up to 2.8x faster performance and faster graphics without any lags in productivity and performance.
The laptop is further integrated with the highly acclaimed 8GB unified memory that supports superior multitasking without any kinds of interruptions along the way. Pair that with 512GB SSD of storage that enables the users to launch apps that open up in an instant.
Another factor that contributes to the overall performance is the active cooling system that contributes to the ultimate performance without any compromise. This is integrated with the ultimate venting that prevents the risks of overheating.
Coming to the display, the laptop is backed with a 13.3-inch Retina display and supported with 500 nits brightness and vivid colors for the ultimate viewing experience. The device is also integrated with a FaceTime HD camera with advanced image processing for clearer video calls.
Highly responsive processing power

Active cooling system to prevent overheating

Crisp and vivid display
A little on the expensive end
CPU: Intel Celeron N4020 processor
RAM: 4GB
Storage: 64 eMMC GB
Display: 14″ HD display panel
Battery: 8-10 hours 
Weight: 3.0 lbs
Not everyone has the means to spend over $1000 on a laptop. And, if you are on the same boat and you need an option that's reasonably priced, the Lenovo IdeaPad 1 14 is a pretty great option, especially for the students.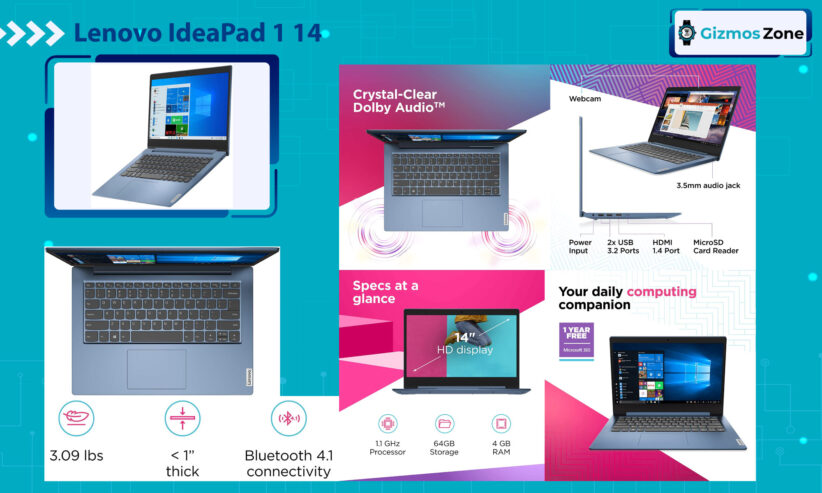 This is an ideal everyday laptop that works optimally with your video streaming platforms like Netflix and Amazon Prime without any delay or distortion. Given the price, you can't necessarily expect to find something with a lot of storage, so you need to make do with less storage.
As for the display, the IdeaPad 1 14 is equipped with a 14" HD display panel and is integrated with narrow bezels for an expansive viewing experience like never before. Besides that, the overall design of the device is one of a kind and is available in a stunning color scheme too.
Besides that, the device is further integrated with the Dolby Audio that provides crystal clear audio output without any complications. The dual built-in stereo speakers enable you to experience a theatre-like experience on the laptop.
As for the overall design, the laptop features a lightweight and sleek design and it runs on Windows 10 in S mode and weighs just above 3 lbs, which makes it easier to carry without any issues. You also get it integrated with all the connectivity options.
Sleek and lightweight design

Dual built-in stereo speakers

Responsive processor
Lacks storage and RAM configuration
CPU: Intel Core i5-9300H processor
RAM: 12GB
Storage: 512 GB
Display: 15.6" FHD display panel
Battery: 8-10 hours 
Weight: 4.92 lbs
Gaming laptops are configured with the absolute best processors and CPU, so it isn't even a question why they are considered the ultimate choice for gamers. Amidst all the options, the HP Pavilion Gaming 15-Inch Laptop is one of the few options that you can make the most use out of.
Not only does it support fast and efficient multitasking, but the gaming laptop also supports the ultimate processing power as you have never experienced before. The advanced thermal management with IR sensor prevents the risks of overheating for uninterrupted performance too.
The Pavilion Gaming laptop is powered by the 9th Gen. Intel Core i5-9300H processor with NVIDIA GTX 1650 GPU for the ultimate gaming and streaming experience you have never experienced before. It is backed with real-time ray tracing technologies.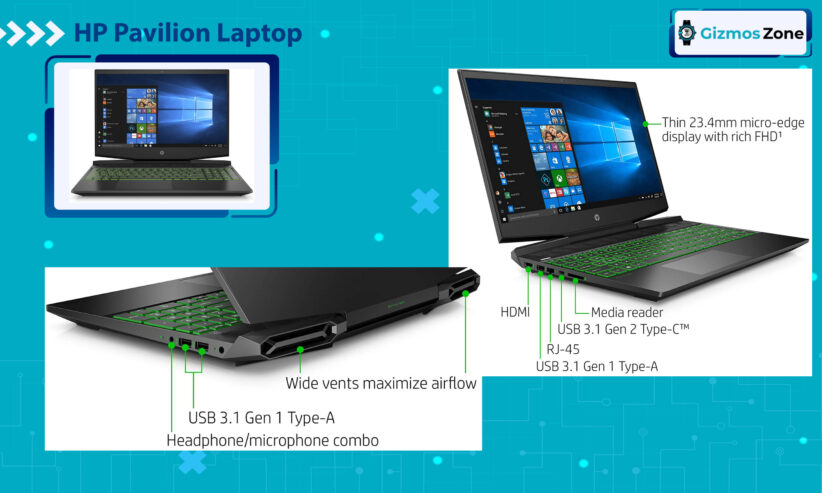 As for the display, the device is equipped with the ultimate 15.6" FHD IPS anti-glare display panel with a 60Hz refresh rate with 1080p screen resolution for superior responsiveness and crisp visuals with bright and vivid color reproduction.
Coming to storage and memory, the HP Pavilion gaming laptop is integrated with 512GB SSD of storage with 12GB RAM for the ultimate performance without risks of interruptions along the way. Also, the BIOS recovery and protection shield your device and protects the health of your PC without any complications.
The overall design of the device features the standard HP design but you also get the superior curved edges with a lightweight design. The device runs on the Windows 10 Home OS.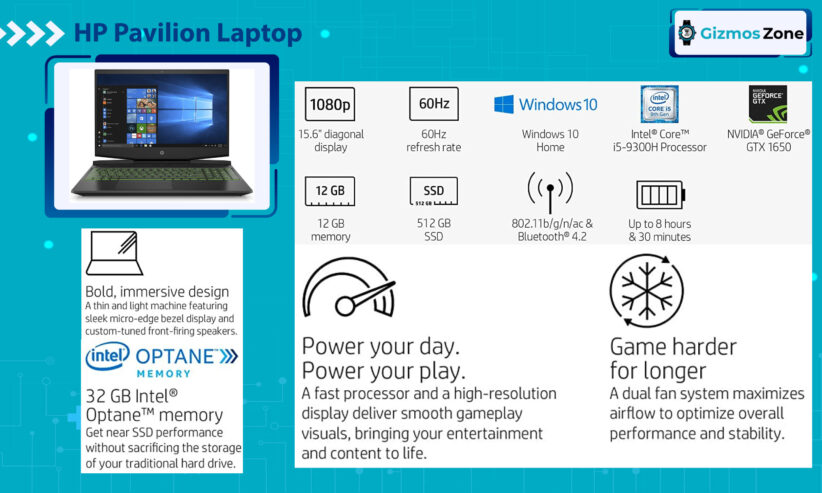 Ultimate gaming and streaming performance

Narrow bezel design

Superior RAM management
CPU: AMD Ryzen 9 5900HX
RAM: 32 GB
Storage: 512 GB SSD
Display: 15.6 inches
Battery: Up to 5.5 hours
Weight: 5.43 lbs
Laptops that you may want to buy for streaming video need to have two qualities to them: a decent display, and a good audio output. HP Omen 15 ticks both these boxes. Built primarily for gamers and gaming, this laptop also makes for a pretty good device for streaming content. Priced at the higher end of the spectrum, the laptop does deliver every bit worth the hype. 
Starting first with the impressive 15.6″ Full HD (1920×1080) display, you get a splash of colors which you can view just the way the creator intends you to. Add the RTX 3070 GPU to it, which is one of the most powerful Graphics Cards out there, you get a very nice visual output. The HP Omen doesn't disappoint you when it comes to video performance, and the audio performance is also pretty solid – among the best out there.
The laptop runs on an eight-core processor, the AMD Ryzen 9 5900HX. This is assisted by 32 GB of RAM and 512 GB of SSD storage. These high-power specs make sure that even the largest of video files can be played without a single glitch or buffering time. There's the diamond-shaped Omen branding on the back of the device, which gives it a very unique appeal. 
There are three USB 3.1 ports, as well as one USB Type-C port on the laptop. HP Omen 15 also comes with an HDMI port. The laptop comes with Windows 10 Home (64-bit) pre-installed. It also has a one-year manufacturer's guarantee. When using it for gaming, the laptop delivers about 3 hours of battery life, and about 5 and a half hours for non-gaming purposes.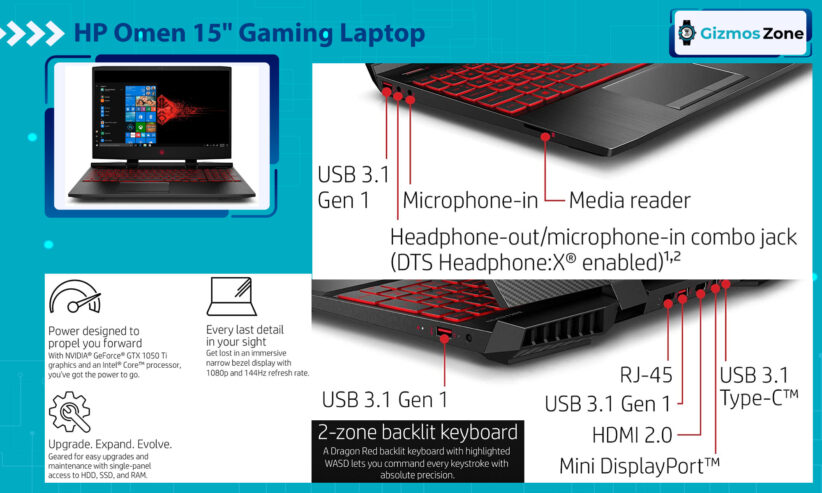 Impressive RAM/Storage combination 

Lots of ports to connect to – great for streamers

Very impressive display  

One of the most powerful GPUs out there 

Backlit keyboard
Battery life could be improved
Frequently Asked Questions
1. What role do processors play in streaming video content?
The thumb law is for a laptop to have a dual-core processor. Good processors with high processing rates make your tasks easier. Because how smoothly you're able to function while streaming videos of high quality depend on how faster and well-responsive your processor is.
2. What are the advantages of a Full HD 4k LED screen when streaming videos?
Full HD displays have greater visibility because they hold greater pixels than the standard screens. The highest resolution for a projector is 1080p. The 4K monitor can contain four times as many pixels as the Standard HD panel. Therefore, you will get a fantastic experience of video streaming mainly from OTT platforms.
3. What should be the ideal battery life for the best video streaming Laptop?
There is no predetermined idea of battery life as such. However, one would not want to constantly plug their devices into sockets before or while streaming video or any related content. So, battery life with more than 5 hours is average, and those with 8/9/10 hours are ideal.
4. Should I get a PC or laptop for streaming?
If you compare a pc with a laptop for streaming purposes, we suggest that you go with a laptop because while streaming, everyone needs comfort to enjoy it, and you can get this comfort with a laptop only. With the help of a laptop, you can stream anywhere anytime for as long as you can. 
You can choose a laptop based on a good battery backup with a great display so that you can have a good streaming experience. A laptop for streaming purposes doesn't have to be expensive; you can choose a laptop with the lowest specifications; just make sure those specifications are enough for your regular use.
5. What internet speed do I need for streaming video?
There is no limit for internet speed when it comes to streaming videos because there are too many videos with 4K+ quality, and to stream this much quality, you need good internet with high speed. If you are looking for minimum speed to stream, then 3 Mbps is the minimum speed to stream a standard quality video. 
Streaming videos on the internet need enormous bandwidth because it will eat up most of your quota, so make sure you have enough bandwidth before streaming a high-quality video. If you are watching standard quality videos on multiple devices simultaneously, we recommend having an internet connection of a minimum of 10 Mbps speed. 
6. How much RAM do I need for streaming videos?
With the help of RAM, your system runs many large programs smoothly, so it is essential to have a good RAM setup on your laptop. If you are buying a laptop for streaming purposes only, we recommend having a minimum of 4-6 GB of RAM. With this RAM, your laptop can work smoothly, and you can enjoy your streaming without any trouble. 
People stream movies and videos on the internet to release their daily-life stress, and buying a laptop for that purpose needs to have a good quality display and battery life with an easy-to-operate OS. You can also choose a laptop from our list based on different requirements.
Verdict
When looking for the best Laptop for streaming videos, you need to take five factors into account: processor speed, microphone power, battery life, RAM, and cooling device configuration.
Streaming content especially videos on different platforms has become very common these days. With so much content available and even more variety in devices being marketed, one often doesn't realize the need to choose the right device. Lack of awareness about features is another lacuna to be recovered. Yet this article gives you a plethora of information about some of the best devices in the tech industry. So, gauge your needs and budget, and pick up a handy device to stream the videos without any hassle.