We are supported by readers. When you purchase through links on our site, we may earn an affiliate commission.
Laptops are an essential part of our lives in the modern world governed by the ideals of technologies. Previously it might just have been an extra utility that if one possessed it gave them a profitable head start in the various fields. However, in the current world, laptops are an essential commodity that imbibes certain ease in our work sectors.
The sphere of the population that requires a laptop and who can rip most of the benefits from it is the student community and more specifically the community of college students. It is the need of the hour that every college student must have their laptops to get a better grip on their whole educational space.
Laptops are a rich reserve of information and have certain academically suited applications, which do much more than just simply aid the student community. Whether one has to prepare a presentation based on intensive research or catch up on the bundle of notes sent by their professors via mail, personal laptops are always the right answer. It is much more convenient and accessible than one's frequent trips to the local cyber café every time there is a new development in your area of study.
The Hewlett-Packard Company or more commonly and internationally known by the acronym HP is an America-based technology company specializing in the manufacture of hardware components as well as software-related services.
Now HP harbours a wide range of electronic products, laptops being one of the most popular ones. HP laptops tower above other brands because of the variant and advanced technological provisions provided in their products.
They have also drastically improved from one model to another, making the laptops desirable in the customer market. But let not these technological specifications lead one in the wrong path because on top of that the interface is really customer-friendly and easily comprehensible. Thus, the perfect go-to laptops for an average college student.
EDITOR'S CHOICE
HP ENVY 13
CPU: 1.8 GHz Intel Core i7-8565U Quad-core
RAM: 16GB
Storage: 512GB SSD
Display: 13.3-inch 4K (3840×2160)
Battery: Up to 13 hours
Weight: 2.6 pounds
BEST OVERALL
HP ELITEBOOK 830
CPU: 1.9 GHz Intel Core i7-8665U Quad-Core
RAM: 32GB
Storage: 512GB SSD
Display: 13.3-inch FHD (1920×1080)
Battery: Up to 19 hours
Weight: 2.94 pounds
BEST BUDGET
HP PAVILION X360
CPU: 1.6GHz Intel(R) Core i5-8250U Quad-Core
RAM: 8GB
Storage: 256GB SSD
Display: 14.0-inch HD (1366×768)
Battery: Up to 9 hours
Weight: 3 pounds
12 Best HP Laptops For College Students in 2023
CPU: 2.5 GHz Intel Core i7-4710HQ Quad-Core
RAM: 8GB
Storage: 256GB SSD
Display: 15.6-inch FHD (1920×1080)
Battery: Up to 6 hours
Weight: 4.68 pounds
The HP Omen 15 is quite figuratively an omen for all those primitive minds that think that a laptop will never be enough for intense gaming and complex application based work functions. The Omen 15 is loaded with an arsenal of technological superiority starting with the 4th Generation Intel i7 processor that lets the user stabilize and master even the most demanding gaming applications with its enhanced performance. In the heavy artillery is also the presence of an NVIDIA GeForce GTX 860M graphics processor for a blazing and higher quality of graphics.
The operating system installed in this laptop is of that of the Windows 8.1 system. Further, the laptop has an On-board 8GB 1600MHz DDR3L SDRAM so that the device can effortlessly function even in increasing load situations and also support a plethora of complex applications. The Omen 15 also has pretty feasible storage of 256GB for the betterment of an average customer.
Clarity and high definition visuals are promised and accurately delivered with the presence of a 15.6 inch full HD capacitive screen with touch controls. There are no issues of rescaling of the total screen with 1080 pixel resolution that offers optimal frame rates.
The Omen is designed keeping in mind the several intricacies of gaming and thus has a specialized keyboard with an option of assigning dedicated gaming keys for a superior gaming quality. The user can also customize personalized colours for each of the designated seven illuminating zones. The speakers are also LEDs in them, which is in sync with the beat drops of the music that plays.
One of the most impressive areas in the HP Omen 15 is its design. It is fashionably sleek and is also deceptively lightweight for an average gaming laptop. It is by far of the world's lightest and thinnest gaming notebooks. The laptop is also packed with multiple I/O ports and all of them are placed at the back of the unit for more space and convenience during gaming. The overall weight is also very convenient and is placed at approximately 4.68 pounds.
The Omen also has optimized thermals crafted especially for intense gaming and stays cool with the help of cleverly designed rear vents. The laptop also offers more than the good battery life of up to 5 hours and 30 minutes. This is by far one of the best laptops ever manufactured keeping in mind the sole purpose of gaming.
Fantastic display and graphic visuals
Extremely responsive keyboard
Presence of a powerful graphics processor unit.
Presence of a variety of port connections
Quick system booting
Comparatively low battery life
Not really recommended for everyone
2.

No products found.
No products found.
CPU: 2.2 GHz Intel i7-8750H Hexa-Core
RAM: 32GB
Storage: 2TB HDD
Display: 15.6-inch FHD (1920×1080)
Battery:  Up to 10 hours
Weight: 3.94 pounds
The HP ZBook 15V has the efficient and high-end CPU interface of the 8th Generation 6-Core Intel i7 that is crafted intricately to handle and take the load of complex and multi-threaded applications on the computer that on any generic processor would take sizable time to even open. Applications like Autodesk Revit on the ZBook 15V functions easily without any noticeable malfunctions. Coupled with that is the graphics processor of NVIDIA Quadro P600 that facilities lucid gaming apart from other important work functions.
The operating system on the HP ZBook 15V is that of the Windows 10 Professional 64-bit. The more than sufficient RAM capacity of 32GB DDR4 shields the functioning on the laptop from abrupt lapses of excess load. The Hard Disk is of a humongous 2TB storage that in layman understanding can last for a lifetime with the storage of a million things in the laptop.
The Laptop is equipped with a touchscreen glossy display that stretches over a length of 15.6 inches. The display resolution is completely and competently HD with a 1920*1080 pixelation.
The keyboard here is again a backlit keyboard that eases functioning in dim and dark conditions. The full-size HP keyboard is also spill-resistant, so one gets green light to work during consuming meals and meeting the necessary deadlines.
The device weighs about 3.94 pounds and is comparatively a slightly heavy model. The ZBook 15V justifies its weight as it is built cleverly to pass rigorous military-standard tests that include shock, drop and hard environmental conditions.
Thus one doesn't have to worry about the laptop being physically in good condition even in dire circumstances. Ports in the laptop include 1 USB 3.0, 1 HDMI 2.0, 1 headphone/microphone, 1 USB 3.1 Gen 2 Type-C and the usual others.
The HP ZBook comes with a high definition 720-pixel webcam for the user to connect and collaborate quite efficiently with better picture quality. The user is also exposed to premium and crisp audio quality with the aid of the Bang and Olufsen speakers pre-installed in the device.
The laptop has a robust battery life up to 10 hours and comes with the feature of fast charging that powers up to 50% in just a time span of 30 minutes. Finally, the warranty offered with the HP ZBook 15V is 1 year.
Lucid screen quality
Smooth touch screen controls
Huge storage capacity
Working HD Webcam
Fast working functions
Expensive
Considerably a limited period of warranty
CPU: 1.8 GHz Intel Core i7-8565U Quad-core
RAM: 16GB
Storage: 512GB SSD
Display: 13.3-inch 4K (3840×2160)
Battery: Up to 13 hours
Weight: 2.6 pounds
The HP Envy 13 is equipped with the central processor unit of the 8th generation Intel Core i7 with a Base frequency up to 4.6 GHz from 1.8 GHz with a competent Intel Turbo Boost Technological feature. This ensures a rich experience of super fast working and functioning of heavy applications on the laptop. There is also the pre-installed graphics processor of NVIDIA GeForce MX250 for lucid graphic visuals and smooth transitions when it frames rates.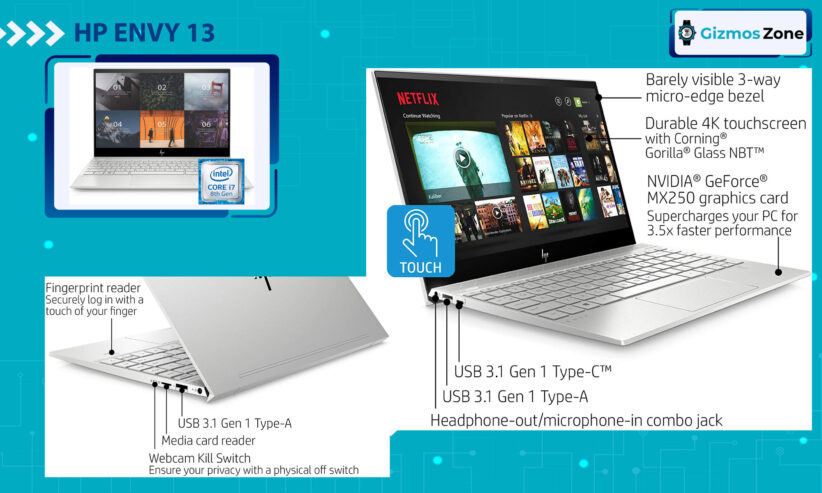 The laptop runs on the state of the art Windows 10 Home operating system. It also has an integrated 16Gb DDR4-2400 SDRAM to support the easy working of heavy applications and soak the overall load pressure generated. The Envy 13 also has a more than capable internal storage of 512GB storage and thus you have a considerable amount of space for all your applications and data.
The standout feature of the HP envy 13 is the 4K screen display that offers the user striking visuals. The screen that stretches up to 13.3 inches is a 4K IPS micro-wedge WLED backlit screen with specialized touch controls. The screen also has an additional protective and durable cover of Gorilla glass to withstand daily scrapes and bumps. The high resolution brings the content on the screen to life with spellbinding 178-degree wide-angle viewing.
The Envy 13 is equipped with a complete and full-sized island-style natural silver keyboard with the feature of backlighting keys in order to ease the working environment during dark and dim lighting conditions. The keyboard colouration varies from product to product with nightfall black to even pale gold.
The laptop is competently portable and is extremely lightweight. The built quality is of high grade and comes with an all-metal case built in order to hold its hold even in hostile circumstances and during the ruptures of time. Port provisions include 1 Thunderbolt 3 with SuperSpeed USB type-C, Display port 1.4, 1 HDMI 2.0, 1 SuperSpeed USB Type-A 5Gbps-signaling rate and the other generic ones.
The laptop harbours modernized security specifications, which include an integrated fingerprint reader and instant Webcam kill switch. The battery life lasts up to a healthy 12 hours and 45 minutes with mixed usage. Finally, the product comes with a 1-year guarantee.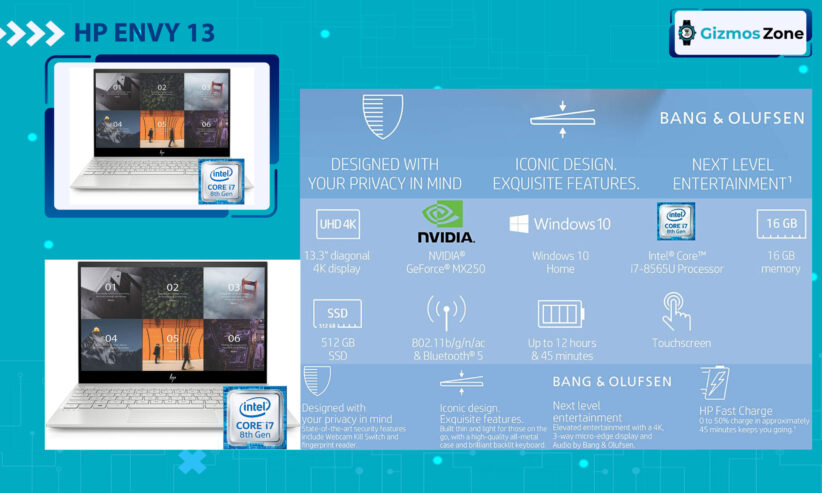 State of the art security provisions
Sturdy built
Exceptional display and visuals
Incredible battery life
Budget-friendly
Certain heating issues
Issues with the touch controls
CPU: 1.9 GHz Intel Core i7-8665U Quad-Core
RAM: 32GB
Storage: 512GB SSD
Display: 13.3-inch FHD (1920×1080)
Battery: Up to 19 hours
Weight: 2.94 pounds
The HP Elitebook 830 has been intricately designed to cater to the complex word loads of the general public. The laptop has a refined and state-of-the-art 1.9 GHz Intel Core i7 as its central processing unit that gives a high-end performance, just what any customer desires out of an HP laptop. It also has an advanced Intel UHD Graphics 620 has the graphics processing unit that facilitates a smooth and fluid function of the interface.
The operating system of the laptop is the very efficient Window 10 Pro 64. Further, a feasible RAM of 32GB DDR4 ensures long hours of working without interruptions. The capacity of the Elitebook 830's Solid State Drive(SSD) is also commendable with a 512 GB storage capacity.
The laptop has a lucid display stretched out to 13.3 inches in overall size. The pixelation of the said screen is also pretty illustrious with a full HD 1920*1080 pixels display resolution.
Here you get an exceptional feature of the backlit keyboard where the keys in the keyboard are illuminated in the circumstances of dim lighting or completely dark working conditions. There are three types of authentication factors like fingerprints and facial recognition present in the overall integration of the laptop.
Weighing an approximate 2.94 pounds, the Elitebook is considerably a lightweight appliance. The design is sleek and thin with the dimensions of the thinness starting from 1.83 square cm. The various ports in the Elitebook are the 2 USB 3.1 Gen 1 (1 charging), 1 Thunderbolt (USB Type-C connector), 1 RJ-45, 1 headphone/microphone combo and the usual others.
There is the presence of a Bluetooth connection feature that allows the user to connect wirelessly to their other devices and accordingly transfer and share various files. The Band and Olufsen audio technology is the main reason behind the crystal clear and crisp audio of the laptop. It also has a solid battery life spanning up to a sturdy 19 hours. It comes with a whopping 3-year warranty period that falls in the line with the price of the product.
Comfortably light weighted
Premium audio quality and allied functions
Illustrious display
Comparatively low internal storage
CPU: 1.6GHz Intel(R) Core i5-8250U Quad-Core
RAM: 8GB
Storage: 256GB SSD
Display: 14.0-inch HD (1366×768)
Battery: Up to 9 hours
Weight: 3 pounds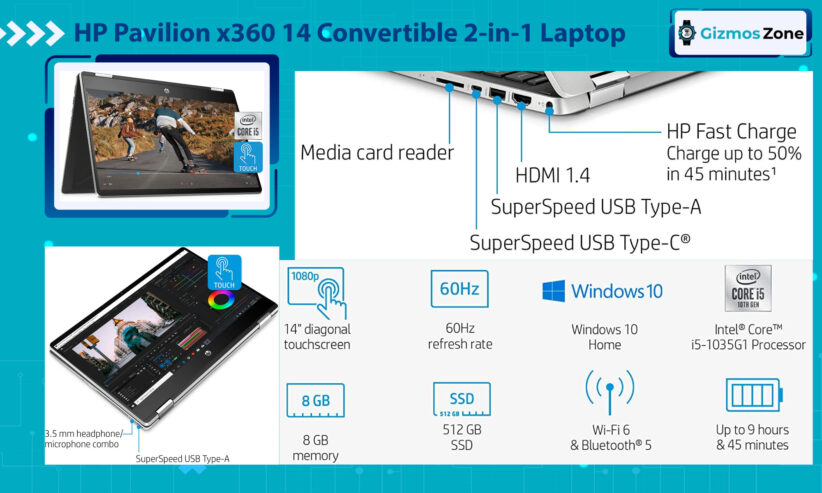 The HP Pavilion X360 comes with a super-fast internal central processor of 8th Generation Intel(R) Core i5 with an integrated turbo Boost technology that enables a base frequency up to 4.2 GHz from 1.6 GHz base. This advanced package ensures light and smooth functioning of heavy load applications and saves the user a multitude of time. Also present, as a graphics processor is the Intel UHD Graphics 620 that provides and supports intense applications and offers fluid working of said applications. The size of the mentioned graphics card RAM is 1GB.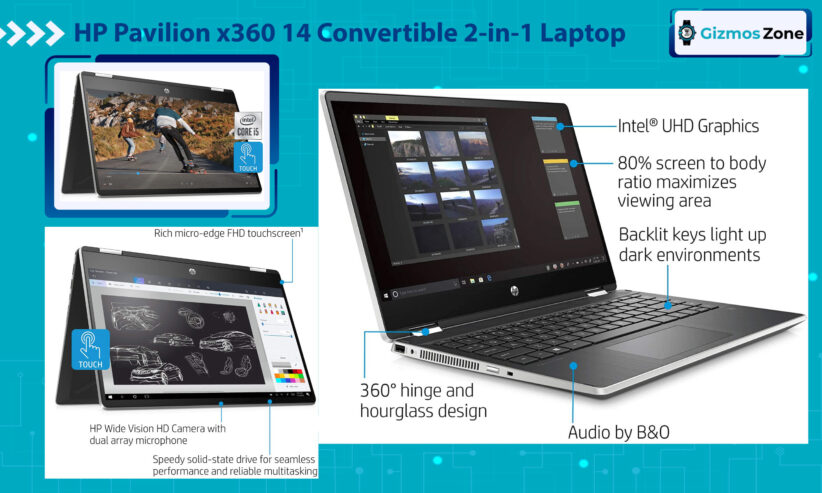 The operating system of the Pavilion X360 is that of the latest Windows 10 Home system. The RAM capacity of 8GB DDR4-2400 SDRAM is more than appropriate for the average user and is beneficial for the un-interrupted work without unseen shutdowns or malfunctions. The internal storage is of 256GB and although is comparatively a bit low but is just appropriate for work or college functioning.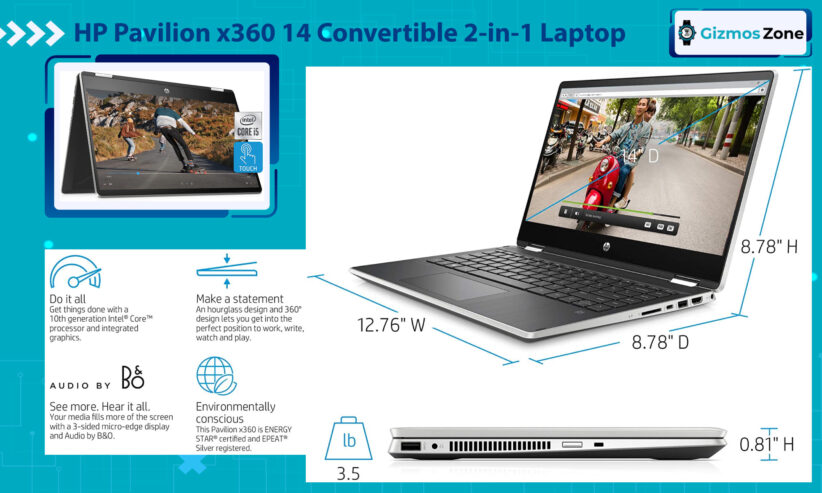 The display screen stretches up to a feasible length of 14 inches is an HD SVA WLED backlit screen with the provision of enabled multi-touch. The edge-to-edge glass has a resolution of 1366*768 pixels that caters to the crystal clear visuals requirement of the users.
The keys in the keyboard are designed with a backlighting technology to help the user work with ease in dark and dimly lighted circumstances.
The HP Pavilion X360 is a modernized convertible laptop that is the go-to place for practically everything one ever needs. The durable hinge is tested with up to striking 7,000 360-degree rotations and an impressive 25,000 closings and openings. It is considerably light weighted and is of approximately just 3 pounds. Ports include 1 USB 3.1 Gen 1 Type-C, 2 USB 3.1 Gen 1 type-A, 1 HDMI 1.4, 1 headphone/microphone combo and other generic ones.
The Pavilion X360 comes with a built-in Alexa and is therefore very handy. The battery lasts up to 8 hours and 30 minutes and is suited for long hours of working. Finally the laptop with the usual 1 year warranty period as most others.
Fast boots and reboots
Extremely lightweight
Easily portable and is very handy
Fluent touch controls
Budget-friendly
Issues with the internal microphone
Prone to battery life inconsistencies.
CPU: 2.3 GHz Intel(R) Core™ i5 8300H Quad-Core
RAM: 8GB
Storage: 1TB HDD
Display: 15.6-inch FHD (1920×1080)
Battery: Up to 9 hours
Weight: 5.18 pounds
The HP Pavilion Gaming Laptop has been crafted and developed keeping in mind a specific purpose of intense gaming and free flow of said gaming. The pre-installation of the 8th Generation Intel Core i5 Quad-Core just ratifies the promise of fluid and exceptional gaming experience. The graphics processor present in the Pavilion is the NVIDIA GeForce GTX 1050 Ti that strengthens all the gaming functions and in turn, provides the user with lucrative and fast actions in the sphere of gaming.
The laptop with the presence of an 8GB DDR4-2666 SDRAM further forwards the idea of the device sustaining immense workload through complex and heavy applications with ease. That is there are no interruptions or glitches and one can work with comparatively heavy applications smoothly. The Pavilion also has a mammoth size of the internal storage capacity of 1TB, which gives the user a feasible amount of freedom while downloading and installing data and software. The operating system on the laptop is the Windows 10 Home.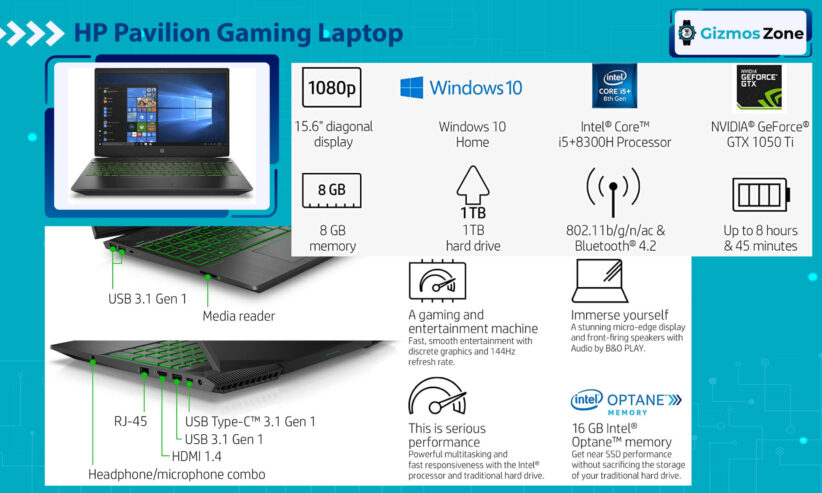 The attractive display screen stretches up to a length of 15.6 inches and is laced with the FHD IPS anti-glare features. This WLED backlit micro edge screen offers the user lively colourful visuals with an HD pixelation of 1920*1080 pixels and is accommodated with a 144Hz refresh rate.
Manufactured for the customized function of gaming, creation and the overall entertainment, the keyboard of the HP Pavilion Gaming Laptop comes with distinct and sharp LED lighting and matching green or violet accents.
Weighing a healthy amount of 5.18 pounds the Laptop caters to the gaming frenzy population with its sleek, attractive and bold designer finish. Port connections include 1 USB 3.1 Gen, HDMI 1.4, RJ-45, 1 headphone/microphone combo among other generic ones. The pavilion is also equipped with blazing front-firing HP Dual speakers and an integrated HP Audio boost.
The battery lasts comfortably up to a time span of 8 hours and 45 minutes. Finally, the device comes with the usual 1-year warranty period.
Highly durable
Lucrative backlighting
Budget-Friendly
Properly placed cooling vents and fans
Larger than average internal storage
Prone to screen issues
Doesn't have touch controls even for this price
7.

No products found.
No products found.
CPU: 1.1 GHz Intel Premium Silver N5000 Quad-Core
RAM: 4GB
Storage: 1TB HDD
Display: 15.6-inch HD (1366×768)
Battery: Up to 9 hours
Weight: 5.44 pounds
The central processor unit in the HP High Performance is the efficient Quad-Core Intel Premium Silver and it goes without saying that the processor is more than capable for handling the daily day to day functioning of the different work whether its college-based or office-based. The graphics processor installed is the integrated Intel UHD Graphics 605, which is again fully competent to fluid functioning of applications.
The RAM capacity of the laptop, however, falls a little short compared to its contemporaries and even its own specifications, with a mere 4GB DDR4 SDRAM. However, the HP High-Performance Notebook makes up with its huge internal storage capacity of 1TB. The laptop functions on the operating system of Windows 10 64-bit.
The display screen is measured at an approximate 15.6 inches and is an HD SVA WLED backlit display with effective touch screen controls. The user is further exposed to lucid and crystal clear graphic visuals with compact pixelation of 1366*768 pixels.
The keyboard of the HP High-Performance Notebook is intricately developed with centralized touch and command points. That is it is comparatively of a higher quality than the usual laptop keyboards in the market.
The laptop's built is simple but it is deceptively durable. It's the simple yet strong finishes that last the ruptures by the passing of time. Port connections include 2 USB 3.1, 1 USB 2.0, 1 HDMI and other generic ones.
It is neatly equipped with the usual features of Bluetooth connectivity, WiFi connections and a decent Webcam. The battery life is more than sufficient for the usual day of work and its allied proceedings. Finally, it comes with the standard 1-year warranty period.
Compact build
Efficiently durable
Impressive touch controls
Extremely budget-friendly
Myriad availability of ports
Comparatively slower functioning
Low RAM capacity
CPU: 1.6 GHz Intel Celeron N3060 Dual-Core
RAM: 4GB
Storage: 32GB eMMC SSD
Display: 11.6-inch HD (1366×768)
Battery: Up to 11 hours
Weight: 2.57 pounds
The HP Stream 11 is the perfect go-to laptop for a college student if he/she wants to save some money and also get a decent device with efficient specifications. The laptop comes equipped with the comparatively primitive yet decent central processor of Intel Celeron N3060 Dual-Core, which makes the laptop more than capable to handle one's daily expeditions with a certain precision. The base frequency of which starts from 1.6 GHz. The graphics processor present in the laptop is the Intel HD Graphics 400, which again borders the line of mediocrity and thus does well enough for the user.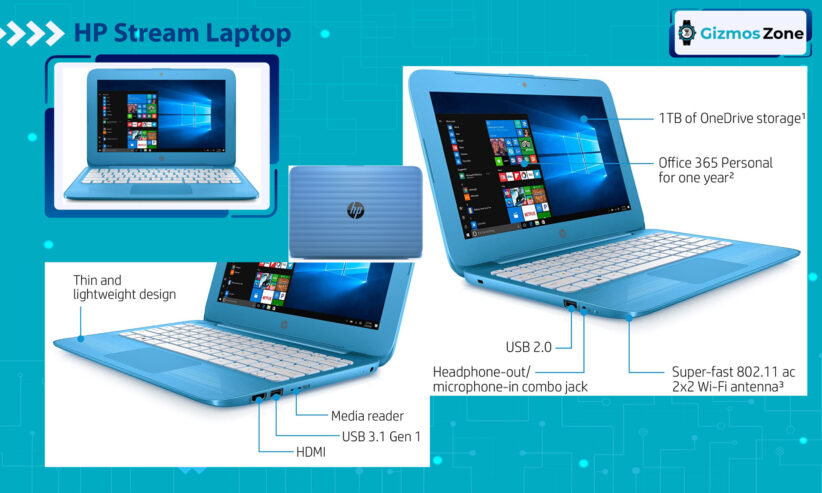 The operating system in the laptop is the latest Windows 10 OS that brings about a considerable amount of ease in the operations. The RAM capacity of the device is kind of a little low with just 4GB DDR3L SDRAM but again gets the standard amount of work done but isn't really recommended for intense gaming or heavy load-based applications. The size of the storage also isn't really up to the mark with just an internal storage capacity of 32 that forces the user to judiciously use the space and nudge them into buying external hard drives.
The display screen stretches diagonally up to a length of 11.6 inches and it has features such as WLED Backlit and Anti-glare technology. The user gets exposed to a bright range of colours with the HD resolution of 1366*768 pixels.
The HP Stream 11 comes with a full-size compact and textured island-style keyboard that enables smooth transitions and coordination between the fingers while typing. Further, the touchpad comes with multi-touch gesture support.
The nimble HP Stream 11 is intricately designed and has a smart finish bound to attract more and more people. It is also extremely lightweight with an approximate weight of 2.57 pounds only. Various port connections include 1 USB 3.1 Gen 1, 1 USB 2.0, 1 HDMI 1.4, 1 headphone/microphone and other generic ones.
The laptop further has the complete Office 365 1 year subscription included with access to Word, Excel, PowerPoint, One Note, Outlook, One Drive, and Skype. The robust battery lasts up to a time span of 10 hours and 45 minutes. This much improved HP model has a solid guarantee of 1 year.
Easily portable
Extremely lightweight
Robust battery life
Fast setups and allied proceedings
Budget-friendly
Extremely low disk space
No keyboard backlighting
CPU: 1.1 GHz Intel(R) Celeron(R) N4000 Dual-Core
RAM: 4GB
Storage: 32GB eMMC SSD
Display: 14-inch HD (1366×768)
Battery: Up to 14 hours
Weight: 3.24 pounds
The HP Chromebook is literally one of the finest amalgamations of work and plays blended into a competently working device. The laptop comes with a capable central processor of Intel Celeron N4000 Dual-Core for efficient and responsive performance. The user is provided with seamless day to day operations and proceedings with the base frequency of 1.1 GHz which trickles up to a burst frequency of 2.6 GHz.
The operating system on the HP Chromebook is the unique Chrome OS. The RAM capacity of 4GB LPDDR4-2400 SDRAM is not upgradable but again gets the main job done and dusted with ease. That is the user gets quick responses whether he/she has to make a new PowerPoint project or binge-watch a whole season of a web series. Internal storage capacity is a bit low that goes without saying. The 32 GB needs to be used judiciously in order to keep the device in pristine condition.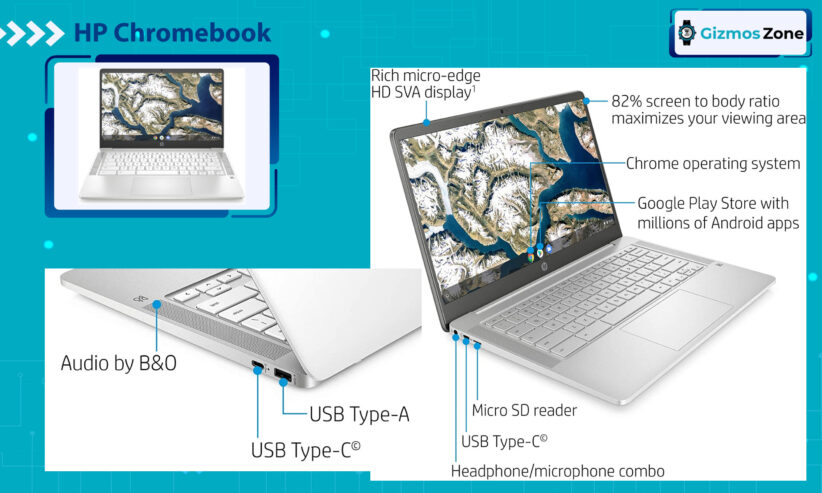 The display screen strengthened with a protecting Anti-glare feature stretches diagonally up to a length of 14.0 inches and has an 82% screen to body ratio. The micro-edge WLED Backlit screen display further has an HD resolution consisting of 1366*768 pixels.
The overall design of the HP Chromebook is sleek, fashionable and along with it pretty sturdy. The keyboard comes with the essential and responsive feature of a backlighting technology that allows the user to work effortlessly during dark and dim conditions. The touchpad supports the four-finger gestures effectively.
The device is comparatively light weighted and accordingly weighs about 3.24 pounds. Port connections consist of 1 USB Type-C, 1 USB type-A, 1 headphone/microphone combo among other generic ones.
The Chromebook is manufactured with the help of an environmentally conscious mind. That is the laptop has mercury-free display backlights, low halogen level and arsenic-free display and is justifiably EPEAT(R) Silver registered and ENERGY STAR(R) certified.
The robust battery life can last up to a time period of 13 hours and 30 minutes and also comes with the clever HP fast charge technology. Finally, the device comes with a 1-year limited hardware warranty.
Environmental friendly
Sustained battery life
Super thin and easily portable
Access to unlimited applications in Google Play Store
Budget-friendly
Connectivity issues
Absence of a proper graphics processor
CPU: 1.1 GHz Intel Celeron N3350 Dual-Core
RAM: 4GB
Storage: 64GB SSD eMMC
Display: 11.6-inch HD (1366×768)
Battery: Up to 13 hours
Weight: 3.2 pounds
The HP ProBook X360 is merited with great reliable performance with the installed central processor of Intel Celeron N3350 Dual-Core. The presence of the efficient Intel Celeron with a base frequency of 1.1 GHz helps the user to get on easily with his/her daily tasks without encountering issues surrounding speed and efficiency. Further, the laptop has an integrated Intel HD Graphics 500 as the main graphics processor for fluid operations and functioning.
The laptop's operating system is the latest Windows 10 Pro 64 bit. With a capable and sufficient RAM of 4GB DDR3 SDRAM, the machine works in free flow without collapsing under the intense workload. Although a higher RAM capacity would have allowed better support of complex applications the present one does by just fine. The internal storage of 64Gb is also really beneficial and gives the user some breathing space when it comes to storing and installing data and applications.
The 11.6 inches LED display screen is enhanced with exquisite touch controls. The higher than average resolution of 1366*768 pixels provides superior clarity and lucidity in games and movies.
The flexible and usable 360-degree hinge, fold and flip is the perfect fit for college students trying to survive the regular school day by minimizing teacher time and increasing engagements. The keyboard is crafted in such a way that it is resistant to all those minor spills. The student can easily draw, annotate, take notes and solve math problems with ease and precision due to the premium touch technology.
The device is extremely lightweight and thus is effortlessly portable. Further on its design and finish is such that it is shielded from the occasional bumps with the help of the Corning Gorilla Glass 4 and co-moulded industrial rubber. The Pro Book also comes with the required port connections to enable easy connectivity and accessibility to the users.
Topped off with a long sustainable battery life of 13 robust hours and a solid 1-year warranty, the HP ProBook X360 is definitely one of the best choices for an average student starting his/her college life.
Easily portable
Effectively light weighted
Exquisite touch controls
Perfect fit for college
Budget-friendly
Low RAM capacity
Comparatively slow when it comes to gaming
CPU – AMD Ryzen 3 3250U processor
RAM – 16GB 
Storage – 1TB HDD + 128GB SSD
Display – 14" HD
Battery – 8-10 hours
Weight – 4.91 pounds
If you aren't particular about finding yourself an HP laptop that is lightweight and highly portable, we'd recommend looking into the 2023 HP 14″ HD Laptop for Business and Student. This latest rendition is nothing short of a beast.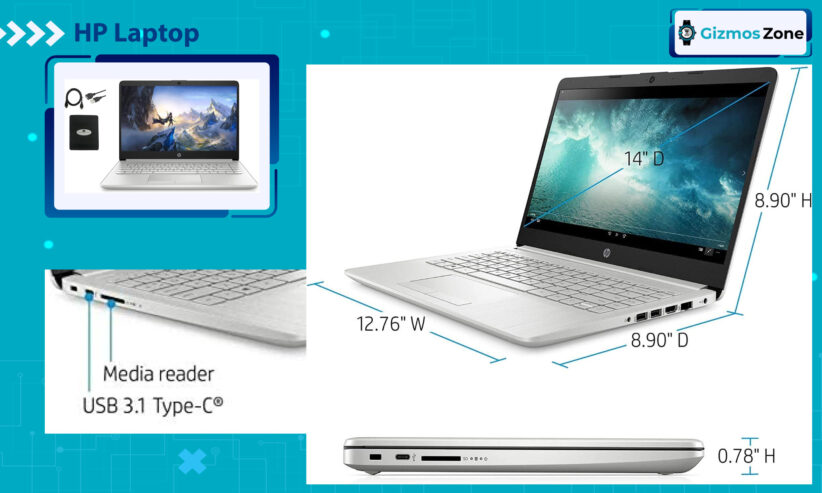 The bestselling point of this device has to be the AMD Ryzen 3 3250U processor that enables you to multitask seamlessly without delays and interruptions. Not just that, the device is also backed with accelerated power and efficiency that allows you to get your work done without any issues.
Aside from the processors, the device is also integrated with a highly responsive and high-bandwidth RAM that can enable you to enjoy your games without any interruptions. Not just for fun and entertainment, the device is programmed to run your work software and applications with ease too.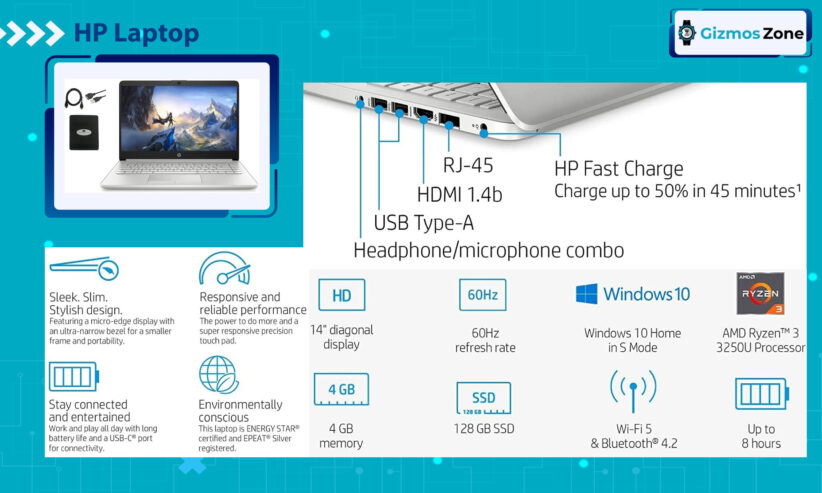 The upgraded storage option in the device is backed with a combination of 1TB HDD with 128GB SSD for storage that enables you to sort out larger files and even have faster bootup for your storage requirements.
Lastly, the device runs on Windows in S mode that allows you to make the most out of the functions without unnecessary delays and lags like with the majority of the other budget-friendly devices in the same price range.
Crisp and clear visuals with narrow bezels

Ideal for multitasking

Comes with ample dual storage options

High-bandwidth RAM configuration
CPU: Intel Celeron N4020
RAM: 8 GB
Storage: 256 GB
Display: 15.6 inches
Battery: 4 to  5 hours
Weight: 3.92 lbs
The HP Notebook 15 is one of the latest laptops from HP which caters specifically to the student-users. It comes with just the right kind of features, and is priced just right too. The laptop can be easily afforded by students and their parents won't have to spend too much on it. It is actually a pretty good device to type out all your assignments as well as attend all your online lectures. This laptop has a special focus on 'online meetings' which makes it quite an ideal laptop for students.
HP has packed in a 15.6-inch full-HD screen here, which makes sure you get a large viewing area for all your online classes. It is also a good screen to watch some YouTube videos on, or to enjoy a couple of Netflix specials. The processor isn't really the best out there, as it features an Intel Celeron N4020, which could easily have been replaced with either an i3 or an i5. However, the RAM/Storage combo is pretty good here, as you get 8GB of RAM and 256 GB of storage space.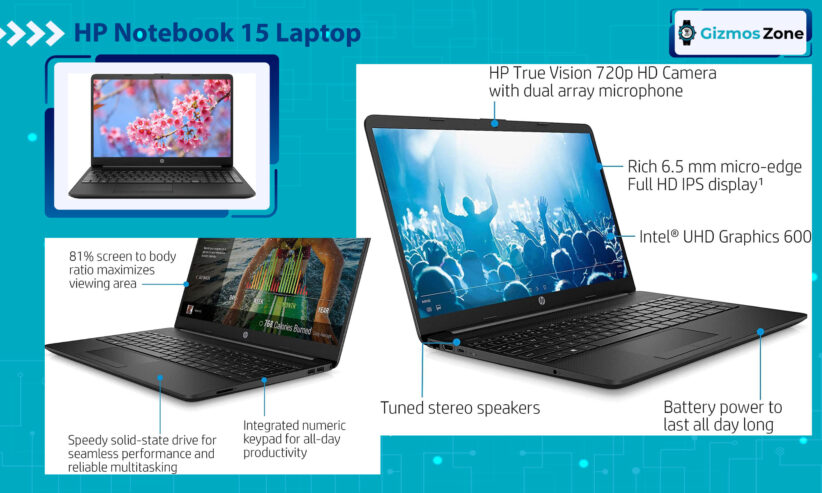 The laptop comes with Windows 10 Home pre-installed in it, and has a large number of connectivity options too, including USB Type-C ports, an RJ-45 port, as well as HDMI support. An SD Card reader is also present in the laptop. For Graphics, the laptop features Intel UHD Graphics with Shared Graphics Memory – which isn't really an ideal graphic card setup but is something that is good enough for students and their basic needs. 
The laptop scores pretty well on all parameters except perhaps the processor. If you are a student who has to frequently attend online classes and webinars, this is a really great option for you. It's got a high-definition camera, as well as a really good microphone. The battery life lasts between 4 to 5 hours, which is also decent. All in all a budget-friendly and feature-rich option for students.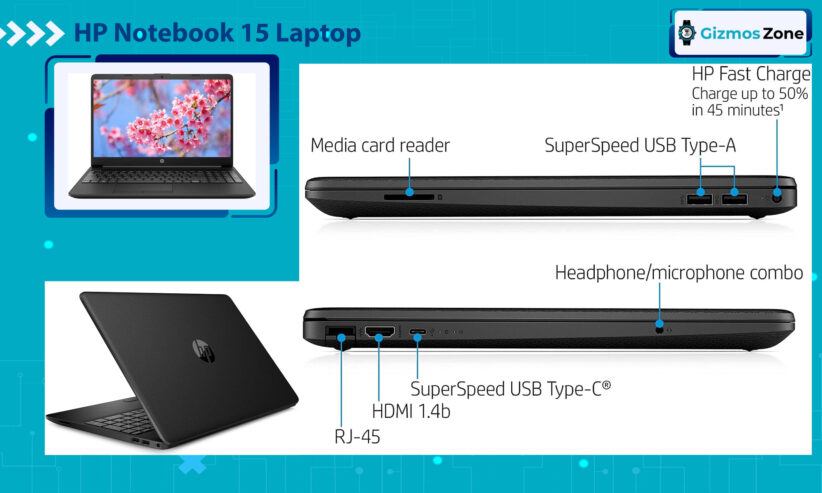 Weighs under 4 lbs, not too bulky

Large and vibrant display 

Lots of connectivity options  

Decent RAM/Storage combo 

Excellent camera and mic
Processor needs to be upgraded 
Frequently Asked Questions
1. What is the best HP budget laptop for college students?
Choosing the best budget HP laptop comes with a lot of intricacies. First of all obviously you need to monitor the budget but that shouldn't mean that you compromise on all the important technological features as well. You don't want to end up with a considerably cheaper laptop with nothing inspiring or that functions on the line below mediocrity. Keeping all of this in mind, The HP Probook X360 is probably the best laptop for college students with a rich reserve of features that is of vital importance to them and is also within a reasonable price range. It's a classic win-win situation if you decide to go for Probook X360.
2. How to choose a laptop for students?
The most primary and crucial step is to decide on a proper budget that is not too luxurious or too low for a proper device. The second most logical step is obviously going over the different specifications with special emphasis on the processor, RAM, battery life and last but not the least portability because in the end, one needs to carry to college and again back home. And that's about it.
3. Which is the best performing HP laptop for students in terms of the processor?
If we talk strictly based on the best processor without keeping in mind the other specifications then naturally the higher-end models have an unbeatable edge over the rest of the HP products. Be it the Elitebook 830 or the ZBook 15V or the Envy 13 or even the hyped HP Omen 15, they are definitely the crème da le crème of the lot. But again a good i7 or i5 Quad-Core processor doesn't come easily and one has to pay the right amount of money for it.
4. Why Do College Students Need Laptops?
You have less time and more work to do in your college days, and keeping everything covered is very difficult. Nowadays, studies are more advanced and require an excellent Laptop because studies are incomplete without it. Every college student needs a laptop to research their respective subjects, and these days assignments and projects also require a good laptop to save time. Here come HP laptops which are the best fit for college students because from their extensive range you can easily choose a laptop which will be the perfect fit for you as per your requirements.
5. Which laptop is better, HP or Toshiba?
It is tough to compare a famous brand like HP with anyone. Back in time when Toshiba laptops were being made, HP was still making an extensive range of laptops to choose from. With HP, you don't have to jump to any other brand because they have a laptop for every need and budget.
People choose HP over other brands not just because they offer great features but also for the trust they have built-in many years. HP provides one of the best customer services, making their after-sale experience incredible. With HP, you will get a device that will be strong enough to handle your day-to-day usage, and that's why it is an ideal choice for college students.
6. Is HP a good brand?
As you know, not every laptop is good for everyone. People buy laptops based on many factors like processors, RAM, storage drive, operating system, and the brand. The question arises: Why brand when you can get features from any brand? So yes, it's true, but people still prefer to buy laptops from a brand they trust, and HP is a brand that came this far based on the trust they have gained from many years from their customers.
HP is known for their reliable laptops with their brilliant customer service. HP is giving very tough competition to other brands in the world because they sell some of the best laptops from various categories. They have different sections of laptops as per the need of buyers like business people, students, gaming persons, and premium users. Many college students prefer HP because of its build quality.
VERDICT
It is crucial for the students to make the right decision when it comes to their choice of laptops because it is the one-stop for academics and all the allied activities. The HP ProBook X360 is excellent for any youth standing on the threshold of his/her college life, as the device forms the perfect mixing of smooth technologies and comfortably purchasable budget. However if one wants to stretch their spending limit, models like the HP Omen 15 and HP ZBook 15V are two really good options with a wide range of technology. The main thing is to look for a laptop that is best suited to one's comfort and ease.