We are supported by readers. When you purchase through links on our site, we may earn an affiliate commission.
Frontier FiOS, also popularly known as Frontier FiberOptic Internet, is among the most popular internet service providers in America. Frontier Communications, as of 2020, had about 3.57 Million customers, which includes over 300,000 business users and some 3.2 Million residential users. The company provides internet access to people living across 25 states in the US, and is a very popular ISP. 
Over the course of this article, we shall be taking a closer look at some of the best routers for Frontier FiOS (FiberOptic Internet). Generally, while we talk about internet connections, we talk about modems. However, there are no frontier compatible modems because this is a fiber optic internet network and it comes with a different sort of a cable that goes directly into the router rather than passing through a modem. Hence, this article will be all about Frontier compatible routers and not frontier compatible modems.
One major thing that attracts a large number of users towards using the Frontier FiOS internet is the fact that there are no data caps when you use this connection. Frontier provides you with some of the best and the fastest speeds, as well as very reliable customer support. 
Since frontier has no data caps, it makes it really worth the while for users to go for their plans as they do not have to worry about exhausting their monthly quota in this case. A fiber optic internet connection is also much faster and more stable than regular connections. Besides that, the plans that you get here are also pretty good. 
The options that you have are FiberOptic 50, FiberOptic 500, and FiberOptic Gig Service. They cost $49.99, $59.99 and $79.99 respectively. The first of the three provides you speeds up to 50 Mbps and is the most basic option, the second one is the most popular offering, giving you a speed up to 500 Mbps, and the last of the lot is the fastest, providing a whopping 1 Gbps internet access. 
However, in order to get the most out of the internet connection that you are paying for, you will need to have the right kind of modem. However, when it comes to Frontier compatible modems, you won't really find anything because Frontier FiOS (FiberOptic Internet) does not require a modem at all. Hence, we have prepared this list of the best Routers for Frontier FiOS internet service.
After you go through the list, we also have a buyer's guide which will help you choose the best routers for Frontier FiOS. We then answer some frequently asked questions (FAQs) before we conclude. Let us start with the main topic at hand now:
EDITOR'S CHOICE
NETGEAR Nighthawk 12-Stream AX12 Wifi 6 Router
Supports a coverage of 3500 sq. ft.
Dual-band router
5 LAN ports and 2 USB Ports
BEST OVERALL
Linksys EA9500 Tri-Band Wi-Fi Router
Tri-band router
Runs on a 1.4 GHz dual-core processor
Can be set up and controlled using the Linksys app
BEST BUDGET
NETGEAR Orbi Tri-band Whole Home Mesh WiFi System
Tri-Band Router
Covers up to 5000 sq. ft. and can connect 25+ devices
4 LAN Ports on the satellite, 3 LAN ports + 1 WAN port on the main router
10 Best Routers/Modems for Frontier FiOS Internet Users in 2021
Here's a list of the ten best options that you have when it comes to Frontier approved routers. While all routers that support fiber-optic internet are supported, these are the ten of the best such routers which will ensure that you get the maximum possible speeds. Before we start off, some users might be confused as to why we are not talking about Frontier compatible modems, that is because in the case of frontier FiOS, a fiber-optic service, a modem isn't really needed. Let us now begin with our list:
1. NETGEAR Nighthawk 12-Stream AX12 Wifi 6 Router
Supports a coverage of 3500 sq. ft. 

Dual-band router 

5 LAN ports and 2 USB Ports 
Netgear is the biggest name when it comes to the world of WiFi modems and routers, and this is a name that you are going to see time and again on our list of the best routers for Frontier FiOS internet users. This is a very high-tech router which comes with some of the best and the most advanced features that you would see in a router. 
The first thing that stands out about it is that it has a very unique shape and form factor. It does not have antennas but instead comes with two flaps on the side which function in a similar manner. The antennas are actually built inside the flaps, and there are eight antennas angled in a way to provide you maximum possible coverage. The router provides an impressive 3500 sq. ft. of coverage, and is an absolute delight to look at, so no problems with the build and the design at all! 
The Netgear Nighthawk AX12 runs on a 6Gbps 12-stream WiFi 6 setup, which makes it incredibly fast. It can support internet plans up to 2Gbps, which make it a good fit and a Frontier compatible router. There are four gigabit-LAN ports, one WAN port, and another Multi-Gig port on the back. Besides that, there are two USB 3.0 ports as well, which allow you to connect your hard drive and use it as a network drive.
The router is very safe to use, as it follows all the latest safety protocols, but also comes with a 30-day trial of the Netgear Armor (powered by BitDefender). The router also provides VPN support, as well as comes with WPA2 and WPA3 technologies to safeguard the network. It is also one of the most powerful routers that you can buy as it is run by a 2.2Ghz quad-core processor. 
Setting up the Nighthawk AX12 is also quite simple as you can do it in a matter of minutes using the Nighthawk mobile application. You can also control this router using voice commands over Amazon's Alexa voice assistant. 
Excellent coverage 

Unique design that hides the antennas  

Highly secure as well as easy to set up

Impressive 6gbps wireless speeds 
Expensive

At the price, one expects a tri-band router 
2. Linksys EA9500 Tri-Band Wi-Fi Router
Tri-band router 

Runs on a 1.4 GHz dual-core processor 

Can be set up and controlled using the Linksys app
While the Netgear router above this does everything right, the one thing missing from it is a third band. Linksys has got you covered, and at a price significantly lesser than Netgear's AX12. The Linksys EA9500 is a tri-band router from Linksys, a company which is known to create some of the best modems and routers and is known all over the world for that. This is the perfect router for all your home needs.
This router is designed very elegantly and has rounded corners and a curved top. There are six antennas on the sides and two on the back, which make it very powerful and allows you to tap into an area of almost 3000 sq. ft. The device can support over 25 connected devices at a time. As mentioned earlier, this is a tri-band router where there are two 5GHz bands and one 2.4GHz band. 
The router provides you very fast internet speeds, as well as impressive speeds up to 5.3Gbps over the wireless network. You can enjoy buffer-free streaming of 4K videos and play lag-free games as well. There are eight LAN ports, 2 USB ports and one WAN port on this device – giving you a total of 11 ports on a router, which is a really cool thing, especially if you have a lot of devices that need LAN connections. 
The router makes use of MU-MIMO technology to ensure multiple devices are connected to it at the same time and all of them are getting good speeds without any device's bandwidth being compromised for the other. It also makes use of beamforming technology, which makes sure that a single focused beam is used on devices, giving them a stronger connection with the router. 
There's a 1.4 Ghz dual-core processor that powers this router. Setting up the Linksys EA9500 is also quite simple and can be done using the Linksys mobile application, which gives you a lot of controls over the router. It allows you to set guest access, parental control features, as well as allows you to prioritize certain devices. You can do it from anywhere and don't really have to be near the router to control it. 
Eight LAN ports along with 2 USB ports 

Easy to set up and control using the mobile app  

Operates on a tri-band frequency
Some users report that 5G band signals tend to drop if you move far from the router 
3. NETGEAR Nighthawk Smart Wi-Fi Router (R7000)
Dual-band router 

Covers 1800 sq. ft. of area and supports 30 devices 

4 LAN ports + 2 USB ports + 1 WAN port 
Here's another router from Netgear, though this one is priced at almost half the price as the first one in our list. This is the Netgear R7000, which is one of the best mid-range affordable routers suitable for individual homes with basic needs. The router provides speeds up to 1900 Mbps on the wireless network and is one of the best Frontier FiOS approved routers for those who don't want to spend too much.
Design-wise, there's nothing extraordinary and the router is a basic four-sided device with three antennas jetting out of it from the back. However, don't go by the build of the router, it isn't a fancy spaceship-like router that many 2021 devices tend to be, but it gives you everything that a basic home user needs. This is a very good router for those who are into streaming high definition videos, or even for those who need a good router to play video games. Setting up this router is quite easy using the mobile application. 
Besides that, the Netgear R7000 is also a decent device for a small to a mid-sized home as it covers an 1800 sq. ft. area and allows you to connect up to 30 devices to it. You can even go beyond 30 but then you will notice a drop in the quality of signals. On the back, there is a standard four-port setup featuring four LAN ports, along with one WAN port and one USB 2.0 port next to it. On the front, there's a USB 3.0 port located at the bottom right. 
The router provides dual-band wireless internet access, operating at bands of 5GHz and 2.4GHz. It is powered by a 1GHz dual-core processor, Besides all this, you also get a 30-day free trial of the Netgear Armor Powered by BitDefender, which will keep your connected devices safe from the threat of hackers. There are also some advanced parental control features that can be accessed at a small fee (free for the first month). 
Easy to set up and control

Good to cover a mid-sized house across two floors

Ideal router for home use such as streaming and gaming
The processor could have been improved
4. ASUS AX6100 WiFi 6 Gaming Router (RT-AX92U) – Tri-Band
Tri-band router 

4 LAN ports + 1 WAN Port + 2 USB Ports 

Covers up to 5500 sq. ft. 
In a market largely dominated by the likes of Netgear, ASUS has actually made quite a name for itself when it comes to the category of gaming routers. Some of the top gamers in the world today are actually making use of these ASUS gaming routers, which have been specifically designed to ensure a smooth and lag-free gaming experience. The ASUS AX6100 is one of the best such examples of a gaming-specific router, which is also one of the best frontier fios approved routers. 
The AX6100 is a powerful, tri-band, 8-stream router which allows you to perform some really power-packed tasks. It makes use of WiFi 6 tech, which is considerably faster than WiFi 5 standards, and can transmit data really fast even when there are a lot of devices connected to the network. The router has also been designed in a way that it can be set up by practically anyone, without any prior experience. You can also set up and control it using Alexa, which is also quite cool.
This router also comes with the AiProtection Pro technology, which will ensure that your network remains secure at all times. There's also an advanced parental control management system that will allow you to manage the internet usage of connected devices. On the back of the router, you will find four LAN ports, one WAN port and two USB ports (1 x USB 3.1 and 1 x USB 2.0). There's also a WPS button for faster and safer connectivity. 
Lastly, the AX6100 from ASUS covers a massive 5500 sq. ft. Besides that, this router also supports the AirMesh technology, meaning you can add more routers to it wirelessly and expand the network coverage if you need to cover more space, this makes it suitable for large homes and for people who want to conduct gaming tournaments too. All in all, if you are a gamer who is looking for a Frontier compatible router, this is certainly one of the best options that you have!
Very large coverage of 5500 sq. ft. 

Unique and attractive looking build   

Easy to set up and control

Safe to use thanks to AiProtection 
Could have increased the number of LAN ports considering it is a gaming router 
5. NETGEAR Orbi Tri-band Whole Home Mesh WiFi System
Tri-Band Router 

Covers up to 5000 sq. ft. and can connect 25+ devices

4 LAN Ports on the satellite, 3 LAN ports + 1 WAN port on the main router
Netgear returns to our list with their Orbi series of routers, which are one of the best-looking as well as best performing devices out there. These routers are a part of a mesh WiFi system where there is one main router connected to the internet and it beams internet to other satellite units, which then ensure that they expand the internet coverage, leaving no blind spots in the house. In this set, you get the combination of one router + one satellite. 
Netgear's Orbi is an elegantly designed router. Unlike anything else on this list, this is one of the most aesthetically pleasing designs, which will blend well anywhere you keep it. It has smooth curves, a minimalist approach to it, and a ring on top that lights up. These are tri-band routers which provide network speeds up to 3 Gbps, which is really impressive. The routers can together cover about 5,000 sq. ft. and if you want to extend that area, you can get another Orbi satellite and it will extend the coverage. 
Setting up the Netgear Orbi is also very simple and can be done via a mobile app too. You can set up guest networks, as well as set parental control restrictions using the app. The app also allows you to perform a speed test to know how your internet connection is performing. Talking of the internet connection, if you are a Frontier user and are using their FiberOptics connection, you've made the right choice as this is really one of the best routers for Frontier FiOS. However, this router is suited only for Frontier FiOS plans up to 500 Mbps, and cannot be used with their 1 Gbps plans. 
You also get a 90-day free trial of the Netgear Armor (which is usually 30 days in all their other routers), which is a big plus. There are four LAN ports on the back of the satellite, and on the main unit, there are three LAN ports and one WAN port. The only thing that disturbs us about this router is that there is no USB port in it. Nonetheless, a great choice and one that is bound to be the future of routers.
Excellent design 

No blind spots in connectivity due to mesh network 

Lots of controls on the mobile app, also supports voice commands 
Not suited for Frontier FiOS 1 Gbps plan

Lack of USB ports is a big disappointment 
6. Google WiFi system, 3-Pack
Set of 3 WiFi units from Google 

Each covers 1500 sq. ft. (total 4500 sq. ft.)

1 WAN+1 LAN port on each unit 
Since we just talked about Netgear Orbi, it is also important to bring up the Google WiFi system, which is its closest competitor in terms of looks and the way it functions. This, too, is a mesh-system-based set of routers, which functions in a very similar manner – there's a main router and then there are satellite units helping you expand your coverage. 
This is a three-pack setup from Google which carries the minimalist look and feel that we have seen in Netgear Orbi before this (and actually takes it one step forward). There's a simple white setup that feels like two discs stacked on top of one another, and there's the classic Google 'G' on top of the devices. The ring on the center glows. 
Each of them cover about 1500 sq. ft. of area and together these three give you a combined coverage of 4,500 sq. ft. which is pretty good even for a large-sized house. There's a 710MHz Quad-core ARM CPU on each of these units, and you get a 512MB RAM + 4GB memory on them. 
What Google has missed out on is adding more ports to the routers, as each of them has only one LAN and one WAN port on the back. Each of these units are connected to the power source via a USB-C cable, which is a plus point. Another good thing about these routers is that they can be controlled and set up with great ease using Google's mobile apps. They can also be controlled using the Google Assistant which makes it even cooler. 
Minimalist design  

Covers a decent area per unit  

Very easy to control using the app 
Limited number of ports per unit

Processing power could be improved
7. ASUS AC2900 WiFi Gaming Router (RT-AC86U)
Dual-band router 

4 LAN Ports + 1 WAN Port + 2 USB Ports

Powered by 1.8 GHz dual-core CPU 
We are back to ASUS and here's another impressive gaming router from the company. This is the AC2900, which isn't really as powerful as what we have seen before with the ASUS AX6100, but it is a pretty good offering nonetheless. If you want a good gaming router but don't want to pay a very high price for it, this is just the perfect combination. The AC2900 is an angular red-and-black router with three antennas jetting from the back, and this one punches way above its price point in terms of performance.
First things first, this is a dual-band router, which operates on 2.4GHz + 5GHz bands. The router supports data speeds up to 2900 Mbps in the wireless network. Why we call it a device that punches above its price point is partly because of the kind of hardware it comes with. There's a very impressive CPU that runs this router – a 1.8GHz 32bit dual-core processor. 
On the back, there are 4 Gigabit LAN ports, as well as one USB 3.1 port and one USB 2.0 port to connect USB hard drives and pen drives to share content over the network. Coming now to the core offering of this router, it comes with a WTFast game Accelerator, which makes it great for gamers as it ensures that maximum possible bandwidth is allocated for gaming purposes and that gamers enjoy a lag-free experience. 
The router is also well-suited for other tasks such as streaming content in 4K UHD resolutions, as well as for uploading large files. The router also scores good points when it comes to security, as it comes with a 24×7 AiProtect protection from Trend Micro. 
The router's control panel and the mobile app allow you to do a lot of things (the UI is quite cluttered and needs major tweaks though). You can set up parental controls and guest networks, monitor the traffic, set up a media server and do much more with it. This is a really powerful router at a really affordable price. This is also one of the best routers for Frontier FiOS users who are into gaming.
Lifetime security coverage without any additional fee 

Lots of gaming-specific features in the control panel 

Very well suited for gamers and people who stream high definition content
Some users are facing problems with warranty claims  
8. NETGEAR Nighthawk Pro Gaming XR700 WiFi Router
Single-Band Router 

7 LAN Ports + 1 WAN Port + 2 USB Ports 

Powered by a 1.7GHz quad-core CPU 
We're back to yet another netgear product and this isn't even the last time you're seeing this brand appear on the list. Netgear's Nighthawk Pro Gaming XR700 is a gaming router, and one which competes for the top spots not just when it comes to gamers, but even for routers in general. This is a router that has been created with the aim of lowering your ping speeds so that you can play your games without fearing any lags and perform better than other players due to this. 
This is a very sleek-looking router which looks like any other generic router but has a red swoosh going through it. There are four antennas on the router located on the back and the sides. Lots of LEDs in the front giving you an indication of your router's performance. On the back, you'd find 6 1-gigabit LAN ports, as well as one 10 Gigabit port. There's one WAN port there as well. There are two USB 3.0 ports on the device. 
The Netgear Nighthawk XR700 is powered by a Quad-core 1.7GHz processor CPU, which ensures that you get the best possible network efficiency. Talking of speeds, you get 7.2 Gbps connectivity in your network, which is really very impressive. The router also supports link aggregation and can provide speeds up to 2Gbps with those networks that support it. This is a Frontier FiOS approved router and it allows you to get the maximum possible 1 Gbps speeds in their connection too.
Netgear also talks about a dedicated 'express lane' for all your gaming traffic, which means it won't interfere with your other internet usage and you can perform gaming as well as other tasks on the internet at the same time. The router also supports geo-filtering which makes it possible for players to connect to their nearest servers. The router is known to give you the best performance in games such as Fortnight, Call of Duty: Black Ops 4, OverWatch, PubG, and CS:Go. 
Ensures that your ping levels are low during games so there's no lag experienced

7 LAN ports on the back make it a good fit for LAN parties  

Lots of gaming-specific controls 
9. TP-Link WiFi 6 AX3000 Smart WiFi Router
Dual-band router

Supports over 40 devices connected to it 

4 LAN Ports + 1 WAN Port + 1 USB Port 
TP-Link is also a major player in the network and connectivity business and this router from them is the best option for someone who wants a decent Frontier FiOS approved router, but does not want to blow a hole in their pocket while getting one. The TP-Link AX3000 router offers all the basic features and can last you for a long time.
The design isn't something spectacular, there are four antennas on the back and an X-shaped pattern on top. This is a WiFi 6 router, which means it gives you the fastest speeds possible and provides you with a very stable connectivity too. The router features a dual-band WiFi, operating at 5GHz and 2.4GHz bands. It boasts of the OFDMA and MU-MIMO technologies, which ensure that you are getting fast internet even if there are multiple devices connected.
You can connect over 40 devices to the TP-Link AX3000, which makes it an ideal option for someone with a smart-home and wants to connect a lot of devices to the internet. As we've stated earlier, this router gives you all the basics, and when you turn it around, you see this statement justified. There are four LAN ports, 1 WAN port and 1 USB port on the back – covering the needs of most average home-users.
It comes with a free lifetime subscription to TP-Link HomeCare­, which ensures that you get a safe browsing experience. There's a TP-Link Tether app as well, which allows you to set it up and control the router with ease. Talking of control, there are many parental control features in the router which ensure that your children get a safe browsing experience. 
Supports a large number of connected devices (over 40) 

Easy to set up 

A free lifetime subscription to TP-Link HomeCare safety system 
Not suitable for heavy-duty users  
10. NETGEAR 4-Stream WiFi 6 Router (R6700AX)
Dual-band router 

4 LAN ports + 1 WAN port

Coverage of up to 1500 sq. ft. 
The last router on our list, but definitely not the least, though certainly the least priced. If you are looking for something that is really inexpensive, but something that would still be able to perform at a decent level, it is the Netgear R6700AX router. This is something that is highly recommended for basic users – for people who neither need a stable ping nor are into watching UHD content.
The router gives you a 1500 sq. ft. coverage, making it a good choice for a small home. It provides speeds up to 1800 Mbps, and runs on the WiFi 6 network. It provides you access to dual-band frequencies operating at 2.4GHz and 5GHz. The best thing about this router is that it supports up to 1 Gbps internet connection, which makes it perfect for Frontier FiOS internet users as they can use this router for the Gigabit plan. 
The router is powered by a 1.5GHz quad-core processor which is aided by a 512 MB RAM. There are four 1 Gigabit LAN ports on the back, along with one WAN port. The R6700AX does not have a USB port on it, which is one major drawback. The router can be managed and controlled using the Netgear Nighthawk mobile application.
If you are an average internet user who wants to watch good-quality content, send large files, browse through the web, and play the odd game, this is good for you. However, if you are a professional gamer, or someone who needs to upload giant files, or a complete movie connoisseur, this isn't recommended to you. However, for those who don't wish to spend too much on one, this is the best Frontier compatible router.
Easy to set up using mobile app 

Inexpensive  

Supports the Frontier FiOS 1 Gbps plan 
No USB port

Not meant for heavy-duty users
Ultimate Buyer's Guide for the Best Frontier FiOS Modems/Routers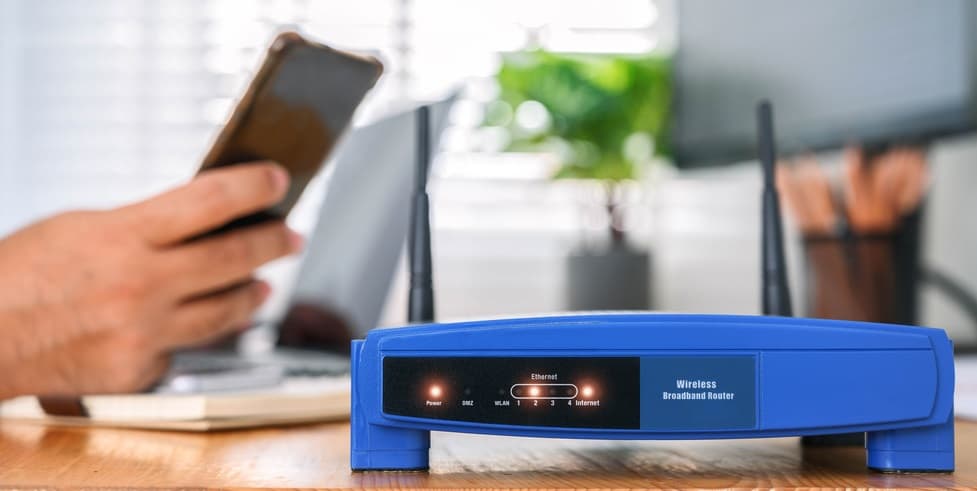 Here's a quick buyer's guide – these are some factors that you need to consider before you buy a Frontier FiOS router. Do make sure to go through this list and to use it as a checklist while buying a router so that you know which one passes well in all these aspects
1. Range
A good WiFi router needs to have a large range. An average router will have something between 1500-1800 sq. ft. a good router will have anywhere between 1800 to 3000 sq. ft. and anything that goes beyond 3000 sq. ft. is generally considered among the best routers. The choice of the range also depends on how big your house is. If you have a large 3BHK you might want to go for one which has a larger coverage, or you can choose multiple smaller coverage routers and use a mesh network to cover the entire home. 
2. Devices Supported
Given that homes are increasingly getting 'smarter' with the help of connected devices of late, you need to make sure that your router can support as many devices connected to it at the same time. Most average routers today easily support between 15 to 25 connected devices. A good router can support between 25 to 50 and the best routers support over 50 devices. Hence, make sure your router also supports as many connected devices as possible. The best routers for frontier FiOS should ideally support at least 35 devices.
3. Number of Ports
The number of ports on the back of your router is important. By ports we don't mean only LAN/WAN ports, but also USB ports. Most modern-day routers come with at least one USB port and 4 LAN ports. However, the more the number of ports, the better it is for you. These days, you need more ports because you have more gadgets around you too. Besides, if you are a gamer who wants to organize a LAN party, you are likely to need a router that has more ports. 
Similarly, USB ports are needed to stream media across the network, or to connect a hard drive and use it as a network storage device. The best frontier FiOS routers tend to have a USB 3.1 port which is the fastest of the lot. 
4. Ease of Setting Up 
The best Frontier FiOS router is one which can be set up easily by everyone. Even if someone doesn't know the first thing about routers and is setting it up for the first time, the interface needs to be such that one can do it with ease. Thanks to most routers these days coming with apps and detailed guides, this has become quite easy too. However, even if you are a techie, it is best suited to buy a router that is easy to set up so that everyone can do it with equal ease.
5. Controlling the Router
While setting up the router is one thing, another important thing that one has to keep in mind is that they need to control the router too. This includes setting up parental control features, allowing or denying guest access, and the ability to manage your router from your phone. Practically every modern-day router comes with a companion app that allows you to do it. Always make sure to check this before you buy your Frontier FiOS compatible router, whether it has an app or not. 
6. Design and Durability
Now this is something basic, but something that one really needs to consider. The router needs to be designed really well so that it blends with where you are keeping it. A bulky or an ugly-looking router won't really find many buyers because it just looks odd. Routers these days are actually getting quite a makeover. You should check out some gaming routers from ASUS and a couple of other firms, which are really impressive in terms of the looks as well as the performance. 
When we talk about design, we also need to address the antennas. Router manufacturers these days are increasing the number of antennas, with some routers even having six to eight of them coming out of all sides, giving your router a really unique look. 
7. Processing Power
Routers also carry a CPU, RAM, and a flash memory storage system built in them. Make sure you are going through all the detailed tech specs before you buy a router. The best Frontier compatible routers are generally the ones that feature a powerful CPU, as well as a decent RAM and storage combination. You must also consider whether your storage can be flashed with a custom firmware if needed. 
8. Cost and Warranty
Last but not least, the cost and warranty aspects also matter a lot. Head out with a fixed budget in mind because routers can actually be quite expensive these days. You have a wide range from $100 to $500 (and sometimes even beyond if you choose to buy mesh routers with satellites). Also make sure to check the warranty details on your routers before you make the final purchase. Ensure that you get a long warranty. 
Frequently Asked Questions about Frontier FiOS Routers
Here are the answers to some of the most common and frequently asked questions (FAQs) about Frontier FiOS routers that we get from our readers and friends. We have collated them and placed them here so that you get a clearer picture
1. Does the choice of my router affect the speed of my internet?
Yes, it actually does. If you router isn't compatible enough to process the speed that your internet connection has to offer, you won't get the full speed. This isn't a problem that you would face with most modern-day routers, and with no router on our list. However, if you are using some older routers you may have speed limit problems. Besides that, if your router has a short-range and you are sitting far from it, you are likely to get a slower internet connection. 
2. How many ports does my router need?
To be honest it depends on your needs. If you are a gamer who needs a lot of ports to organize LAN parties, you will need a router that can provide you about six to eight ports. If you are a regular home user, four ports should be more than enough for you. Besides that, always aim to get a router that also has space for USB 3.0/3.1 ports, because you can use them to hook up a hard drive and use it as a shared drive across the network. 
3. Which is the best Frontier FiOS router?
There's no specific answer to that and it totally depends upon your needs. You can go through our buyer's guide segment and run all the routers past the criteria to figure out which is the one that suits your needs the best. 
4. Why are there no Frontier approved modems on this list?
Since Frontier FiberOptic Internet Service (Frontier FiOS) doesn't function on a cable-based connection or a DSL connection but is a fiber optic line, you don't need a modem for that and you can directly have it connected to the router. This is why there are no frontier approved modems on our list. 
5. Where to buy the best Frontier compatible routers from?
These Frontier FiOS routers can be bought from any store that sells networking hardware. They can also be purchased from retail stores like Target and Walmart among others. However, Amazon remains the best portal to buy them from because you get a big range of products, and you can also return and replace them if you are not satisfied with the performance. Besides, Amazon also has some really good deals running on their website at all times!
Conclusion
We hope that by the time you've reached this concluding segment, you've gone through our list of the ten best routers for frontier FiOS internet connection and have already decided which one you are going to buy. We have tried to showcase routers which are meant for different purposes, such as some routers that are great for streaming, some routers that are great for gaming, others that are well-suited for a large house and some that are best used in offices. You can also use routers that support Mesh-network based technologies to extend the range. 
If there are any more doubts or questions that you may have about routers for Frontier FiOS, or for any other ISP around you, feel free to mail us or let us know in the comments section and we shall get back to you as soon as we can!