We are supported by readers. When you purchase through links on our site, we may earn an affiliate commission.
The concept of communication has come a long way. The want and need to communicate with people has always been considered vital for survival. From face-to-face communication to now digital communication, the way and techniques of communication have evolved tremendously. All we need for communication in today's world is a smart device on hand. With that, you can communicate with anyone anywhere around the globe. 
For wanderers and travel lovers, a smartphone alone is not just enough to reach out to their loved ones. Traveling occasionally includes roaming around places that have less or no network coverage. A walkie talkie is the best choice for such scenarios, as your smartphone would be of no use to connect to people in these situations. A walkie talkie is a small pocket-friendly device that is used to connect to people in areas of nil network coverage. It can be carried easily anywhere, as it is just like a smartphone, mini-sized. 
Apart from basic communication, these walkie-talkies come with added features such as sending emergency SOS messages, providing weather updates, etc. It is best suited for various activities like trekking, mountain climbing, solo trips, family trips, vacation, outdoor activities, parties, and camping. You can take it anywhere around the world to keep connected with your friends and family. 
There are many types of walkie-talkies available in the market. There are exclusive walkie-talkies for kids, hunters, long-range walkie talkies, etc. If you are unsure of which one suits your needs best, this article will help you decide that. We have shortlisted some of the best walkie-talkies in the market with multiple features to assist you in time of your needs or emergencies.    
12 Best Walkie Talkies for Emergencies in 2023
1. Uniden SX167-2C Up to 16 Mile Range, FRS Two-Way Radio Walkie Talkies
Product dimensions: 4 x 9.95 x 7.68 inches
Weight: 10.4 ounces
Color: Black
Uniden GMRS/FRS Radios walkie talkies will help you keep connected with your friends and family wherever you go. It is best for travel purposes. You can use them for multiple activities like shopping, camping, car drives, bike drives, etc. To receive an uninterrupted signal, you can choose any one channel from the available 22 channels that the walkie talkie provides. 
The walkie talkie functions on frequencies of industry-standard. This will allow you to communicate with people who use the walkie talkie of a different brand. The package includes a USB Charger which will make charging easier for you. You can also use a standard mini cable to charge your device from a computer, laptop, or phone charger. 
The device will provide a signal up to 16 miles range. There should be a clear view between both the radios for it to provide perfect uninterrupted communication. The 16 miles range might get limited if you are in places that provide obstructions, such as buildings or trees. So, the range of the walkie talkie solely depends on your location. 
The walkie talkie provides instant weather alerts and forecasts apart from communication. The radio provides a 'direct call' feature, which will allow you to call anybody in the group, but the radios of others have to be silent. You can talk with anyone on the group privately through this option. You can come back to normal mode when you want to.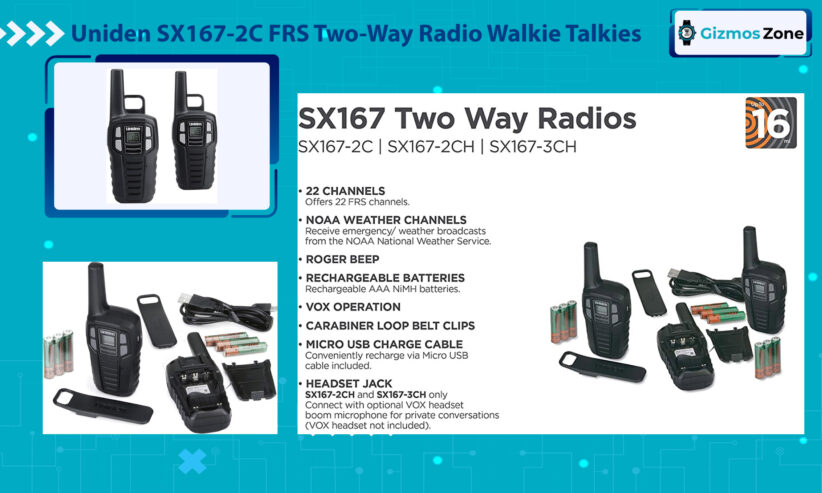 22 channels available

Best for travel purpose

Communication with other brand radios allowed

Flexible charging options

Weather alerts 

Direct private call feature
Range depends on the terrain

Reception is unavailable for many users beyond 1 mile 

Few complaints about battery life
2. Motorola T605 Talkabout, 2 Pack Bundle
Product dimensions: 7.78 x 2.4 x 1.5 inches
Weight: 8.6 ounces
Color: Black with neon green
Motorola T605 walkie talkies are water-resistant. Imagine being able to talk or communicate with your friends and family when you're on the sea or ocean. This device makes it easy for you to connect with people when you are on land and sea. The walkie talkie allows submersion of the device for up to 1 m into the water and for 30 minutes. It can also withstand heavy rain. 
The device has a built-in flashlight. It has white and red LED lights. This will come in handy when there is a power outage or when you are stuck in a dark area in the indoor or outdoor. The flashlight will work even underwater. The red LED is a night vision light. 
Motorola walkie talkies will give you instant weather updates and alerts when you are busy traveling or outing. It has 11 weather channels for it. The walkie talkies have 23 channels in total, with 121 privacy codes. You can find your desired channel from the 23 channels provided. Tune in into channel that receives the best signal. 
The walkie talkies will connect with other devices irrespective of their brands. You can do this using the same channels and privacy codes. The range of the radio depends upon the terrain. The radio range for mountains is up to 35 miles, while open water is up to 6 miles. 
Built-in flashlight

Water-resistant

Connection to other radio brands

Weather channels for weather alerts

Good reception and range
Few complaints on not being able to withstand extremely cold temperatures
3. Midland – X-TALKER T75VP3, 36 Channel FRS Two-Way Radio
Product dimensions: 7.85 x 12.25 x 2.25 inches
Weight: 15.8 ounces
Color: Black 
Midland walkie-talkie is a license-free walkie talkie that has VOX function for hands-free operation. It is of Country Camouflage pattern that is attractive. It has family radio service channels, from which you can select your desired channel for communication.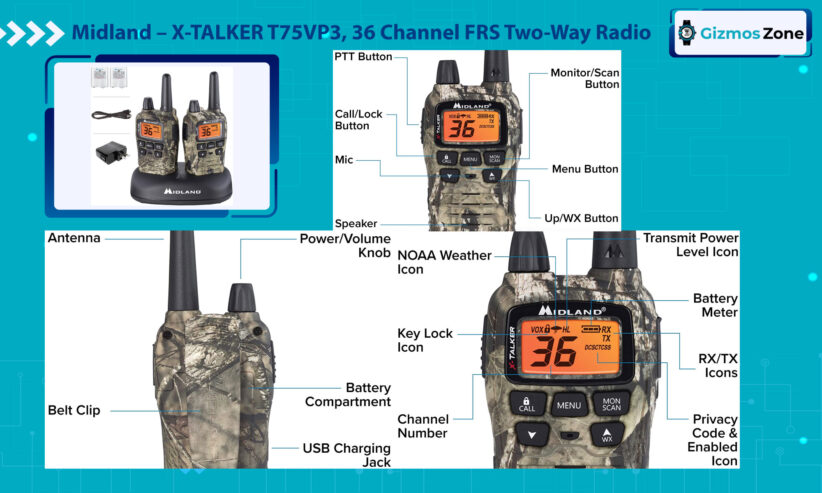 The walkie talkie is an apt choice for hunters. It has 5 animal call alerts, which include turkey, duck, crow, cougar, and wolf. You can silence the tones of the radio while hunting and activate the vibration option. 
The Continuous Tone-Coded Squelch System in this radio will offer you up to 2,662 channels. The walkie talkie covers up to a 38-mile range. You can communicate with your friends and family within this range, clearly and crisply. 
The radio also has a weather update system. It will automatically scan weather channels and give you weather alerts during emergencies. It comes with an alarm feature to warn you when there are severe weather conditions around you. The package comes with 2 belt clips, rechargeable battery packs, a desktop charger, AC wall adapter, micro USB charging cable, and a user's manual.
An apt choice for hunting purposes

Offers up to 2,662 channels for communication

Vibration option

38-mile range

Alerts you while severe weather conditions

VOX function 
4. DEWALT DXFRS800 2 Watt Heavy Duty Walkie Talkies
Product dimensions: 2.17 x 2.58 x 7.27 inches
Weight: 1.98 pounds
Color: Black with yellow
Dewalt walkie talkies come with 22 preset channels. With these many numbers of channels, you can tune into any channel that provides the best reception or signal. The radio brand offers a limited lifetime warranty. 
The 22 preset channels are secure and safe to operate. You do not have to worry about someone invading your privacy, as they are set with privacy codes to allow private conversations. 
The device is resistant to water and dust. It will work just fine when you dip it inside water 1 m down for 30 minutes straight. The walkie talkies can be carried anywhere with ease and can withstand rough handles, as it is shock resistant. The anti-slip design will protect the radios from accidental skids and slips. 
The 180-degree swivel holster will let you rotate it sideways for different positions. It also has a VOX function for hands-free operation. The package includes 2 Walkie Talkie handsets, a charging cable, 2 batteries, and 2 belt clips. The radios are suitable for uses in on-site business applications such as hotel front desk, retail, restaurants, and grocery with high-performance ability. It will provide clear reception in the long-range. 
The device produces a beep tone when your transmission is done. You can also lock the key to prevent accidental touches while traveling. The radios are incorporated with the power-saving design. It will automatically switch to battery saver mode, when not used for more than 10 seconds. This is indeed a crucial feature to extend your battery life and save costs. It will also automatically puts down transmissions with low signals.
Privacy code for private communication

Good battery life

Power saving mode feature

Dust, shock and water-resistant

Secure with high performance
5. Topsung Walkie Talkies Rechargeable
Product dimensions: 2.2 x 1.3 x 6.1 inches
Weight: 1.68 pounds
Color: 2 Blue & 2 Silver
The radios come with rechargeable batteries. It will provide you standby time of up to 48 hours. It will notify you with an alarm when your battery runs low. This is a good feature of this brand. You can communicate with the radios of other brands also. 
The model has incorporated 83 privacy codes for private communications. The VOX function allows the hands-free operation of the walkie talkies. The radio is multi-purposive and works best for biking, camping, road trips, etc. It is also user friendly and is best suited for kids and elders alike with the utmost ease. 
The device will Scan Weather automatically and alert you in case of severe weather emergencies. The Weather Alert also has a sound alarm to warn you about risks in your location. The device has a Keypad lock feature. This will help you prevent accidental touches and changes of channels by mistake.
The radios have different ranges according to terrains. In areas of obstruction, the signal range may get low. A range of up to 4 miles is allowed in open water, while 16 miles is allowed in mountains to the valley. With less external noises or disturbances, the walkie talkies provide clear audio for calls.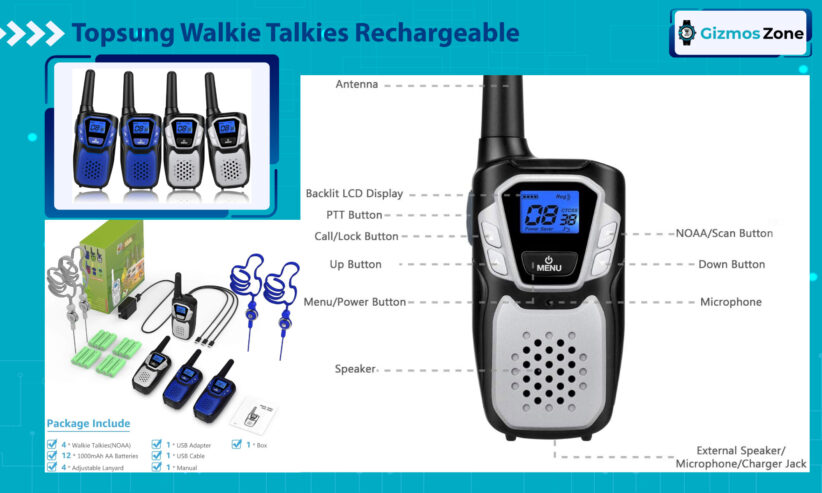 Rechargeable batteries with good battery life

83 privacy codes

VOX function

Multi-purposive

Weather alerts

Keypad lock feature
6. Motorola RDU4100 Business Two-Way Radios with HKLN4606 Speaker Mics 6-Pack
Product dimensions: 1.8 x 2.2 x 4.5 inches
Weight: 10.3 ounces
Color: Black
Motorola walkie talkies are affordable and come with pre-programmed channels. It provides up to 10 channels or code combinations. Up to 38 Analog and 83 Digital Interference Eliminator Codes are provided. These privacy codes will help you have conversations with any member of the group privately. This can be very useful for business persons especially. 
The battery is good and provides up to 22 Hours of Battery Life. Depending upon your usage, the battery life is determined. The radio is best suited for official or business-related purposes. It is exclusively designed for business people who don't want to miss their deadlines. The walkie talkies will make them complete their work faster with high-quality performance.  
It is perfect for the construction business especially. You can communicate with anyone who is on any end to convey your message and get the work done on time. 
The radios are efficient in such a way to provide uninterrupted fast communication. The audio quality is commendable, as it is much louder than its previous models. It is proven to be 30 percent louder than its predecessor models.
Affordable price

Best for construction business

High performance

Louder audio 

Good battery life

Privacy codes and pre-programmed channels
7. GOCOM Walkie Talkies For Adults Two-Way Radio
Product dimensions: 2.09 x 1.5 x 6.89 inches
Weight: 14.1 ounces
Color: Black
GOCOM walkie talkies are compatible with any radio of any number. The LCD is bright and clear for daytime visibility. It comes with a built-in earpiece for communication. The package includes an earpiece, belt clips, a dual USB charging Line, and 6 rechargeable AA battery. The radios have 2662 channels and 121 privacy codes. 
You can choose the best channel after scanning, which will be perfect for your communication. The privacy codes help you talk with anyone privately without disturbance. The radio has a VOX function to enable hands-free operation. It will scan the weather automatically through available weather channels. It will alert you about emergency weather updates in your location. 
The radios allow long-range communication, provided that there is little or no obstruction in your area. If you are in areas that have too many buildings or obstructions, your signal range may be low. In open and clear spaces, the signal range is high. The range varies according to your terrain. The walkie talkies provide good battery life for up to 25 hours. 
It has LED flashlights to guide you in need of an emergency or when it is dark. The radios also have a quick alarm feature, which will be efficient in times of danger or unexpected accidents. The device is perfect for traveling, outdoor use, and so on.
Bright LCD

Rechargeable battery with good battery life

VOX function

Long-range and good reception

LED lights for emergencies

Best for outdoor activities

Automatic weather scan and weather alerts

Quick alarm feature in times of danger
8. Retevis H-777 Walkie Talkies
Product dimensions – 2.36 x 1.3 x 4.53 inches
Weight – 6.3 ounces
Color – Black
When talking about a high-quality walkie-talkie for emergencies with a high coverage range, the Retevis H-777 Walkie Talkies is hands down one of the bestselling options that you can get your hands on, not to mention that they are budget-friendly as well.
These rugged walkie-talkies come with some of the best features and functions, preferably with the heavy-duty rugged antenna that is not just durable but designed to outlast any of the other situations that you likely find yourself in.
The compact design of this walkie-talkie comes with an upgradeable durable tooth that allows you to keep the battery in place and maintain solid contact for seamless communication. It is a compact and rechargeable walkie-talkie that you can make the most use out of.
Aside from the standard design, this portable walkie-talkie also supports enhanced audio output with an emergency alarm to keep you occupied from the get-go. The best part about using this walkie-talkie is its simple user experience. You can use it out of the box without separate settings and configurations.
The high-tech design of this walkie-talkie comes with a power-saving function with hands-free functionalities for a superior user experience like you have never experienced before. Also, it is backed with a low battery alert that alerts you when you need to recharge your battery again.
This long-range walkie-talkie also works around buildings and different levels for superior connectivity and communication. Pair that with the 1000 mAh battery that can last you for quite a few hours to take care of your needs during an emergency.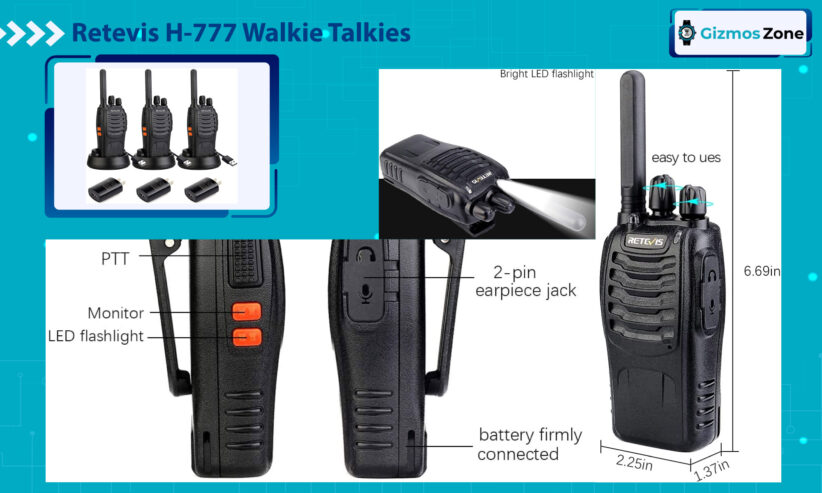 Integrated with 22 channels

Supports long-range communication

Comes with a 1000 mAh rechargeable battery

Upgradable design with battery latch design
Range drops dramatically at times
9. Radioddity R2 Long Range Walkie Talkie UHF Two Way Radio
Product dimensions: 4.49 x 2.29 x 1.1 inches
Weight: 1.65 pounds
Color: Black 
The walkie talkie is designed in a user-friendly way to make it easy to operate by even beginners. The radio will let you connect with people effortlessly, by keeping your communication secure and safe. It has features that will allow you to speak to someone on another radio, without letting others of your group hear your conversation. 
You can charge the device using a wall charger or through a car charger, laptop, or power bank. The battery of this device takes about 4 hours to charge. The battery life will stand up to 96 hours. It has versatile charging options. This is one of the advantages of this model. 
The radio also has a free-hand talking feature through a built-in VOX function. It can be activated through a computer and a programming cable. This is not included in the walkie talkie package. But you can order it along with the walkie talkie to get a 50% offer. The brand offers a 1-year warranty for the device. You can return it within 30 days of purchase if you are not satisfied. 
The walkie-talkie is made of strong durable material that is non-slippy and comfortable to hold. This will prevent frequent accidental slips during your outdoor trips or adventures. The radio will work well within a range of up to 6 KM in the open space. The device is easy for both kids and adults to operate.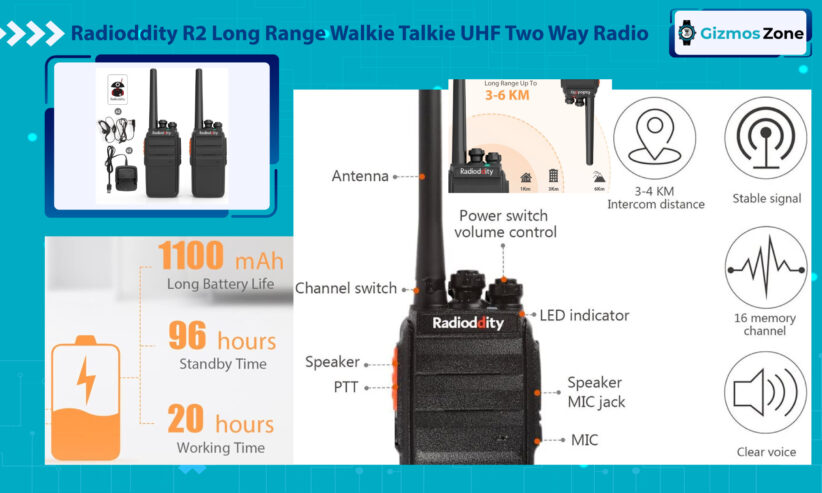 Good battery life

Versatile charging options

Suitable for both kids and adults

1-year warranty, 30 days return option

Good durability

VOX function 
10. Arcshell Rechargeable Long Range Two-Way Radios (4 pack)
Product dimensions: 9.4 x 6.9 x 4.7 inches
Weight: 2.99 pounds
Color: Black 
The walkie talkie comes in a small and compact size to fit inside your pocket perfectly. The lightweight of it makes it easier to carry anywhere you go. The device is water-resistant. You can take it to the seas or oceans and get connected with your friends and family. The radios are easy to operate and apt for usage by both kids and adults alike. 
The radios have a belt clip that is removable when not needed. There are 16 pre-programmed channels in this walkie talkie model. Each of the radio has a similar frequency on each of the 16 pre-programmed channels. You can select the channel which has a good signal for your communication purpose. The walkie talkies have a knob to select the channels. You can turn the knob to change to different channels. A built-in voice will guide you with the channel numbers. 
The channel frequency can be programmed within the existing frequency range. The device allows you to program any of the 50 CTCSS tones and 105 CDCSS tones on every programmed channel. The radio provides a rechargeable battery with a charging dock. The charger takes around two and a half hours to get charged. The battery life is also pretty good, as it provides about 96 hours usage depending on your usage time. The battery can be charged separately or along with the radio. 
The radios have a built-in speaker to them. It also provides an earpiece. The radios also come with VOX function. The range of these walkie talkies depends upon your terrain. It offers clear crisp communication up to 5 miles when there are no disturbing factors. The radio is best suited for travelling, security uses, fire department, schools or college events, hunting, and so on. The radios will provide you the best range and reception while all these activities.
Small and compact 

Rechargeable battery with good battery life

Good range and reception up to 5 miles

Water-resistant

VOX function

Multi-purposive
11. COBRA ACXT1035R FLT Floating Walkie Talkies
Product dimensions: 1.5 x 2.4 x 7.5 inches
Weight: 5.6 ounces
Color: Black with red
Cobra walkie talkies allow signal up to a range of 37 miles. It has channel combinations up to 2,662. The device provides privacy codes up to 121. This will let you talk to members of the group privately without disturbance. 
The device also has weather alerts to warn you about storms and unexpected rains. The radios are resistant to water. So, do not worry if you accidentally drop it in water. You can replay missed calls in this radio model. The walkie talkies will record the last 20 seconds of incoming calls automatically. This is a unique feature when compared to its peers. 
It also has a vibration feature for your incoming calls. This will be helpful in noisy places. Vibrations can help you feel there is a call to attend to and respond. The built-in LED flashlight will be efficient to you when you are stuck in dark places with no light. The VOX function will enable the hands-free operation of the radios. 
The radio is best suited for adventurous trips, outdoor activities, hiking, etc. The dust and the waterproof feature will make it work for a longer run. You can use it below water and use it on rough terrain without any fear. The walkie talkies provide you a dual-port charger for charging it.
37 miles reception

Privacy codes for private communication

LED flashlight

VOX function

Dust and waterproof
12. Retevis RT7 Walkie Talkies
Product dimensions: 5.2 x 2.2 x 1.2 inches

Weight: 4.2 ounces
Color: Black
Retevis is one of the popular walkie talkie brands in the market with reliability and trustworthiness. This particular walkie talkie has got 4 out of 5 ratings among the users. The walkie talkie is black and comes with powerful features at an easily affordable price. This is an ideal choice for emergencies, traveling, and business purposes as well. 
The walkie-talkie comes with high-gain antennas to support long-range communication, even where there are obstructions like buildings or walls. It comes with a 1000 mAh rechargeable battery, which provides up to 10 hours of battery life after being fully charged. This is highly beneficial for vacation, trips, and continuous usage.
There is a LED flashlight in the walkie talkie, which can be used for emergency purposes during the nights. The walkie talkie is equipped with a VOX function to support hands-free communication. It has large and powerful speakers, which deliver effective audio that is better than most walkie talkies available in the market. The squelch reduction feature will filter background noises and deliver clarity voice commands with good sound quality.
The device comes with an Emergency alarm feature and auto battery save feature. This will save battery when the walkie talkie is not in use. It will also alert you when the battery is low or draining. There is a Battery low alert feature for this purpose. 
The walkie talkie uses a USB charger for charging. You can easily charge it anywhere, as it supports charging via mobile phones, cars, and computers. All in all, it is worth your investment! 
VOX function for hands-free communication

Emergency alarm feature

Long battery life up to 10 hrs

Flexible charging options

Bright LED flashlight

Large built-in speakers
Not suitable for extreme cold / hot climates 
Recommended:
An Ultimate Buying Guide to Choose the right Walkie Talkies for Emergencies in 2023
Before you buy a walkie talkie, make a list of the occasions that you are going to use it shortly. This will sort out your needs and make you pick the apt one for your purpose. 
1. Reception and Range distance
Reception is the first most buying factor you should consider. It should be your priority, as it defines the basic use of buying a walkie talkie. Are you doubtful as to how to judge if the walkie talkie's reception would be good? You can just take a look at the channels info that the brand provides. Make sure the radios have many numbers of channels and channel combinations to switch. This will help you have several choices to switch channels, and set the right channel with perfect signal for uninterrupted communication. This factor depends on your use. If you are going to use it for hard adventures, you will probably need a larger range. For neighborhood and office, related activities medium to less range would be fine.
2. Security
Security is the next important factor. You do not want anyone to eavesdrop your conversations. Some radios allow you to speak to one member without letting other members listen to it. Look for radios that provide secure communication. Some of the models of walkie talkies have private codes, which you can enable to have a private talk with one of your group members. This will also come in handy when you plan any surprise for your group. 
You should enable the privacy code in both the radios to have a separate conversation without external disturbance.
3. Extra features
Apart from regular communication features such as reception and range, your radio should also have at least a few extra features to make your walkie talkie experience useful and memorable. As technology is advancing day by day, these features are something a walkie talkie should have. Some of the extra features that walkie talkie brands provide are LED lights, privacy codes, VOX function, automatic key lock, bright display, power saver, weather alerts, etc. Weather alerts and privacy codes are two crucial features among others. Make sure you buy a walkie talkie with these features. It will be useful for you during emergency circumstances. 
4. Budget and durability
Budget and durability are two common factors that you should tick on your buyer's guide list. Irrespective of the product, these two are crucial factors for any electronic device you purchase. Make sure you plan your budget before you order the walkie talkies. Most of the brands provide amazing features at affordable prices. Be patient to look for the best ones in the market. Next is the durability. Check for the product material and its durability. It should be able to withstand harsh handles and work on rough terrains. Buy a radio that is dust and water-resistant. You can also look for the ones with rough material, as it will prevent accidental slips. Water-resistant devices will help you take them during your water adventures. Imagine being able to communicate with someone when you are underwater!
Recommended:
Frequently Asked Questions (FAQ's) About Best Walkie Talkies for Emergencies in 2023
1. What is the ideal range one should look for in a walkie talkie?
Normally, most of the walkie talkies mention the specific ranges up to which it would function. But, the range can be determined solely on your location or terrain. Without too many buildings and obstructions, a walkie talkie can function up to several miles. It also depends on where you are, eg. A mountain valley or a sea or an open garden. In open spaces, it tends to work uninterruptedly with clear signals than in closed spaces. 
2. What are the mandatory features in a walkie talkie?
You should look for strong reception, long-range signal reach, and durability of the device. These are crucial factors a walkie talkie should possess. Other extra features like security, weather alerts, and resistance are something that you can additionally brush upon.
3. What is a privacy code used for?
Privacy code in walkie talkies is used to have private communication with anyone in your group. At times, we will need to have a separate word with one of the group members without others listening to it. A privacy code can be used for this issue. Most of the models offer many numbers of privacy codes for you.
4. How many types of walkie talkies are there?
A walkie talkie is of different types according to one's needs. There are walkie talkies especially designed for kids, which will be used for family trips. Some radios are waterproof that can be used for underwater activities like swimming, etc. There are models for hunters, travellers, business persons, etc according to their needs. 
5. What is a VOX function in a walkie talkie?
A VOX function in a walkie talkie enables hands-free operation. This is available in most of the models. You can talk to anyone without needing to operate the device whenever someone calls.
All set for an outdoor trip or adventure? Remember to purchase and put the best walkie talkie in the market in your backpack along with your other travel essentials. You can also use the walkie talkies for other vacations, business purposes, official events, etc. 
Recommended: