We are supported by readers. When you purchase through links on our site, we may earn an affiliate commission.
Oftentimes people wonder whether devices that can be powered over Ethernet can be powered directly from the router. Yes, it's possible. We have discussed this in detail in this post. 
Though, indeed, most routers aren't advanced enough to deliver power to other devices. But there are a few models that provide Power over Ethernet. 
A Power Over Ethernet network or a PoE injector will provide power to a device like a wireless access point or security camera. Some Power Over Ethernet networks have both outputs and inputs. 
Even though modern-day routers with Power Over Ethernet networks are available, they wouldn't be quite beneficial. This means even if you buy a router with a Power Over Ethernet connection, it wouldn't offer you great advantages. Have in a separate Power Over Ethernet network switch or injector is a better option to opt for when you have a Power Over Ethernet compatible device.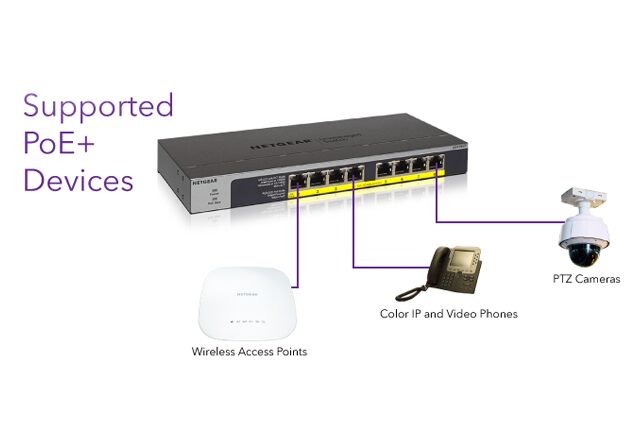 How to know if the router can provide Power Over Ethernet? 
You must know that most of the standard routers available in today's market aren't equipped to offer Power Over Ethernet. But, if you are willing to check it for extra confirmation, it can be done easily. The easiest way to know whether or not your router is Power Over Ethernet equipped, you must check the specifications of the particular model of router you have bought. 
Check the specification manual that has been provided with the model. Or you can also look for a specification manual online. There, you can expect to get a clear mentioning of whether or not the router is capable of providing Power Over Ethernet. 
If your router has this feature, it's sure to be highlighted in the manual, so that it catches everyone's attention. Not every router has this feature.  
If you have lost the manual or can't find a manual for that model online, there are other ways of finding out whether the router is Power Over Ethernet compatible. How would you find out otherwise? Look for the Ethernet ports on the router. Usually, they are labelled. Look at the labellings. If the ports can deliver Power Over Ethernet, they would be differently coloured. This feature is again rare. What most people have to do in the end is use a Power Over Ethernet network switch or PoE injector.
What type of modern-day router provides Power Over Ethernet? 
Mostly, routers by Ubiquiti come with this Power Over Ethernet facility. However, not all routers by Ubiquiti offer Power Over Ethernet. There are a few specific models that are equipped with this stand-out feature. The routers with the Power Over Ethernet feature have both Power Over Ethernet input and Power Over Ethernet output facilities.
For instance, router X has a 24v passive Power Over Ethernet power as the input and the same as an output. This means the Power Over Ethernet output also requires 24v passive Power Over Ethernet or at least a power adapter of a minimum of 12W.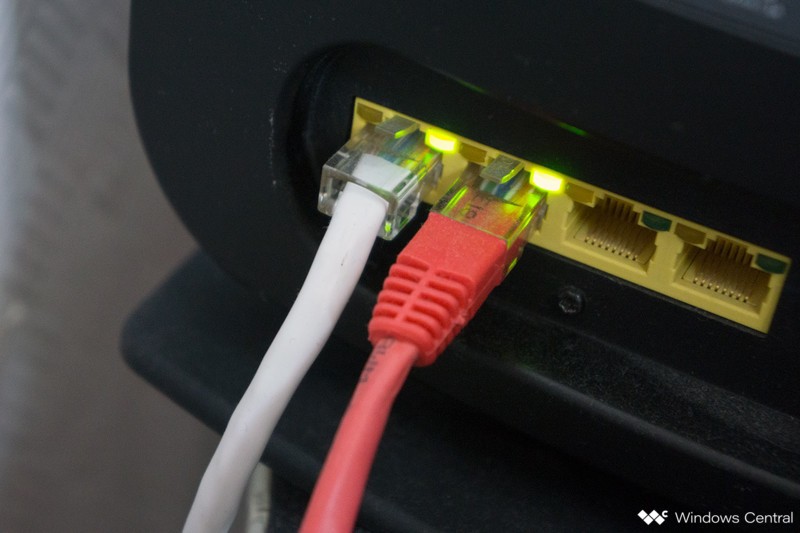 Similarly, there are other models available in the market, though the options are limited. Now how would you understand which models fit the best for you? This would be determined by whether or not you want the router itself to be powered by Power Over Ethernet. If you want the router to simply power the connected devices through Power Over Ethernet, your options would be different. On the other hand, if you want the router itself to be powered by Power Over Ethernet, you have to consider other router models. 
However, it's believed that users would benefit from buying a router with a port that delivers Power Over Ethernet rather than buying a router being powered by Power Over Ethernet. Using a router powered by Power Over Ethernet isn't a viable option unless you are using multiple routers and want to use fewer cables. If this is the case, you can buy a router being powered by Power Over Ethernet. Again, this option is beneficial if you are using that router as the secondary one. But, even then, a PoE injector or network switch would be required to provide it with power in the first place. 
If you are looking for routers to provide Power Over Ethernet to devices, it's worth considering the models by Ubiquiti. They are in great demand and a lot of people have experienced satisfactory services. You can check for the reviews online. 
Is a Power Over Ethernet Router Worth buying?
The next most asked question is whether or not a Power Over Ethernet router is worth buying. This is a debatable topic and many people have many views. According to some, it's not worth buying a Power Over Ethernet-enabled router. They consider it simply to be an extra feature on a router that you have bought because it fits your needs. This feature isn't a necessity. Therefore, such people don't recommend others to buy Power Over Ethernet compatible routers. 
If you have devices in your place that are to be powered over Ethernet, there are other options you can opt for. They are better than buying a Power Over Ethernet router. For instance, you can use your existing router and buy a Power Over Ethernet network switch or a PoE injector and use it to deliver power to your devices. That's what the majority of users find affordable and convenient. 
If you have to power only one device, using a PoE injector is the best option. 
So how would this all end up working? 
Don't you know how the PoE injector works does? Well, read below to know the process in detail. 
Firstly the injector is plugged into the mains power supply. Next, you have to connect an Ethernet cable to the LAN ports on the back of the router. This cable is also connected to the LAN port on the injector. 
Now, you have to run another cable from the PoE port present on the injector into the single port that's found on the wireless access point. That cable works as the access point for both data and power that the devices require to function.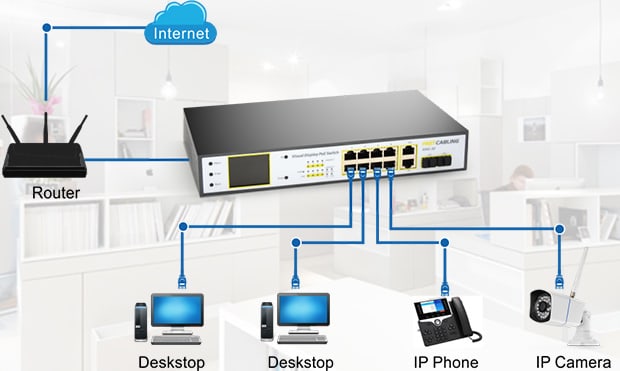 Now if you want to derive power from a PoE network switch, the setup would be quite different. 
By now you know that usually standard routers aren't PoE compatible. This also means that though the PoE network switch is equipped to deliver power over Ethernet, it first needs to power itself. Therefore the network switch has to be plugged into a regular power outlet. 
In this case, you must connect the single ethernet cable from one of the LAN ports on the router to any of the PoE network switches. This would make all the other ports available to be connected to other devices. 
Also, remember that PoE ports aren't exclusively for those devices that are compatible with PoE. People can connect these ports to any device of their choice. It's as simple as you would connect devices to any regular network switch. 
Do you know what the best part is? The ports on the switch themselves know whether to provide data or power or provide them together. This depends on the device that's connected to the PoE ports at the other end. 
 If you had used a PoE switch beforehand, you must know how it works. In some cases, people didn't find a PoE switch quite useful. Especial if you have a network switch somewhere in your home, it's useless to get another connection done. Setting up a PoE injector, in that case, would be useful. The injector offers several access points and therefore is a cost-effective solution. 
Now if you are doubtful whether to use a PoE network switch or a PoE injector, you have a tough decision to make. But, we can make it a bit easier. Below enlisted are a few questions you ought to ask yourself, before making a decision. 
Do you have multiple devices to provide PoE services? If the answer to this question is yes, meaning if you have multiple devices at your place to provide a PoE network, using one PoE injector would be sufficient. 

Do you already own a network switch? Again, if it's yes, and you need to provide a PoE connection to one device, it's still better to get a PoE injector. Otherwise, buying a PoE network switch would be a better investment. 

Do you have to add more devices for PoE connection in the future? If you anticipate adding furthermore devices in the future, you can buy a PoE network switch and save money from buying multiple PoE injectors. If you don't have multiple devices to connect to, use a single PoE injector only. 
Conclusion
This is all about a router with a PoE connection. By now you have understood that a router with a PoE connection is available in some handful of models but it's not worth buying. Also, you know why it's so. Therefore, it's best to buy a PoE switch or PoE injector and get your works done.