We are supported by readers. When you purchase through links on our site, we may earn an affiliate commission.
Laptops and computers have become a necessity in our daily lives and networking is an essential need to set up smart homes or to connect your wide range of devices. The best way to do that is by using a Gigabit Switch. When it comes to Gigabit switches, there are various types and all you have to do is to choose one that meets your needs. If you have got a lot of devices to be connected, then you can place your best bet on 24 Port Gigabit Switches.
Gigabit Switches are used to connect all your network-enabled devices such as Televisions, Computers, Laptops, etc. to a LAN (Local Area Network), thereby enabling you to share your internet for all connected devices. It's a kind of replacement for WiFi since it can connect many devices to the internet with minimal to no internet lag. This is a simple and cost-efficient way of connecting your devices as it does not require much technical knowledge to install as well. 
We all know that networking costs a lot of money when it comes to applying for high-speed and large data packs that are a necessity for many business needs. Gigabit switches are relatively cheap when compared to getting a new internet connection for each of your devices. It helps to boost your internet speeds even while using many devices at the same time. 
You can choose a Gigabit switch from a very wide range of options based on the number of devices you need to connect. This number corresponds to the number of Ports on the Gigabit switch you are about to choose. Office environments that have many PCs, Cameras and other devices, generally require the use of 24 Port Gigabit Switches as it's cost-efficient and maintains fast networking speeds for all systems. There are many high-quality devices available on the internet out of which some of the best buys are shown below. If you need insight on what you could choose to buy, then sneak a peek.
EDITOR'S CHOICE
Cisco Meraki Cloud Managed 24 Port Gigabit Switch Bundle
Model Number: MS350-24X-HW
Weight: 14.48 Pounds
Color: White
Dimensions: 19.08 x 20.4 x 1.74 inches
BEST OVERALL
H3C 24-Port Full Gigabit Ethernet Switch
Model Number: LS-S5600-26C
Weight: 15.65 Pounds
Color: Black
Dimensions: 17.32 x 16.54 x 1.72 inches
BEST BUDGET
NETGEAR 24-Port Gigabit Ethernet Unmanaged Switch
Model Number: JGS524NA
Weight: 4.97 Pounds
Color: Black
Dimensions: 18.11 x 9.13 x 3.23 inches
Best 24 Port Gigabit Switches in 2023
Model Number: JGS524NA
Weight: 4.97 Pounds
Color: Black
Dimensions: 18.11 x 9.13 x 3.23 inches
NETGEAR is one of the best high-performance Gigabit Switches currently available in the market. It's a well-known brand when it comes to connecting various gaming devices. This is a must-buy product when it comes to home networking needs or small offices which also require high internet speeds and excelling performance.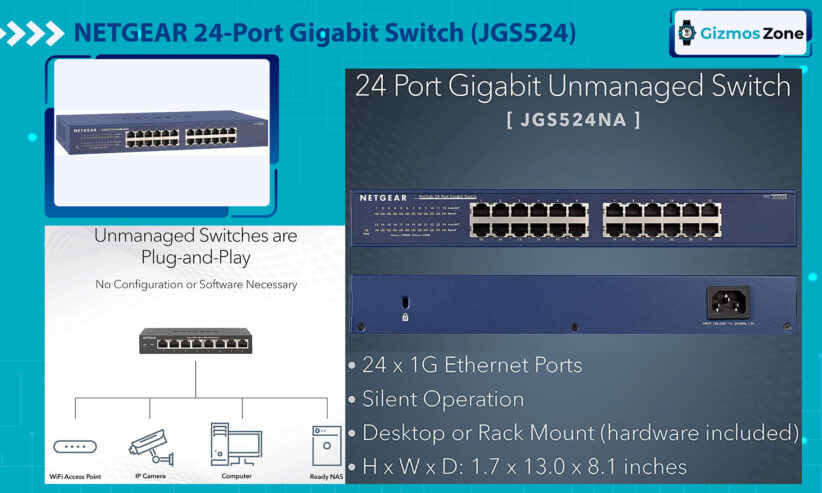 These switches are reliable as they are tested many times and have top-quality components used during its production. This ensures a long life for all of its products. NETGEAR also provides a wide range of models such as Rackmount, Wall-mount, and Desktop form factors with a port range from around 5 to 24 ports. This particular product supports Desktop or Rackmount placement. The necessary mounting hardware is all included in the purchase of the product on the whole, with a lifetime warranty.
Also, an added advantage is that it has silent operation due to the fanless design incorporated in it. This enables the product to be used in various noise-sensitive environments. The Plug and Play simplicity this product offers, allows you to utilize it without the need for any configuration or any necessary software installations. The energy-efficient design helps to lower the operation cost and optimizes the power consumption as well.
Ideal high-performance networking

Noise-free operation

Easy installation and use

Cost-effective

Lifetime Warranty

Suitable for silent-working environments
Model Number: TL-SG1024S
Weight: 3.44 Pounds
Color: Black
Dimensions: 11.57 x 7.09 x 1.73 inches.
TP-Link is a well-known brand when it comes to incorporating state-of-the-art energy-efficient technology into their products, which helps in maintaining a low energy consumption rate and thus saves a lot of money.
There is a feature called Auto-Negotiation which helps in providing the highest speed possible for every network port available in the switch. It also incorporates Plug and Plays therein maintaining an easy-to-use, hassle-free installation without the use of software or specific configurations. Having a Lifetime Warranty, it boasts the best in the market warranty service with 24/7 technical support available.
This switch supports 10/100/1000 Mbps network speeds for each of its 24 ports with Auto MDI/MDIX feature in it. Auto MDI/MDIX disregards the need for crossover cables. The latest energy-efficient technology used in these switches automatically adjusts the power consumption, concerning your cable length and the link status. IEEE 802.3X flow control is supported, along with IEEE 802.3u, IEEE 802.3ab, and IEEE 802.3i. This provides reliable data transfer. Coupled with the fanless design, it gives a nice and quiet operation.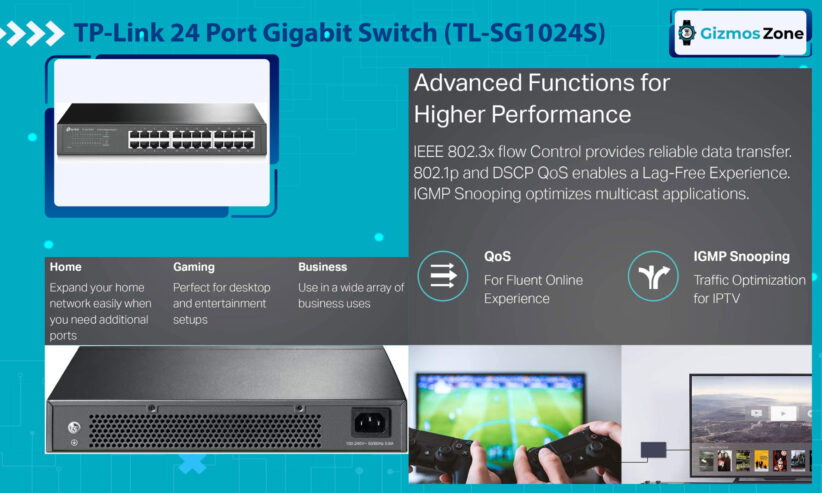 Ideal

 

business networking applications

Highest networking speeds 

Easy installation

Energy-efficient, and power saving with Green Technology

Noise-free operation
Minor complaints about the life of the switch in certain cases.
Model Number: GS324-100NAS
Weight: 4.72 Pounds
Color: Black
Dimensions: 13.62 x 11.14 x 3.07 inches
NETGEAR dishes out a wide range of high-performance Gigabit switches, with each being customized to suit the user's general needs. This particular switch is equipped with 24 Gigabit ports that have reliable performance and quality due to the rigorous testing of NETGEAR products before they reach the user.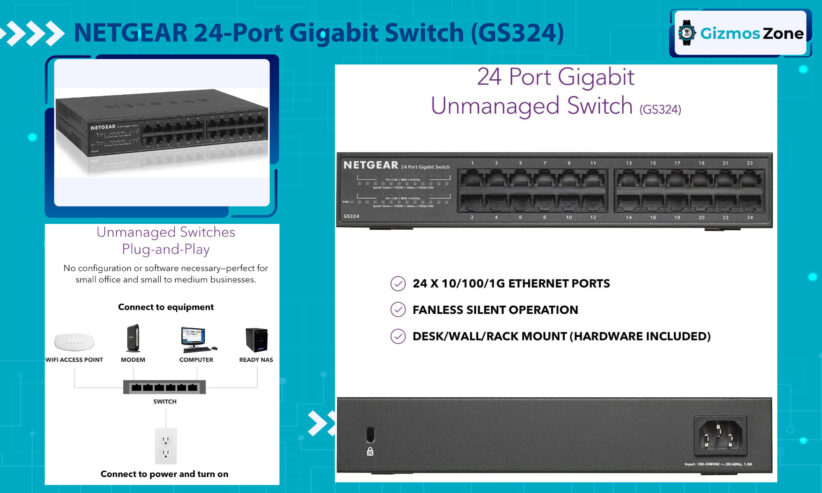 Some of the features include the Plug and Play installation, along with versatile mounting options. The energy-efficient power optimization paired with the noise-free operation due to its fanless design and relatively cheap cost makes it a popular choice with the buyers.
The presence of different mounting options such as Desktop/Wall/Rack Mount placements is an added benefit and all the necessary mounting kits are present in the product box while purchasing it. It is compliant with the IEEE 802.3az EEE mode. With all these features in mind, this NETGEAR switch rises above the high standards necessary for any application that depends on networking infrastructure for its daily needs.
Whisper-quiet operation

Energy-efficient design & Technology

Ease of installation and use

Good quality and performance

Cheaper in comparison
Slow IP network connections 

Customer service 
Model Number: TEG-S24DG
Weight: 5.45 Pounds
Color: Black
Dimensions: 3.46 x 4.72 x 0.98 inches
TRENDnet focuses on saving energy by reducing power consumption by over 70% due to its GREENnet Technology. The RJ 45 ports give a high-speed network connection that can transfer data efficiently without traffic bottlenecks.
The switch supports, both Desktop and Rack-Mount installations and provides the necessary kits with the package. The ease of installation given by Plug and Play makes it very popular among buyers too. It also provides a large bandwidth performance with good reliability.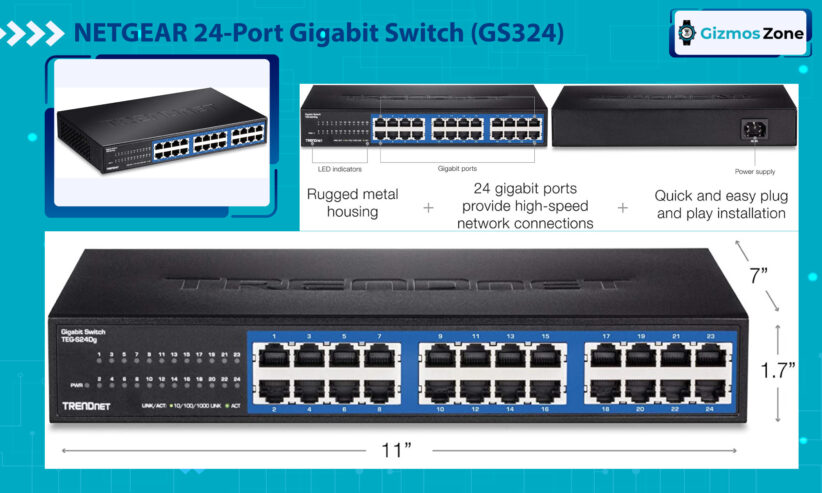 The fanless design fits well in quiet environments with its silent operation. This also stops energy from being wasted in the form of noise. These switches come with Standby Mode wherein less power is given to the devices that are Off. Link Down Detect technology gives less power supply to the unused ports. This is useful for applications where the average usage schedule is staggered for each device.
On full-duplex mode, it gives out a switching capacity of 48 Gbps which eliminates network congestion and boosts network efficiency. Jumbo frames incorporated in this product helps in the transmission of large Ethernet packets (Up to 10KB) without data loss.
The highest data rate of 2000 Mbps on the full-duplex mode

Fanless design that gives the noiseless operation

Low power consumption with high performance

Can send larger data packets (up to 10KB)
5. Meraki Go by Cisco
Model number: GS110-24P-HW-US
Weight: 10.88 pounds
Color: Gray
Dimensions: 12.9 x 4.3 x 21.4 inches
When talking about Gigabit switches, you can't go wrong with the 24-port variant. They are functional, useful, and pretty expensive too. However, we understand that you want to prioritize quality and functionality.
The Meraki Go by Cisco is a pretty great option for the same, primarily because you get superior functionality and an uninterrupted user experience like you have never once experienced before. 
The best thing about this product is that it's from a reliable brand and comes with an easy set-up function that you need to follow to get the work done. It connects to the devices securely and comes with simple port accessibility for superior functions. 
Besides the Gigabit connectivity, the ports also connect over Ethernet, making this a multifunctional device. The product is ideal for businesses that look into applying the bulk settings to switch out the ports and later enable and disable the PoE on each port.
The product comes with all-inclusive charges, so you don't have to worry about the extra subscription charges or the remaining issues that many individuals often tend to struggle with. If you want to invest in a cost-effective product that will propel your business by sticking everything in one place, this gigabit switch is all that you need. It is a little on the expensive end but every penny spent is worth it.
Easy to set up

Supports Ethernet connectivity

Comes with all-inclusive charges
Model Number: MS350-24X-HW
Weight: 14.48 Pounds
Color: White
Dimensions: 19.08 x 20.4 x 1.74 inches
Cisco Meraki provides an industry-leading cloud management service which puts it at one of the leading spots when it comes to managed Gigabit Switches. These are also stackable thereby enabling it to service large enterprises and campus networks.
These switches also have optional PoE+ support up to 740W, along with 4 x 10G SFP+ uplink interfaces on all of its models. Add to it, a 6 configurable QoS Queue with a non-blocking switch backplane giving up to 272 Gbps of switching capacity, its multi-purpose support is seen. The installation is hassle-free. 
It also has Link Aggregation Control Protocol (LACP) for high capacity trunking along with static and dynamic routing support. The Multi-chassis (MLAG) support gives an easy switch-over between stacked switches without data loss. Meraki also includes integrated Layer 7 fingerprinting. This eliminates the need to purchase additional modules.
Cloud Server Based networking applications

Easy and automated installation procedures

QoS, PoE+, VLAN & LACP support
Cloud-based managed systems 

High cost in comparison with unmanaged switche
Model Number: GSW-2401
Weight: 5.38 Pounds
Color: Black
Dimensions: 17.32 x 7.09 x 1.77 inches
The switches made by Planet Technology can regulate the transmission speed and the mode of the device, i.e. whether it is the full or half-duplex mode, on all of its port-connected devices.
The 24 RJ-45 10/100/1000 Mbps ports allow high-quality, uninterrupted network connectivity. This high-performance architecture of switches provides a non-blocking switch fabric that punches an output of about 48 Gbps for wired connections, which helps to increase the bandwidth demands by upgrading the LAN. Precise and loss-less transmission of data occurs due to its efficient Flow Control is also found. It has an operating temperature of around 0 to 50 degrees Celsius. The max power consumption is about 13.5W/46 BTU. It also gets rid of network congestion due to useless traffic by using its Store-and-Forward forwarding scheme.
With the ability to recognize over 8K different MAC addresses on its connected network, it gives a wide range of uses as well. The 9K jumbo frame feature supported by these switches helps to manage and transmit a very large amount of data securely, without data loss.
Identifies and supports Half or Full-Duplex mode devices

Efficient Flow Control

Supports Store-and -forward forwarding scheme

Low power consumption
Not frequently bought due to its medium price range
Model Number: DGS-1024C
Weight: 4.7 Pounds
Color: Black
Dimensions: 11.02 x 7.09 x 1.73 inches
D-Link is another well-known brand when it comes to networking and its related devices. This switch provides Plug and Play networking and supports 10/100/1000 Mbps speeds with its 24 ports, thereby enhancing your network connectivity by upgrading your network.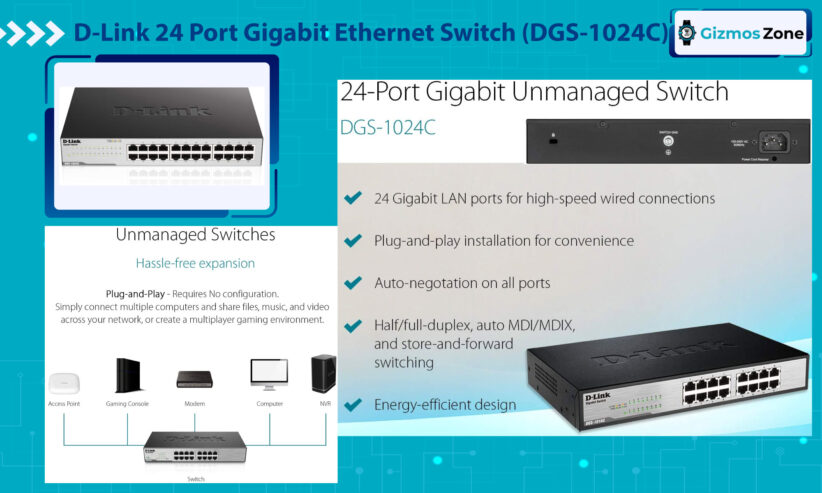 The increased bandwidth network provided by this product helps small and medium businesses to benefit from uninterrupted and fast networking capabilities. The product also supports IEEE 802.3AZ EEE (Energy Efficient Ethernet) that automatically reduces the heat generated and saves energy with no loss in the functionality or the performance of the product. Time-sensitive data can be delivered accurately without lag even during high traffic conditions. This is enabled by the QoS support provided by these switches.
An added advantage is that it also detects whether the connected devices are shut down and, in the cases where there is no or less ethernet traffic, it automatically reduces the power supplied to those ports, thereby allowing the user to save more energy. It also calculates the power to be supplied based on the length of the cable used. The metal housing it's equipped with, helps in solid durability and lifetime use. The mounting capability is versatile as it supports both desktop and Rackmount with the necessary kits given during the purchase of the product.
High-speed connection

Intelligent power optimization

Versatile mounting capability

Plug and play setup
Slower speeds when many devices are connected at the same time

Noisy operation
Model Number: LS-S5600-26C
Weight: 15.65 Pounds
Color: Black
Dimensions: 17.32 x 16.54 x 1.72 inches
H3C products support XModem / FTP / TFTP loading and upgrading. It has a transmission rate of 10/100/1000 Mbps. The switching capacity is 192Gbit/s with a total packet forwarding rate of 66 Mbps.
The 24 ports support 10/100/1000 Mbps speeds with 4 multiplexed 1000 Base-X Gigabit SFP Ports. This product also has a feature where the data transfer rate is limited at the port for data packets during transmission and reception. This is applied based on QoS prioritizing. This managed switch is also equipped with LACP and SNMP.
Being stackable, it can even further extend the number of ports to suit your needs. Being IEEE 802.1X certified, this product also supports secure data transmission with high speeds. The VLAN support communication operates entirely on the Full-Duplex mode. A 1-year warranty is provided for this Gigabit Switch. The system output power module is a 130W system known as PSL 130-AD AC or DC Input. On the whole, this product speaks to small scale industrial applications.
High-speed packet forwarding rate

Limits the rate of data transfer when unnecessary and saves energy

Supports QoS, LACP, SNMP, etc

Stackable
Not widely known

The warranty period is comparatively less
Model Number: GS1024
Weight: 4.6 Pounds
Color: Black
Dimensions: 17.35 x 5.5 x 1.8 inches
Cudy provides a sleek design for affordable prices with no compromise in the performance of the Gigabit Switch. These 24 Port Gigabit Switches support 10/100/1000 Mbps speeds with auto-negotiation that helps in streamlining the data transfer rate. It has a simple setup with no software installations or configurations necessary.
This product supports IEEE 802.3i, 802.3u, 802.3ab, 802.3x & 802.3az standards. The IEEE 802.3x Flow Control in Full-Duplex mode allows large file transferring rates and backpressure for Half Duplex mode gives an increased bandwidth that helps in reducing network congestion. Every product is tested rigorously and thus, has good quality and performance. The metal housing supports 19-inch Rackmount and Desktop mount features, making it compatible with most environments. Also, since it is compliant with IEEE802.3az Energy Efficient Ethernet mode, it optimizes the power usage considerably and thus reduces the operation cost.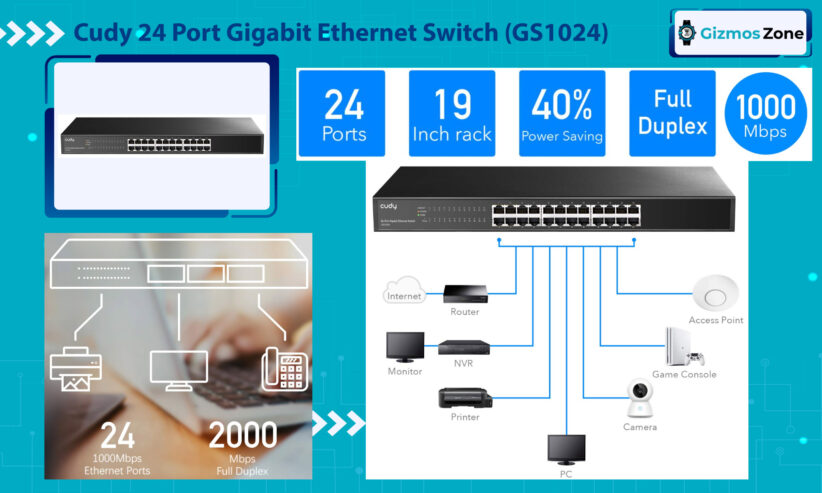 The fanless design helps in maintaining zero noise which makes it ideal for quiet environments. It also detects the cable lengths and device usage in the unused ports and adjusts the power usage accordingly, thereby saving more energy.
Quiet operation

Standard 19″ rack mount compatible for most installations

Efficient power optimization

Exceptional Flow Control
Life is a bit short as per customer reviews

The rare suggestion as it's not well known
Model Number: LGS124
Weight: 5.04 Pounds
Color: Black; Blue
Dimensions: 11.29 x 19.5 x 3.9 inches
Linksys provides the best possible user experience with regards to real-time applications by using its numerous QoS (Quality of Service) features. These help to regulate the traffic by assigning priority based on the user's needs.
These switches are unmanaged and automatically optimizes the speed for each device connected to it, thereby giving ease of access while providing high-speed network connections. It expands its speed range to 1000 Mbps over wired connections and has an easy plug-and-play connection. Linksys switches also have power-saving features that help in maintaining the power consumption at a low value.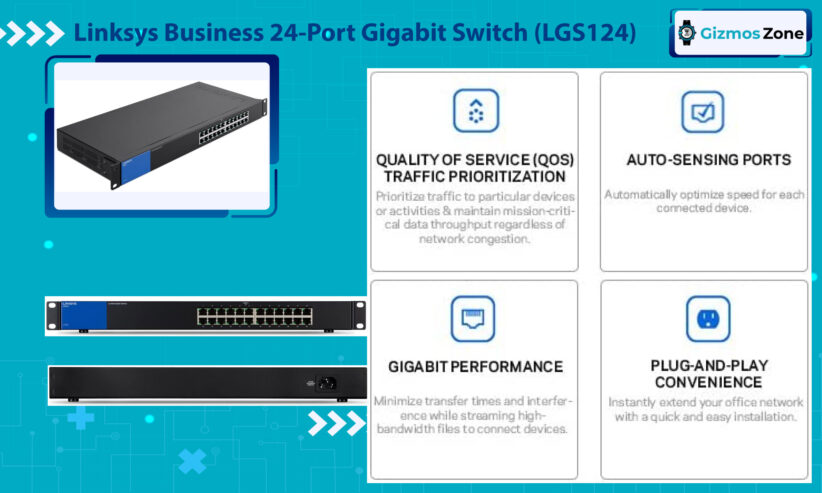 The additional innovation used here is the Quality of Service traffic prioritization feature. This enables you to easily assign priority to your real-time applications, thereby providing uninterrupted service even during low network connectivity. It also meets the EEE (Energy Efficient Ethernet) 802.3az standard. The box includes a Guide, the power cord/adaptor, CD with documentation, and a Rack Mount kit.
Ideal

 

real-time networking applications

Plug and play installation

Prioritize Quality of Service

Energy-saving features
Packet loss with locally connected devices 
Recommended:
Buyer's Guide to Choose the Right 24 Port Gigabit Switches in 2023
Technology is ever-growing and there is never a shortage of choices when it comes to choosing a device that suits your needs. To quickly grasp the necessary Know-How and to ensure that you end up choosing the best device that suits your needs, please take a look into the Buy's guide given below. It comprises of most of the major factors you need to consider when you choose a 24 Port Gigabit Switch.
1. Port Numbers
TVs, laptops, personal computers, IP phones, cameras, gaming consoles, and the lot are just some of the common examples when it comes to devices that are connected via a Gigabit Switch to a common network. Since the number of devices that are present in any given environment, be that may, an office or a personal gaming setup at home, differs greatly, the first step to choosing a Gigabit Switch is to determine the total number of devices you need to connect to your network.
A standard 24 Gigabit Switch is useful for many medium-scale offices and in Rackmount form, it can even be used as auxiliaries for large scale industries. Thus, a 24 Port Gigabit Switch is your best bet when it comes to an allrounder that is useful in a different medium to large scale environments; hardcore gamers included.
2. Price
The most important thing we all consider when buying a product is the total amount of money we are willing to spend on purchasing it. There are various models of 24 Port Gigabit Switches that are currently available in the growing market. When you choose a device, see for one that suits your needs. Some of the common factors are System type (Managed/Unmanaged), Energy efficiency, Size/Weight and Dimensions, Mounting type (Desktop/Wall/Rackmount), mode of transmission (Full/Half-Duplex), etc.
3. Power Supply
The most common mode of power supply seen in recent products is Power over Ethernet (PoE). This enables your product to receive its power supply from the existing Ethernet cable and distributes the power to its assigned devices. This helps in the efficient supply of power and reduces your carbon footprint by eliminating the need for a separate wire to provide the power source to all devices.
4. Switch Management Type
There are two common types of Switches termed as Managed Network Switch and Unmanaged Network Switch, that are widely available in all markets.
Managed Network Switch: A managed network switch allows you to specify the settings such as allocation of bandwidth, security protocols, access control, and network monitoring. Though it does require a professional dedicated to managing the switch, it also has the added advantage where the network can be expanded later. According to the switch type you choose, the virtual network access and Quality of Service provided will be marked. A Managed Switch enables you to automatically rebuild your network during future expansions.
Unmanaged Network Switch: The unmanaged network switches provide a simple interface where you can just plug and play. There is no need for tedious installation processes as the ports are all open for use at any time. The price is also considerably less when compared to the managed switches available in the current market. This is the best choice for a simple network connection as it is cheap and easy to use for a limited number of devices, with good quality and high-speed performance.
5. Energy Efficiency
The modern world relies a lot on energy to power all the various devices that are designed to suit almost every human need. As consumption increases, so does the demand. Thus, it is always best to use devices that save as much energy as possible so that the limited source of energy can be redirected for other use. As you select a Gigabit Switch, keep in mind that with lower power consumption, you also save your future expenses due to energy wastage. Most of the high-end and medium-priced devices have Green Technology installed in it, with the Auto-negotiation feature. This helps to limit the total power supplied to each port by constantly monitoring the various devices that are connected in tandem via the Gigabit Network Switch.
6. Duplex Data Transmission
The Gigabit Network Switches are also broadly classified into Full-Duplex and Half-Duplex switches depending on the mode of data transmission.
Full-Duplex: It refers to a channel that is capable of Bi-Directional data transfer simultaneously. It has both transmission and reception on the same channel at once.
Half-Duplex: It refers to channels that only support single directional data transfer at a time. You can only either transmit or receive signals, but never do both at the same time.
For LAN connections, Half-Duplex setting must be used to improve the network performance. For host/switch to switch links, a Full-Duplex setting can be used as it provides faster communication.
7. Warranty and Technical support
Most people tend to overuse their electronic gadgets and thus the life of a product is seriously tested in the field during use by the customer. Technical faults are inevitable when it comes to electronic products. The need for a Technical support team gradually grows proportional to the number of users to maintain perfect trust between the buyer and the brand name. Warranty plays a major role in reassuring the buyer when they purchase since it gives them a sense of security. So, its always best to check out the warranty details specified by each manufacturer and purchase your Gigabit Switch accordingly, to avoid future problems that require replacement.
Recommended:
Frequently Asked Questions (FAQs) About 24 Port Gigabit Switches in 2023
1. Does the speed get limited when many devices are connected at the same time?
No, the speed isn't limited by the number of devices, but by the capabilities of the devices that are connected. If the slowest device which you have connected has a limit of 100 Mbps, then, though your network supports 1000 Mbps, the device capabilities limit the speed to 100 Mbps.
2. How many switches can I connect to a router at once?
It's not recommended to connect more than 3 switches to a Router because there is the risk of overload and also network speed lag. For heavy-duty applications, it's better to choose a switch with a higher number of ports.
3. Is a 24 Port Gigabit Switch useful for a home network?
Yes. If you have many devices at home such as laptops, desktops, IP Cameras, and more, then a 10/100/1000 Mbps 24-Port Gigabit Switch is best. If the number of devices is limited and will not increase later, then it's better to go for a switch with a lesser number of ports.
4. Why should I go for a Gigabit switch rather than a normal one?
The answer to that lies in its name. A Gigabit switch has faster networking speeds. Since you connect many devices to a single router, it's better to have a faster connection as this will help to reduce the network lag seen in normal switches that are overloaded by the number of devices.
5. Which is better? Managed or Unmanaged Switch?
That depends on your uses. If it's a secure business network that needs to be monitored, then it's better to have a Managed Switch as it allows you to precisely control many aspects of the switch. For general uses, an unmanaged switch is better as it's equipped with a plug-and-play.
6. Do gigabit switches make a difference?
As per speed, a fast ethernet switch can achieve the rate of 10 megabits per second, and a gigabit switch can achieve the rate of 1 gigabit per second. By comparing both, a gigabit ethernet switch can transfer the data packets 100 times faster than a regular ethernet switch, so it makes a difference when you use gigabit switches. 
Gigabit switches are mainly used in a business environment where they need a lag-free internet experience. People use a wireless connection to connect multiple devices with a single local area network, and a gigabit switch also does the same. The only difference here is that you have to plug in the ethernet cable, which is connected to your home network directly, instead of the network ID or password of the connection. 
Now you must be thinking, why use gigabit switches when we can use a wireless connection, but with a wireless connection, you may get lags in your network, and due to low networks, sometimes you have to face speed reduction also. With gigabit switches, you connect your device with a cable. Still, this cable will give you a direct connection with LAN, and you will experience stable connectivity without a reduction in speed.
7. What is a 24 port switch?
A 24 port switch is a gigabit ethernet switch that allows you to connect 24 and more devices directly with your local area network by a wired connection. These switches are used mainly by professionals who need a lag-free internet connection. People prefer gigabit ports for stability and faster connection to dodge this. A 24 port switch is an excellent choice for those who need to connect more than 20 devices with a single local area network, and if this switch is a managed switch, it will allow you to check or customize the switch settings. 
Using a 24 port switch, you can see which device is connected to which switch. You can even check the error statistics for any specific port and know any device or cable problem.
8. What does a managed 24 port gigabit Ethernet switch do?
A 24-gigabit switch can connect more than 24 devices simultaneously with your local area network directly without depending on the Wi-Fi. These 24 devices can be anything like computers, gaming systems, servers, etc. 
A gigabit switch allows you to empower your device by directly connecting them with the web and get a lag-free stable internet experience. If you have a large number of devices in your workplace and want a reliable gigabit ethernet switch, you can consider a 24 port gigabit switch, which will give you a maximum speed of 1 Gbps speed.
Recommended:
Conclusion
To sum it all up, choosing a 24 Port Gigabit Switch solely depends on the end-use you have in mind. It may be for office use or personal networks; still, go for the one that suits all your needs while giving value for your money. Never compromise the price for poor quality products and try to keep a close eye on the total budget as well. With that, you're all set to start choosing the 24 Port Gigabit Switch intended for you. Good luck.
Recommended: