We are supported by readers. When you purchase through links on our site, we may earn an affiliate commission.
The expansion of your home network allows you to set up VLANs but, with proper equipment. Many benefits can be derived out of VLANs but you might want to know if they are worth setting up for a home network. To know about VLANs and how effective their setup can be for your home network, read below. 
VLANs can undeniably be worth setting up in an environment of the home network for isolation of some devices, improving the security of the network, and helping in creating a home network setup that will be more organized better and can be managed easily. They are comparatively easy to set up as they only need a network that is supportive of VLAN tagging. Furthermore, what is a VLAN, and everything related has been discussed ahead in this post?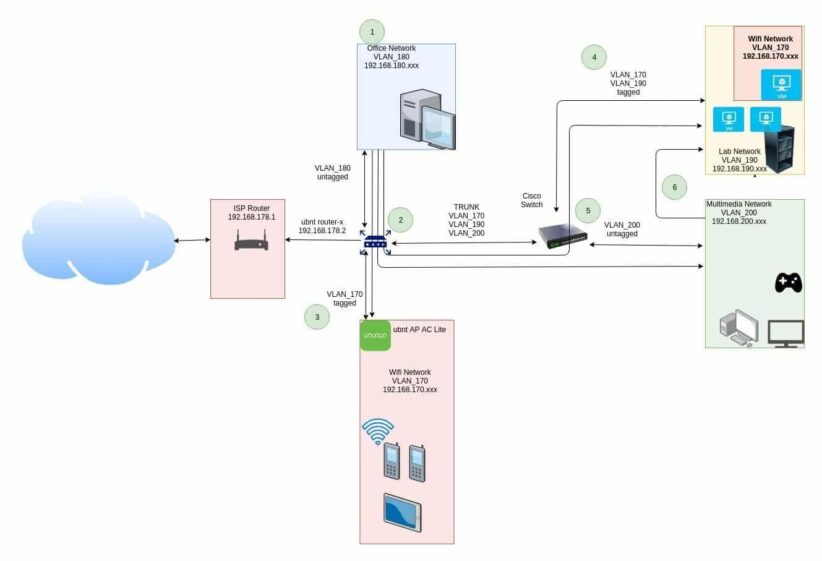 What is a VLAN?
VLAN refers to Virtual Local Area Network. It is a secondary network that is used in the grouping of devices that sit different Local Area networks. The concept states that the devices that can communicate amongst themselves frequently can be considered into one group in a Local Area Network. VLANs are mostly used in corporate network environments in comparison to a normal home setup. It is possible for the IT departments to organize their VLAN based on departments, groups, applied security policies, or the kind of network traffic. 
The biggest advantage of VLANs in your setup is that it enables you to part a network based on a single switch without making any visible change to the infrastructure or equipment. If you don't know much about VLANs, you might have an assumption that the equipment of devices require sitting only on their switch, which means there could be many different switches with only a few connected devices. If you have the right equipment, you can connect all of your devices to a similar visible network switch but can remain separate in their VLAN. 
There are three types of VLANs, and their working differs from one another. 
Protocol VLANs: These VLANs are used for handling the network traffic based on the protocol used in the communication amongst the devices. 

Static VLANs: These VLANs are dependent on a particular network administrator and can manually allocate every individual port for network switch to any specific VLAN.

Dynamic VLANs: These VLANs enable the network administrator to assemble each device into a suitable VLAN based on the characteristics of the device. 
Is a VLAN worth setting up on a home network?
There are many ways in which it can be beneficial for you to set up separate VLANs for different devices owned by you. Some of these benefits include better traffic management specifically for busy networks and better security by allowing just a few devices to interact within themselves. It can be completely effective to set up a VLAN on a home network but, it is dependent on the network setup type that you already use or are looking forward to using shortly. 
In case, there are just a few devices you own and you want nothing more than availing the devices online, communicating within themselves, and getting quick access to the internet then, you might not find setting up a VLAN worthy enough. But, for those who take a keen interest in the working of these networks, know the value of home network security, want a better performance throughout the network, it can be completely worth it to install a VLAN on the home network. 
Apart from the benefits discussed above, VLANs can help in the reduction of broadcasting traffic and cause an improvement in the overall performance of the network which is quite visible. If your home network setup is to be well and organized in the best way possible, VLANs can help you in organizing your home network setup and make it easy to manage. 
It is very easy to see and arrange all the devices when they are assembled into different VLANs. For an instance, you could use different VLANs for grouping all your wireless devices, servers, and devices that are supposed to get access only to the internet instead of being able to access other devices connected to your network. It can be frustrating at times when the internet connection gets lost while you are in the middle of a movie or testing a device.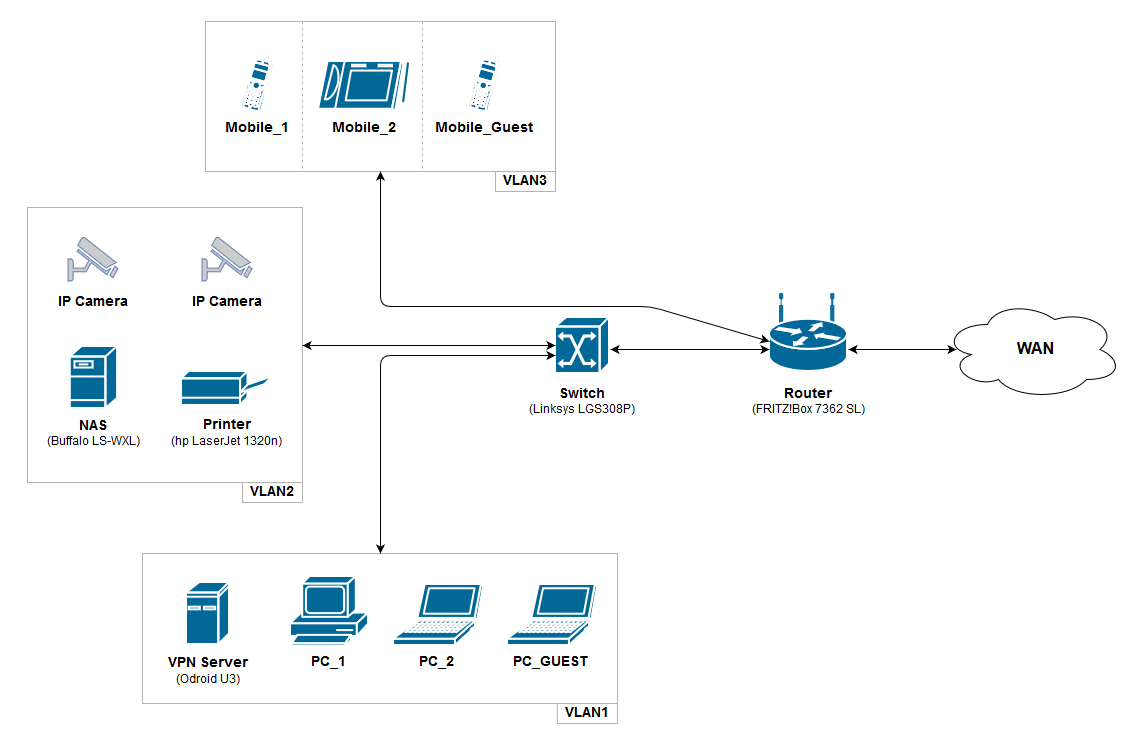 You can have all the test devices separate in their VLAN, keeping them aloof from the devices which belong to other networks. As far as testing is concerned, VLANs are great at enabling you to create your lab environment that can be used for learning more about the various things and becoming familiar with their working before applying the changes to other parts of your home network.
What are the different uses of VLANs on a home network?
To understand whether it can be useful for you to install a VLAN on your home network or not, it is important to understand the different uses that can be fulfilled by VLANs on a home network. There can be different instances and cases in which VLANs are used on the home network. Some of them are explained below as follows: 
Improving traffic:

Devices that have multicasting features create a rush in the network with constant communication to several clients at once. In case, the traffic only requires to be shared amongst a few clients, shifting them on a different VLAN can reduce the traffic to other devices which are not required to face that traffic. 
Improving security

: There are many devices connected to a single home network and these devices can range from sprinklers, door kicks, thermostats, and smart light switches. As these devices are usually cloud-best, you can't have a lot of visibility or control over what can be sent. Moving these devices to a separate VLAN helps in controlling the movement of data and restricts devices from getting accessibility to other things across the network. 
Improving convenience:

In some cases, the smart TV is connected to the home network. Usually, it can be troubling to change the input due to the availability of just a few ports. As the TV remains connected, each single broadcast device connected to the network such as speakers, songs, or storage will be shown as input connections which provide you other input options to choose from. By shifting the TV on a different VLAN, you can stop those devices from showing as inputs. 
Isolating kid's devices:

If there are kids at your place, you can use VLANs for isolating the devices used b kids from the primary network used by you. These security policies can be applied to some VLANs and not all of them. So, you can set up a few more strict rules for the VLAN in which you connected the kid's devices. This not only ensures better protection to the devices belonging to your kids but also keeps them safe from mistakenly accessing your stuff. 
Setting up the guest network:

For the visitors who come to your home, you'll want to keep their network traffic isolated and devices away from your primary network. If you have a highly advanced guest network setup from before, you can easily set up a guest VLAN meaning you can still offer your visitors access to the internet with no potential risk of causing any harm to your network. Though friends and families who come to visit you are not likely to perform any harmful activity, it is always better to keep your network protected from before because even the slightest unintentional error can be harmful to your network. 

Isolating smart devices:

A lot of people use different kinds of smart devices like IP cameras and IoT devices. These devices can be kept aloof from everything else by using a VLAN. 
There are several reasons for the deployment of VLANs, like guest network connections, but the majority of them are automated through the router that uses firewall rules to eliminate the requirement of VLAN. This is meaningful because the firewall rules can work with switches that remain unmanaged although VLANs can help you in controlling the operation of your network. Thus, if your equipment is supportive of VLANs, you must check out a VLAN for your home network. 
Conclusion
So, it can be concluded by stating that VLANs can be completely worth to be set up if you are someone who likes the concept of distinguishing the network traffic for improved performance and security. However, if you are not bothered about any of these things and the only thing that matters to you is your device remaining connected to the internet with enough security, you might not need to install a VLAN for your home network. You should be very careful while installing a VLAN on your home network to prevent any network-related glitches which can create a barrier in the internet connection on your device.